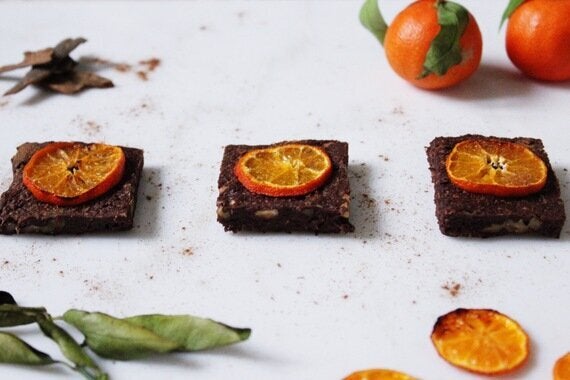 As wind and rain howl outside, I thought this the perfect time to share something indulgent and chocolatey with all my favourite spices and this season's best little fruit: the sweet, juicy, vitamin C packed clementine.
We had a dinner party in December where I made a batch of these chai spiced brownies for pudding and I can say with happiness that they definitely seemed to do the trick / elicit moreish noises, recipe requests and the satisfied licking of fingers. And best of all, they are good for you, and surprisingly quick to get going.
The main sweet base is dates, and the gooier and fresher, the better. Raw cacao opens the heart (in case Christmas doesn't) and provides a good dose of antioxidants, while antibacterial cinnamon gives us a little extra immune protection which is always welcome come winter. The fibrous chia is a good source of protein and anti inflammatory omega 3, and helps keep blood sugar stable.
The clementine slices are delicious on their own as well as with cacao, and if you're fully raw you can dehydrate them instead of oven baking.
Makes about 12 brownie bites
1 tightly packed cup deglet noir or fresh dates
1/3 cup coconut oil, warmed to be liquid
5 tablespoons raw cacao powder
seeds from half a pod of vanilla or 1/2 tsp vanilla paste
1 tsp fresh ginger, finely minced
3 cloves, ground in a pestle and mortar
seeds from 3 pods cardamom, ground in a pestle and mortar
Preheat the oven to 180 degrees. Wash and finely slice your clementines into discs, then rub a drop of maple syrup on each one and place on a non stick baking sheet. Bake in the oven for fifteen to twenty minutes, until lightly golden, turning every five minutes. Keep a close eye on them as each oven (and clementine!) is different and they can burn quickly. When done, remove and set aside to cool.
Next, to begin the brownie base, pit your dates: if using fresh ones you don't need to soak them first but if you're using harder deglet noir ones, soak them in water for ten to twenty minutes beforehand. Then blend all the ingredients except the walnuts in a blender or food processor until smooth. Taste and sweeten with a little maple if needed; you may want to up the spices too.
Transfer to a bowl and mix in the walnuts, then line a baking dish with cling film and spread the mixture on in a rectangular shape about 2-3cm thick - I like mine quite thin so that a square with a clementine slice on top is not too rich or heavy. Place in the fridge to set, slice into squares when hard, and serve with a maple clementine slice on top and a sprinkling of cinnamon.
Serve chilled and store in an airtight container in the fridge for up to three days.