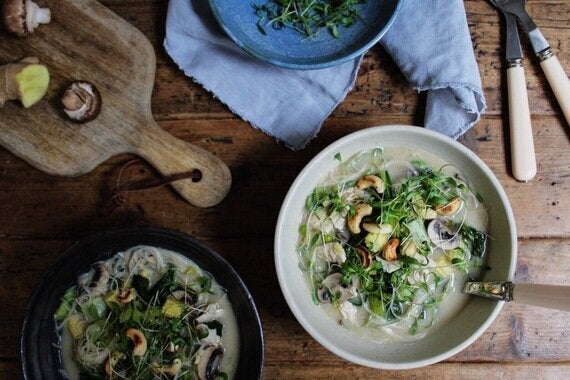 As the tail end of storm Jonas taps on the skylights with a relentless torrent of rain and wind, I am pretty sure there couldn't be a better time to post these warming, nourishing and perfectly comforting bowls of creamy cashew chicken broth and nutrient-packed veggies. This quick and hearty little recipe is light yet satisfying, rich in protein and fresh leafy greens, lying somewhere between good old chicken soup and fragrant, creamy tom yum.
As part of a gut-healing protocol, Ben has been put on an exclusion diet that avoids nightshades (incl. potatoes - his all-time favourite food), grains and sugars for one month. It is my hope that he will share his story and experiences surrounding this journey on The Naturalista, but in the meantime, I am busy devising new recipes for us and trying myself to kick any added sugar - apart from occasional fresh fruit - altogether. Reliance on sweet things has been sneaking up on me and there is no better time to cut it off than the present. I know from previous experience that my body will thank me in ways I cannot imagine as it always does when I remember, yet again, to listen to it one hundred per cent. This constant re-evaluating of what we are eating, relying on, depending on for emotional comfort, looking forward to just that little bit too much... it is an integral part of the journey to wellness and sometimes we need to be a little more disciplined than we would like, to sit up, recognise what we could get rid of, and take responsibility for doing so. And since arriving home to the depths of January from our trip to sunnier climes, I have found myself devouring chocolate and sweet things with wild abandon and so this feels like the perfect opportunity to tap into a little rigour and join my beloved on his not-so-easy month long journey.
And so, this neat little soup caters for this kind of tricky diet, and you can sub the carbohydrate rice noodles for protein buckwheat ones. I have added the chilli in to the recipe because it is so much better with some spice, and if you're not avoiding any veggies in particular then any sort of good organic stock will do - otherwise, making a good batch of your own, with diet-friendly ingredients, and freezing it down is always a good idea. We are learning hard and fast that planning is vital if we are not to live off kale, cabbage and avocado from the fridge, and plummet into the depths of hangry-ness that are often reached with little warning on exclusion diets.
You can throw in almost any vegetable here; baby corn and pak choi seem to fit the Eastern-themed flavours the best but I wouldn't say no to some broccoli, spinach or potato and peppers were they a) permitted or b) abundant in my fridge. In weather like this even the rocker shop feels too far today. I also found some micro coriander leaves earlier this week which were perfect for this, but fresh full-size leaves will do just as well as a garnish.
You can also up the ginger, spice and lime for a stronger kick of flavour. As with most recipes, the best thing is to have a go, play around with how you like it and start to make it more your own.
Serves 3 (or 2 with leftovers)
850ml chicken or vegetable stock
two medium organic chicken breasts, skinned
1 heaped tbsp minced ginger (or more to taste)
1 red chilli, de-seeded and minced
1 large clove garlic, minced
a handful of baby corn, roughly chopped
1 cup peas, fresh or frozen
1 pak choi, roughly chopped
2 tbsp cashew (or almond) butter
a large handful basil, roughly chopped
10 - 15 roasted cashews to garnish
a handful of coriander to garnish
In a large bowl, soak your rice noodles in warm water and cover for 15-20 minutes, until soft. Drain and set aside. (If using buckwheat noodles, cook them according to the instructions and set aside when done).
Next, poach your chicken by placing it in a saucepan with the stock and bringing to the boil. Reduce the heat and simmer for 20 minutes until all the chunks are cooked through. Remove from the heat, drain the stock into another pan or bowl and set it aside. With two forks, shred the chicken into small strips and place in a bowl.
On a medium heat, sauté the spring onions, garlic, ginger and chilli in the coconut oil in a saucepan until soft. Add the corn and mushrooms and gently brown for a couple of minutes, then add the peas, coconut milk, oak choi, lemon zest, lime juice, nut butter, tamari, basil and stir until well mixed and creamy. Season and adjust the lime or tamari to taste.
Add the noodles and simmer to heat through thoroughly for five minutes while you gently brown your cashews in a pan on a medium heat. Served topped with the nuts and a sprinkling of coriander leaves.