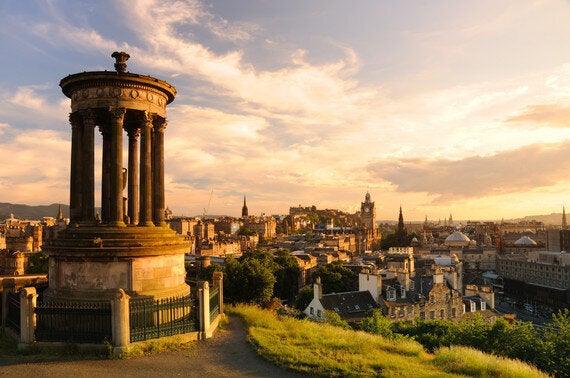 Image supplied by: Marketing Edinburgh
When asking Edinburgh locals to describe their hometown you can almost guarantee that 'beautiful', 'historic' and 'vibrant' will be amongst their responses. Scotland's capital city is bursting with landmark buildings, small cobbled streets and peaceful greenspaces just waiting to be discovered, so it comes as no surprise that it offers an excellent variety of walking tours. Exploring Edinburgh by foot is the best way to experience this quaint city so whether you've pencilled in a visit in the next week or plan to visit in a month or two, here are five of the best walking tours to experience while here.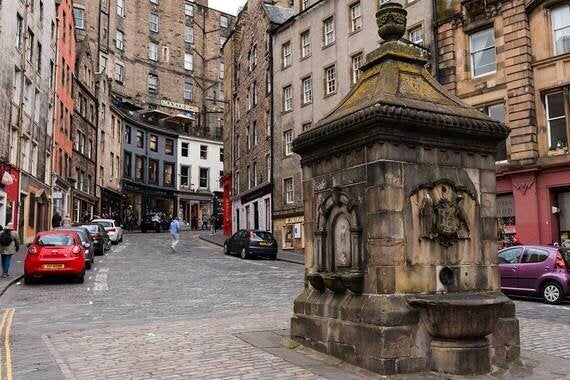 Image supplied by: Marketing Edinburgh
New to the city, Edinburgh's 101 Objects sees the capital's historic past brought to life. Through the objects that helped shape the city's history, heritage, culture and everyday life, Edinburgh's 101 Objects tells the tales of Edinburgh through the years in the first attraction of its kind.
Objects are dotted across the city with something to suit everyone, from the very first Edinburgh Fringe programme (1947) to the screenplay from blockbuster movie Trainspotting, signed by Ewan McGregor, to the Pickering's Gin tap. With objects geo-located on a dedicated website and categorised by theme, visitors can create their own trail of Edinburgh's 101 Objects right from their mobile phone.
This is a free tour, however some objects are situated within paid attractions. For more information visit: www.Edinburgh.org/101.
If you're visiting Edinburgh for the food scene, this walking tour is for you. Eat Walk Edinburgh is the ultimate foodie experience with five food tasting stops and three drink tastings to be discovered along the way.
As you work up an appetite learning about the history of Edinburgh's Old and New Towns you will drop into some first-class restaurants, bars and shops to taste what Scotland has to offer in food and drink.
Eat Walk Edinburgh runs two walking tour routes: the Old & New Town tours run Monday to Saturday from 1pm or 5pm, or if you prefer to start your day off earlier try the Canongate Brunch tour, which starts at 10am.
For prices and to book your tour of choice visit www.eatwalkedinburgh.co.uk.
If you're the type to pack your running trainers for a trip away, Edinburgh Marathon Festival Running tours offers fitness and sightseeing wrapped into one. As you set off on your run you'll be guided through the city's beautiful scenery, exploring the narrow streets and hidden corners you may not have discovered otherwise.
Although kept at a gentle pace, this tour gives visitors the opportunity to see more in a shorter space of time, so is perfect for those making a flying visit. Starting off at the impressive Scottish Parliament Building, the tour then makes its way up Calton Hill which offers stunning panoramic views across the city. From there, you'll make your way through Edinburgh's Old and New Towns before finishing up at the Historic Scotland Education Centre.
The tour is priced at £27.50 and includes a souvenir photo, t-shirt, running bottle, keyring and more. Find out how to book at www.emfrunningtours.com.
Spooky stories aren't just for Halloween as you'll find with Mercat Tours' walking tour of Edinburgh's most haunted vaults. Go underground to discover the true history of Edinburgh's mischief-makers, murderers, vagrants and torturers who walked the vaults many years ago.
Known as one of Edinburgh's most haunted sites, the Blair Street Underground Vault offers a terrifying twist on your typical walking tour as you discover the shadowy closes of the Old Town. Visitors will be gripped by the tour guides' shocking stories as they take in the sights of this underground layer that has been starved of daylight since historic times.
Tours run daily at 3pm and 5pm and last approximately 1 hour 15 minutes. For details on prices and to book visit www.mercattours.com/tours/ghost-tours/view-tour/ghostly-underground.
Leith Walks: Trainspotting Tour
With Trainspotting 2 hitting cinemas earlier this year, this tour is bound to be popular with movie buffs. Follow in the footsteps of Renton, Sick Boy and Spud in this unique tour through the filming spots that made the big screen in Trainspotting and T2 Trainspotting. Based in the city's upcoming Leith area, this tour gets you off the beaten track.
Uncover the grimy corners of the movie while getting clued up on the characters and what influenced the storylines.
Choose from three tour options including the Deid Dug Tour and the Worst Toilet Tour, with all available for private groups. For more information on the tours available, visit www.leithwalks.co.uk/the-walks.
This post has been published on HuffPost's blogging platform. The views and opinions expressed in this blog are those of the author and should not be taken as those of HuffPost. HuffPost does not allow bloggers to acquire products, access or accommodation for review in the site's name.
Related