"Try our signature dish, Fisherman's Friend Pina Colada." I sat in amazement for a few seconds before agreeing. After all, I had just had one of the best starters and main dishes since I arrived in the area. Mouth-watering pork belly followed by perfectly cooked lamb with seasonal vegetables.
Hidden away from the slightly depressed, but iconic seaside town of Blackpool with its trams and stereotypically tacky 70's beach fun; sits Thornton-Cleveleys. The middle-class seaside resort is home to Twelve Restaurant. A hidden foodie gem, loved by locals and any tourists lucky enough to stumble across it.
During the day, the adjoining Twelve Corner Shop sells everything from their lovingly-homemade signature bread and preserves to the crockery that their delicious dishes are served on. A stark contrast to the commercial offerings of Blackpool, Twelve offers a dining experience akin to an expensive restaurant in a city without the steep cost.
The restaurant sits in a small contemporary shopping precinct and the interior is a combination of mood lighting, exposed brick and lush leather. Moments after being given the menu, I made my decision. For starters; pork belly, scallops with pureed parsnip and for main; loin of Bowland forest lamb, haggis fritters and neep puree.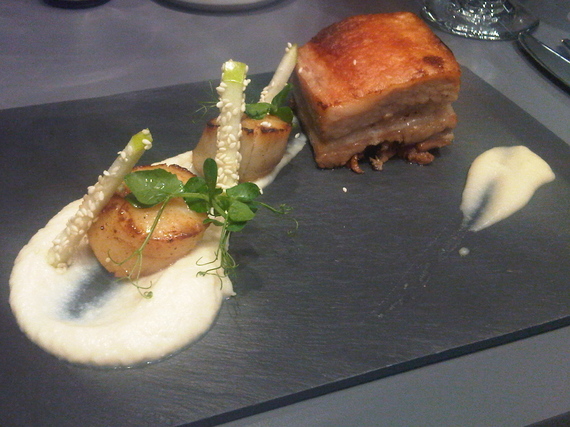 My order was taken at the bar before I was taken to my table laid with the correct cutlery for my chosen dishes; the attention to detail was impressive, even the butter was in the shape of the number 12. When I tucked into the warm homemade walnut bread, I hesitantly cut into the butter, feeling terrible about destroying the dairy digits, but I forgot all about it as soon as the starters came out.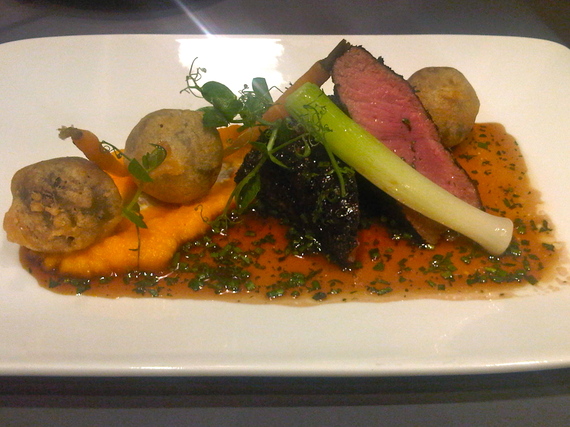 Everything that emerges from the Twelve kitchen is beautifully presented but not so overproduced I couldn't bear to eat it. With my mouth watering, I devoured each course, grief stricken when it came to an end. The sizes were neither meagre nor gut busting, the balance was just right.
When it was time for desert, I ordered two dishes just in case the Fisherman's Friend Pina Colada tasted as weird as it sounded. My back up and, one of my favourites was the Bakewell Tart.
The signature dish was placed in front of me, pineapple jam, pineapple sorbet, coconut foam with a Fisherman's Friend crumb, finished off with a slice of dried pineapple sticking out of the sorbet like a sail.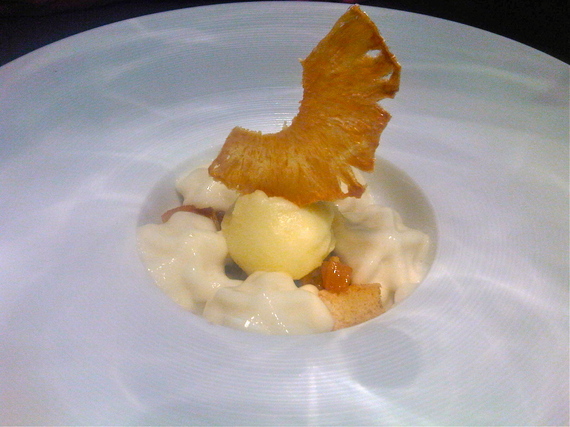 The waiter explained that the dish is dedicated to a local fisherman and is inspired by Twelve's proximity to Fleetwood's famous export. I took a bite preparing to dislike it, but was pleasantly surprised, despite the amount of pineapple, the dish was not too sweet and the texture of the jam, sorbet and foam was lovely and light.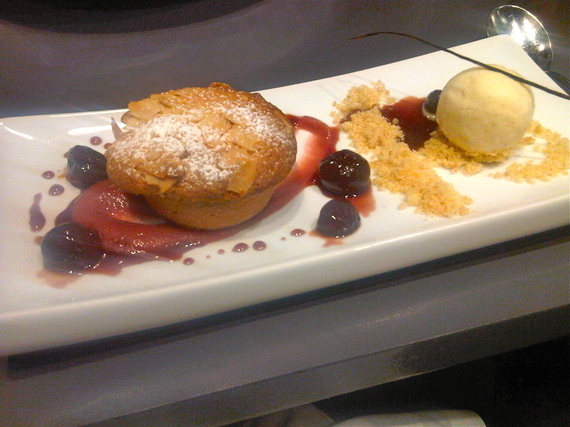 And as for the Fisherman's Friend, I wasn't hit with the usual overpowering and unpleasant flavour but a hint of the signature taste that left a cool tingling feeling in my mouth, almost like a palette cleanser in between mouthfuls. Tropical, minty, refreshing and tasty, I finished the whole thing and then realised I still had a Bakewell tart to dig into. Well, it would've been rude to abandon the moist almond sponge and crisp pastry base drizzled with cherry puree.
If you're visiting Blackpool and crave a change to chips, stag do's and screaming children at the Pleasure Beach, make the short journey to Thornton-Cleveleys for a culinary treat.