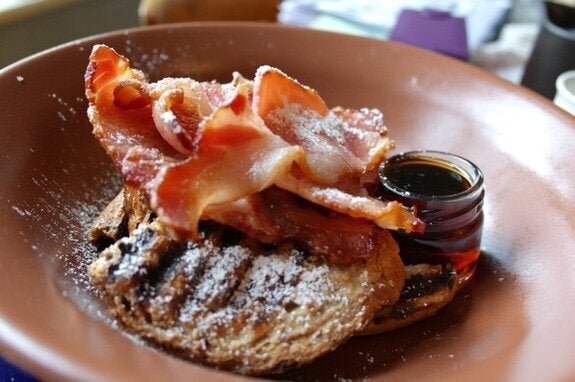 Breakfast at The Bicycle Shop - Photograph by Lauren Razavi (Copyright Retained by Author)
Have you noticed how inescapable food is these days? It's on the side of buses, in shop windows, all over the internet and on every other TV channel. Lately, food in Britain has become rather...well, trendy.
As a society historically insulted for our lack of food culture, especially by our French neighbours, it's surprising that so many everyday Britons are becoming increasingly interested in all things culinary. Food has inherited the 'cool' factor over the past few years, and we're rediscovering our love for it in a big way. The British food revival is happening, and it's certainly a welcome one.
Rachel Khoo, a talented food writer and the charismatic chef behind this year's BBC series The Little Paris Kitchen, thinks the reasons are relatively straightforward and have been bubbling under for a while. "Food remains accessible unlike holidays, fashion, expensive cars and other luxury goods," she says. "At the end of the day everyone needs to eat. I think Britain's passion for food has been ever growing for the last 10-15 years."
And she's right. Today more than ever before we have access to a wide variety of gorgeous produce from all over the world. Everything is on our doorstep, and for the most part, it's affordable. When your budget won't stretch to the latest gadget or a weekend away, chances are it will still stretch to a few exotic ingredients from the supermarket down the road.
Britain's rediscovered passion for gastronomy is, to a large extent, interlinked with an enthusiasm for entertainment. "There are so many TV programmes, magazines, websites, blogs that are talking about food," Khoo adds. "The media covers food and the public enjoy it. The media sees the positive reaction and covers more food."
An astonishing 7 million viewers tuned into BBC 2 to watch the series finale of The Great British Bake Off this year, while Masterchef and Jamie's 15 Minute Meals have earned themselves daily appearances at peak times. Food programming is flooding our TV screens - and we love it.
Richard Johnson, an award-winning journalist and broadcaster, and the driving force behind the groundbreaking British Street Food Awards, thinks there's a danger that we're only really engaging with the culinary arts on screen though. "Food TV is entertainment. It's an antidote to modern life, a comfortable place to go, and an escape," he says. "We're fascinated by food in Britain. Showing [the] reality of food is important. Food on TV doesn't always do that terribly well."
The statistics say that it's not just watching and cooking that's on the rise though; we're eating out more than ever before now too. According to Horizons' biannual QuickBite survey, the average adult in 2012 will eat out almost three times each fortnight in the UK, a notable rise from just once every fortnight in 2011. It's a strange reality given that we're still in the midst of a financial crisis.
But walk around any city in this great nation of ours, and you'll notice that food isn't just restricted to the restaurants and pubs anymore. Artisan bistros, late bars, gastro-pubs and cafes are all upping their game to meet the demand for delicious, inexpensive and interesting dishes. Much of the food is local, organic and fresh, yet it's also affordable, fast and generously-sized.
The Bicycle Shop in Norwich is one of my favourite haunts, and a great example of this new movement. Its multi-purpose space is set over three floors, and it offers five different menus covering all three meal times each day. With breakfast served until 3pm and tapas served until late, its reputation has built based on its diversity and the plethora of delights on offer to suit every taste.
Eating is an incredibly social experience, and the popularity of cafe-bistros like The Bicycle Shop show people's wants; they like to chat and relax in a homely environment while they munch. The growth of the home restaurant or supper club in Britain, then, makes perfect sense. Ranging from elaborate gatherings inside countryside mansions to makeshift restaurants for two in the living room of central London flats, these events are the ultimate underground foodie dream, offering up an experience that is unique, memorable and delicious.
No stranger to this form of gathering, Khoo speaks fondly of her days spent cooking for strangers in her tiny Parisian apartment. "Running a home restaurant was a great way for me to test recipes for my book, The Little Paris Kitchen, and not waste food. It was also a fun way to meet people from around the world."
So what does all this mean for Britain's food culture? Most importantly, we should count ourselves lucky to have so much choice and inspiration for our food, whether eating at home or out. As individuals, we should embrace the enjoyable responsibility of engaging with and supporting the breadth of opportunities in front of us.
So pick up a cookbook, tune into that new food programme on TV, buy that strange-sounding vegetable that's on offer at Waitrose, find your local supper club (or perhaps even start your own), and eat out at your quirky local food haunts. Be part of something exciting. There's no way you'll regret it.
For more foodie images, recipes and other treats, visit Lauren's lifestyle blog Take on the Road by clicking here.
Related