I spent February, as always, working in England and California, but my experiences were really varied and fun!
At this moment... greetings from Southern California. The weather has been delightful until just this week, March arrived like a lion and we do hope it will leave us as a lamb, but the atypical pounding rainstorms are much needed because of the local drought.
I believe I left off last blog entry when I was chatting about my new handbag line to be launched in England, and there are some beautiful new purses for all occasions... but before I knew it I needed to rush back into California to host The Pink List Dinner, a fund raiser for worthy UCLA students put together by the San Diego Timken Museum (a jewel of a museum!)
Design students from University of California Los Angeles competed to create and craft costumes inspired by a gorgeous Gainsborough painting. This event heralded a new initiative for the Timken: an expansion of their mission to emphasize the art of fashion. In this case a competition was held to see what talented design students can do to bring Timken's astonishing collection of paintings to life by the medium of fashion.
The garments (with hand quilting and fabric painting and very clever hand sewn tailoring) were fitted on miniature 2-3 feet tall mannequins. Each was a masterpiece! I was one of the judges alongside famous Hollywood designer Deborah Landis. Deborah is now an endowed professor at UCLA, and some of her more famous costume designs include Michael Jackson's Thriller and Harrison Ford's Indiana Jones... but I digress.
Judging was such a difficult task, because each and every entry was a treasure but in the end two were selected for full scholarships through the David Copley Memorial Fund. The venue was wonderful, the students inspirational, and so many of the ladies in attendance were wearing Zandra Rhodes dresses... do have a look!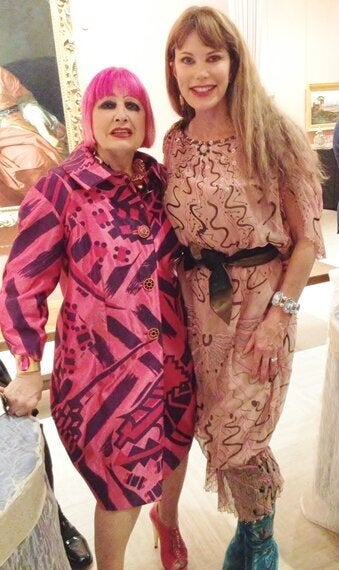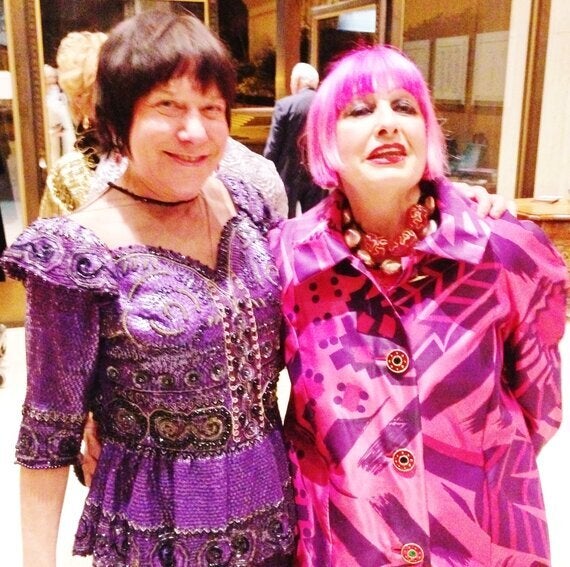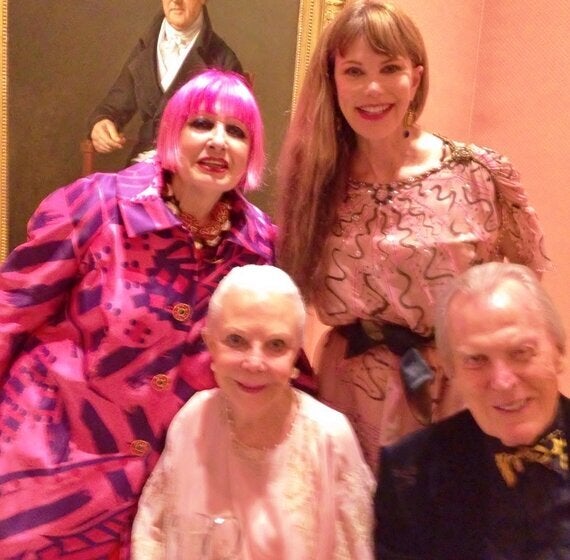 Then it was back to London for a party in my home in Bermondsey to celebrate my new collaboration with People Tree! Let me first say that MCM (mid-century modern) is back in fashion in textiles, architecture and interior design.
I am so delighted that some of my earliest textile designs are not only considered "stylish again" but they are being incorporated into garments created in a way that will contribute to women's empowerment and freedom. Every garment People Tree makes uses 100% organic cotton, supporting over 40,000 farmers in India. Additionally garments are made by women with from profoundly disadvantaged backgrounds; they are trained, paid a fair wage, and ultimately many go on to start their own businesses!
I have provided three of my archived graduation prints from the 1960s and they are being crafted into a gorgeous line of tops which can be worn as dresses or layered over jeans and leggings. Here is a preview; the collection launches in June.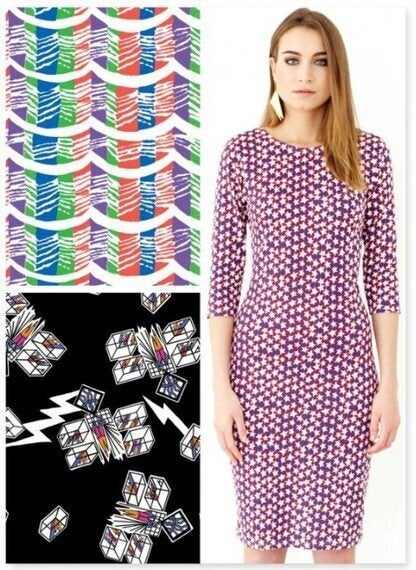 So many other adventures to tell you all about, including dressing some future American and British pop singers for their new music videos (maybe the next Freddy Mercury will emerge!). The handbag line, other charity extravaganzas for raising money for cardiac health... but that is for next time.