Last Tuesday I joined a dozen activists and blocked Victoria Street in London in protest at security company G4S's role in the death of Jimmy Mubenga, its participation in the racist immigrant detention system and its provision of security and equipment to Israeli prisons and checkpoints. We were joined by activists from the US who have played a significant role in organising the Ferguson protests following Michael Brown's killing last August, as well as the wave of action that spread across the States in solidarity.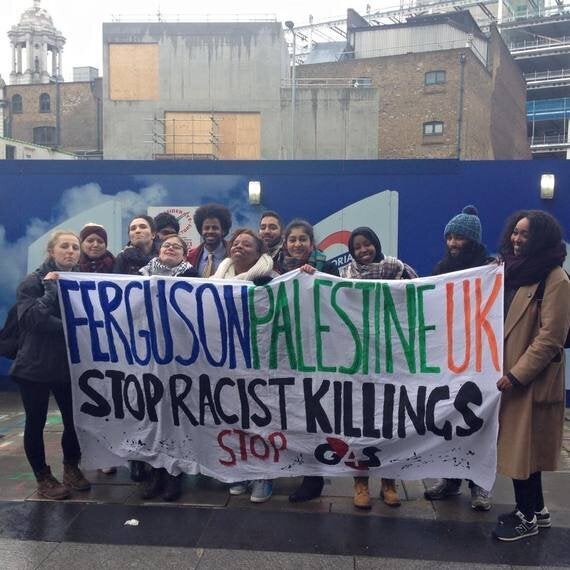 Beyond embarrassing fiascos in the UK, such as failing to meet its contractual obligation in providing security staff for the 2012 London Olympics, and overcharging the Government to provide electronic tagging for offenders, G4S has been at the centre of many controversies over its conduct and operations worldwide.
It was enlisted by the Home Office from 2008 to carry out forcible deportations until it lost the contract shortly after the death of Jimmy Mubenga in 2010.
Jimmy Mubenga had fled Angola in 1994 as a student leader who had fallen out with the regime. Along with his wife, Adrienne, Mubenga made Ilford in Essex home and was the father of five children, with the youngest being just seven months old when the migrant was given a deportation order after losing a desperate four-year battle to stay in the UK.
While on board the plane set to take him back to Angola, Mubenga was apparently trying to leave his seat, saying "I don't want to go". He was aggressively restrained for 30 minutes by his escort of three G4S security staff, with his hands handcuffed behind his back and his head forced down in a position which impeded his breathing. Passengers on the flight heard him calling out "I can't breathe" and "they are going to kill me" in distress. After some struggle he went quiet, and later died of cardiorespiratory collapse.
During the inquest last December, it emerged that Terrence Hughes and Stuart Tribelnig, two of the three G4S guards accused of killing Mubenga, had racist messages abusing Africans, Asians and Muslims on their phones. Despite the Coroner's Report into the death of Mubenga arguing that these texts were "evidence of a... pervasive racism within G4S" and expressing serious concern on how this racism would impact G4S guards' treatment of detainees like Mubenga, all were barred for use as evidence in the case against them for his killing.
Hughes, Tribelnig and Colin Kaler were acquitted of manslaughter.
Elsewhere, allegations surfaced in late 2013 of abuse and torture by G4S staff at South Africa's Mangaung Prison where footage leaked to BBC appeared to include the sound of a prisoner being electrocuted and shrieking in agony. Meanwhile, an Amnesty International report into conditions at the Australian-run Manus Island detention centre stated that G4S guards were implicated in the physical abuse of detainees at the centre, which saw riots by asylum seekers and refugees in February 2014.
In the Occupied West Bank, G4S operates and maintains security systems at Ofer Prison as well as Al-Jalame Prison, Kishon and Moskobiyyeh detention facilities in Israel, which hold prisoners from Palestinian territory in direct contravention of the fourth Geneva Convention prohibiting the transfer of prisoners from Occupied territory into the territory of the Occupier.
G4S also provides equipment and services to the Israeli military checkpoints in the West Bank that allow Israel to monitor and control travel in much of the area and form part of the route of Israel's illegal Apartheid Wall.
Human rights organisations have documented torture and abuse of Palestinian prisoners, including over 200 child prisoners held in solitary confinement, with Unicef calling the abuse of young Palestinians in Israeli prisons "widespread, systematic and institutionalised".
Yet, despite its continuous human rights violations, G4S continues to win large UK Government contracts, currently amounting to around £700million. In May 2013, it was awarded a three-year contract to run two sexual assault referral centres (Sarcs) in Birmingham and Walsall. In 2014, G4S secured £4million to provide facilities management services at three sites for HM Revenue & Customs in Salford, Edinburgh and Glasgow, whilst also being awarded a series of multi-million pound contracts by NHS England to run medical facilities at four detention centres where men, women and children are held pending deportation.
Evidently, G4S has an extensive history of scandals and its disregard for human rights is becoming increasingly transparent. To bring that reality a little closer into the public's view, we decided to briefly "shut shit down" a busy central London road on Tuesday morning.
What is "shutting shit down"?
The tactic adopted for our direct action is known widely as "shutting shit down" in the US - where activists have closed police departments, stores and major roads to show solidarity with Michael Brown, Eric Garner and other victims of police brutality. Similarly, we shut down Victoria Street, where G4S has offices, to raise awareness about the crimes committed by the security company.
Patrisse Cullors, co-founder of the #BlackLivesMatter movement and headline speaker for the Ferguson Solidarity Tour which reached its end last week, participated in the action and explained the relevance of the tactic of "shutting shit down":
"We've been shutting shit down since August 9th [2014] both in Ferguson but throughout the entire country. We've been able to occupy the headquarters of the LAPD for seven days. It's our form of boycott. What we have been able to do is disrupt people's lives because our lives are often disrupted by people's racism."
Issues regarding the state's impunity in killing Black people, institutional racism and the failure of the justice system are as pertinent in the UK as they are in America. Placards, stating "Black Lives Matter" and chants such as "Back up, back up, we want freedom, freedom, all these racist ass cops, we don't need them, need them", are just as relevant here.
Eric Garner, Michael Brown, Tamir Rice, Aiyana Jones and Trayvon Martin are a handful of names of innocent individuals who have lost their lives at the hands of racist police forces in the US while in the UK, Jimmy Mubenga joins more than 1,000 people, including Sean Rigg, Christopher Alder, Ibrahima Sey, Joy Gardner, Kingsley Burrell and Mark Duggan, who have died as a result of contact with the police, state and its agents since 1969 - yet there has been not a single police conviction.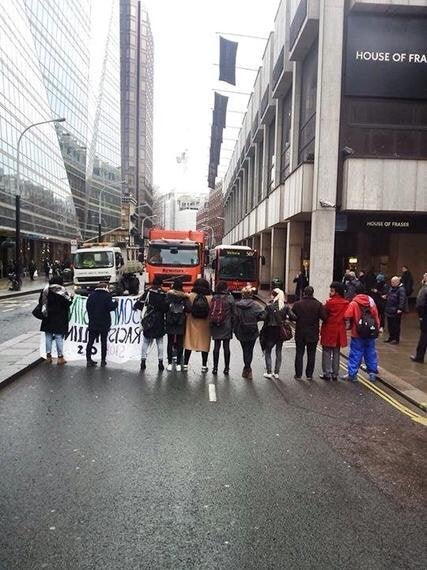 While we were met by insults and condemnations from angry drivers - with some coming out of their cars and attempting to drag us off the road - we will not be deterred from continuing to highlight the human rights abuses committed by G4S, the role it plays in the Israeli occupation of Palestine as well as the wider struggle against state-sanctioned murder of Black bodies and the fight against racism.
In all, G4S is a company which has consistently proved itself to choose profit over principle and has upheld injustice for the right price. The National Union of Students' Black Students' Campaign encourages sustained, targeted and disruptive action against G4S by all those who conscientiously oppose the company - because Black lives are not cheap and Black suffering is not for profit.
Related