On Friday 23 November I was invited to the opening of the Milly J Shoes exhibition at the Northampton Shoe Museum. For those of you who regularly read my articles, you'll likely recall my article about Milly winning a Theo Paphitis award earlier in the year, so I was keen to get up close and personal with her designs.
The traffic on the way to the event was dreadful, meaning that a journey that should have taken an hour and half ended up taking over three hours; but I'm so pleased we persisted with the journey as I knew we were in for a real treat...
Finally, arriving at the museum we were greeted with a warm welcome, a glass of wine and a beautiful cup cake. After three hours in the car a cup cake was very much needed at this point!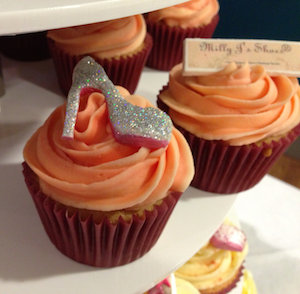 As part of the event we had access to the entire museum, so we took the opportunity to have a good look around before the exhibition started. The museum is a fascinating place for anyone with a keen interest in shoes, with many beautiful displays showing shoes throughout history, shoe-making machinery and even a chance to try on some of the more amusing designs.
Whilst wondering around the museum we discovered that there is also an exhibition for Jeffery West, the men's wear shoe designer. Jeffery West was founded by Northampton based duo Mark Jeffery and Guy West, so is perfectly matched with the Museum. Jeffery West offers a gorgeous collection of men's shoes worn by the likes of David Beckham, Daniel Craig and, someone I would love to spend an evening with, Russell Brand. But my night with Russell Brand is a story for another day. Lol.
Someone else who is also a huge fan of Jeffery West shoes is Bret Freeman who led the opening of Milly's exhibition. Bret openly admits to owning all but three pairs of the Jeffery West's shoes currently on display in the museum.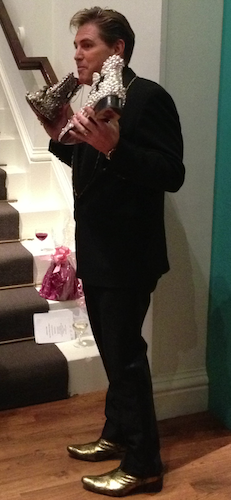 I've met a few celebs and presenters in my time, but Bret was one of the loveliest. Talking to him was so comfortable and he clearly loved Milly's work.
After Bret finished introducing Milly with a fondness rarely seen by hosts, Milly herself spoke briefly about her brother, who sadly passed away some time ago but who was, and remains to this day, a constant inspiration to Milly and her shoe designs. Milly then continued by talking about some of her amazing designs to date followed by a presentation of her first men's wear shoe 'Bret's Hollywood Army' and an exclusive shoe design 'Tap Shoe' created especially for the museum.
Following the presentation I took the opportunity to wonder the displays showing Milly's creative range of shoes. I have to be honest and say that the level of detail on these shoes is truly remarkable and at a level I would consider art.
Here are a few examples of my favorite designs on display: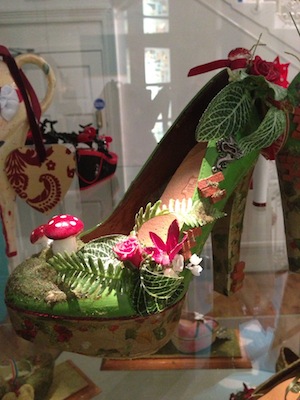 The Secret Garden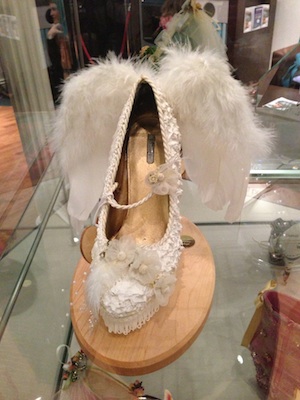 Guardian Angel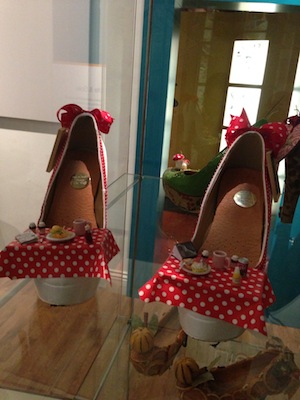 Garden Party
Whilst looking at the displays I was also fortunate enough to get the opportunity to chat with Milly herself (who by the way is incredibly approachable and very friendly) about what new projects she's currently working on. Milly explained that she's received an incredible amount of interest for her shoes and is currently working on designs for comedian Russell Kane, DJ Boy George and a number of other well known celebrities.
I asked if Milly if she would consider collaborations with any major labels and, although she wasn't able to mention names, she said that she has received interest from a number of leading designer brands. So watch this space...
Although Milly has only been making shoes for around a year, her warm personality combined with amazingly creative shoe designs, will, I'm sure result in her continuing to be a huge success.
The entire evening was so friendly and personal with Milly and Bret both making everyone feel so welcome. That three-hour car journey at the start of the evening was more than compensated by a brilliant exhibition that I would honestly recommend you pay a visit to soon.
Milly's Shoes will be on display at the Northampton Shoe Museum until January 2013.
Zoe. x
All images within this article are copyright 2012 LittleMissFashion.com