It's 6am and I'm up early to hit the gym. Before I leave to inflict more pain on myself I launch the news app on my phone. The first thing I read is that another fashion retailer has gone into administration. In this instance it was Republic, but over the last year there have been continuing reports of high street retailers struggling to continue trading.
The constant message appears to be that Internet retailers are one of the main reasons the high street is struggling, and it's clear to see why. Companies such as ASOS have seen huge increases in revenues and profits with a number of other online retailers reporting promising growth results.
The world of retail and fashion has changed drastically thanks to the introduction of smart phones, twitter, YouTube and super-fast Internet. All these new technologies make it easier than ever to follow trends, and equally fast for consumers to purchase those trends.
In general, high street retailers have been slow to adopt these new technologies, but those that have are really benefiting.
Burberry was an early adopter and, as such, has created a shopping experience that complements that found in their high street stores. The result - impressive sales and loyal customers.
Known internally as the Burberry social enterprise, CEO Angela Ahrendts explains more:
Topshop is another fashion retailer that's embraced modern technology. Last year at London Fashion week the Topshop catwalk show was streamed live and allowed viewers to interact directly with show, ordering items online as the model walked down the catwalk. It was a brilliant interactive experience, and this season they're trying to top it by teaming up with Internet giant, Google. I, for one, can't wait to see the results.
Apps are the obvious choice for most retailers nowadays and are hugely popular. But it's not enough to just showing still images of the latest collections. So, how else can retailers attract customers back into stores? Surely one answer is to provide us with an immersive digital high street experience, right?
I did a little digging around a quickly found a few technologies that could certainly help achieve an improved retail experience:
Retailer C&A Brazil has recently been trialing a technology that shows how many Facebook 'likes' a particular product has received. This unique idea not only allows customers to interact with the company by liking a product, but also allows them to make decisions based on what others think. It's like having millions of shopping buddies all offering advice at once. LOL.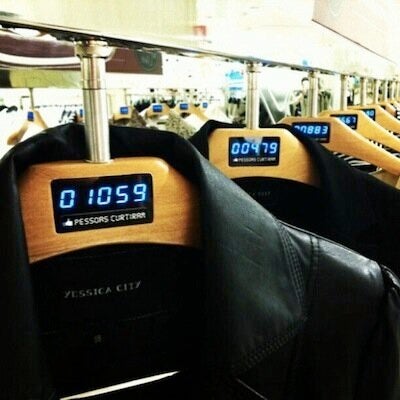 Teamlab have created a hanger that, when removed from the rail, can prompt interactive content to be displayed on a nearby screen. The content can be pretty much anything from a model wearing the item to recent tweets about the product.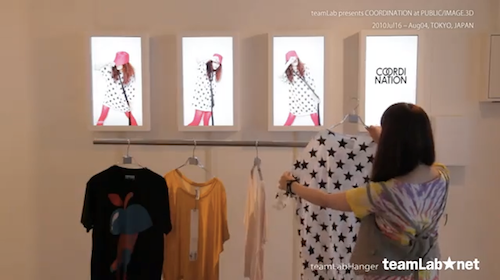 Clustalabs attempts to bridge the gap between the digital world and the physical world with a clever transparent interactive video screen. This provides shoppers with information about the products in-store, along with a 3D floor plan to help them find what they are looking for.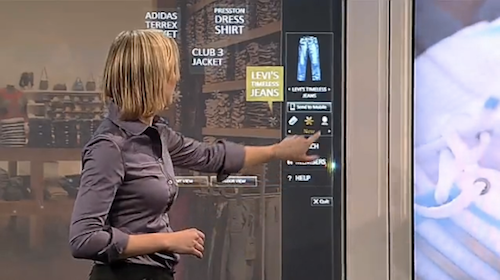 The key to attracting customers into a store is to spark our interest in either a product, the retail experience or, ideally, both. Have you ever seen an empty Apple retail store during opening hours? Probably not.
In my opinion, high street retailers have the upper hand in that they have a place for us to experience products and be immersed in the brand. And let's be honest, we generally like the option of dealing with someone face to face and trying on the clothes before making a purchase.
If high street retailers want to survive, they need to think beyond rails, shelves and flashy looking stores and start connecting with their customers on a meaningful level. Retailers need to bridge the gap between the physical world and the digital world.
Some retailers have unfortunately left it to late, but for those who are still surviving on the high street, we want to feel connected to the brand and believe that the brand genuinely cares about us in return.