So usually this time of year I'm running around London Fashion Week rushing from show to show and no matter what shoes I wear I end up with my feet punishing me in some way. So this season I decided on something slightly different. As much as it pained me, I decided to stay at home and see what brands were doing to promote their new collections via the internet and digital media.
The British Fashion Council went into partnership with streaming media provider Rightster a number of years back. The partnership provides live streaming from London Fashion Week and this year was no different, with a large number of leading brands including Burberry, Mulberry and Vivienne Westwood all streaming their catwalk shows via the London Fashion Week website.
I've used the LFW streaming service in the past but this year I noticed for the first time the LFW official streams were supported by mobile devices and in particular Apple mobile devices. This meant I was able to view the catwalk shows whilst on the move. I even managed to use the Airplay feature on my iPad to stream the shows directly to my TV. I thought this was brilliant! I was able to watch the shows, eat Maltesers and tweet my thoughts easily at the same time. I even watched a few of the early morning shows from comfort of my bed.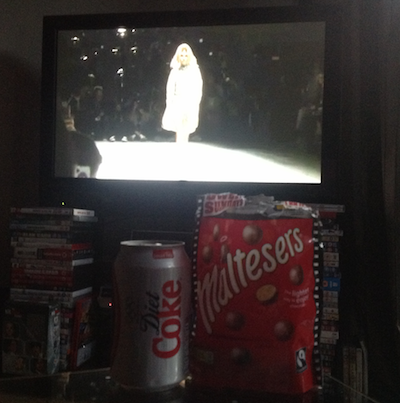 The official streams covered a large number of shows but some brands decided to stream their shows via their own websites. This is where a site by the name of CatwalkLive.tv was extremely useful. CatwalkLive.tv provides a complete list of live streams for the key fashion shows across the world. The website is incredibly simple to use and even provides direct links to the live streams. It really couldn't be any easier! The site allowed me to plan my days based on the collections I wanted to see, and as I follow CatwalkLive.tv on twitter they also tweeted reminders of shows that were about to start.
A number of the larger brands added some really unique twists to their streaming media experience. For example Burberry, who I've always considered a leader when it comes to using digital and social media, provided the ability to create a custom invites and had a personal message from Christopher Bailey about the upcoming show.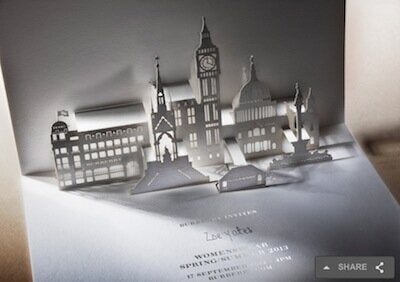 Henry Holland showed his latest House of Holland collection live via his website and also teamed up with ebay allowing customers to easily order using their ebay accounts.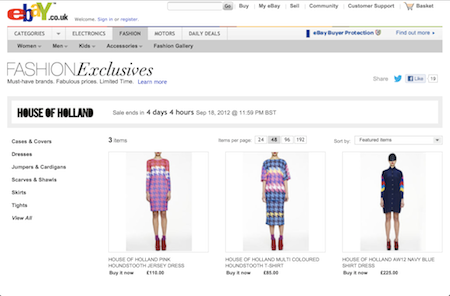 The shining star for me though had to be Topshop Unique, their live streaming provided the ability for viewers to take snapshots of the live show and post them directly to their Facebook page or Twitter feed, furthermore it was possible to purchase items directly from the collection on the same page as the live stream. A superb customer experience that left me feeling truly connected with the Topshop brand.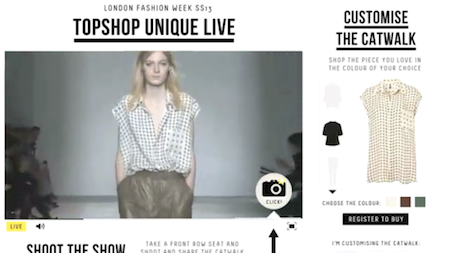 There were unfortunately a few leading brands that decided not to provide live streams including one of my favorite brands, Matthew Williamson. I hope that next year they will invite more of us into their shows by providing live streams.
Overall I did miss the live experience of actually being at London Fashion Week and will be heading up for the next season for sure. That said, for those not fortunate enough to attend the shows in person, the streaming media alternative is certainly a good alternative.
I'm really interested to hear what your experiences of watching any streams was and whether there was a brand that you thought provided an excellent experience or perhaps even one that didn't?
Please feel free to share by commenting below.