 2012 showed us that fashion, more than ever, has few barriers when it comes to trends. A great example of this is the Onesie, the perfect trend for keeping warm in your house. However, a number of celebs and fashionistas thought they would mix their perfectly made up faces and their beautiful hair with their Onesies, thus turning the 'nipping to the shops for milk' look into an acceptable everyday trend.
2013 looks like we could see some strange and interesting trends again so I thought I would share my thoughts on some of them, along with other predictions for 2013. Some are serious, some are silly and others are further proof that fashion continues to break down barriers.
2013 sees the return of circler sunglasses, a trend that I love - especially with the flip up lens covers. I have always struggled with glasses as I have a very small head, to the point that, on a recent go-karting team building event, I had to wear a children's My Little Pony helmet as the adult ones were too big. Needless to say my colleagues found this very amusing.
The oversized glasses trend resulted in me looking like a fly with boggle eyes, so when I saw circular glasses appearing again I was very excited. Maybe, finally, I can wear a pair of trend-setting sunglasses that don't make me look very silly. I especially like these white glasses from Louis Vuitton.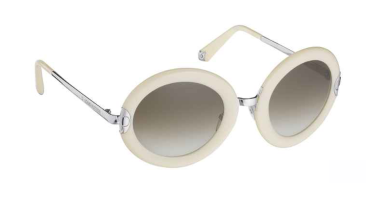 Image copyright 2012 Louis Vuitton UK & Ireland
On the basis that I've struggled with a small head my entire life, I thought I would order some low cost glasses in a similar style to see if they would suit me. Alas, this is yet another trend I won't be following as you can see. LOL.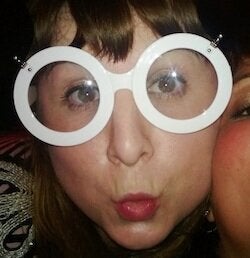 Image copyright 2012 LittleMissFashion.com
I still love this look, however, and I'm sure on most 'normal headed' people it will be hugely popular throughout 2013.
A trend that started in the Far East that takes Chic Geek to a whole new level may soon find its way to UK shores. Braces! Yes that's right, Braces! Teenagers in the Far East have started wearing fake braces as a fashion trend, and they're now available through Far Eastern beauty salons. During my research I found a number of blogs and even videos on YouTube explaining how to obtain them.
As a wearer of braces during my 20's, why anyone would choose to wear them as a fashion trend is beyond me. I found them to be extremely uncomfortable in addition to making eating both painful and awkward. I recall one meal where someone kindly informed me that I had noodles dangling from the back of my braces. Embarrassed isn't a strong enough word to describe how I felt. I rushed to the toilet and found, to my horror, rice and noodles lodged throughout them. I could have died. LOL
I hope for the obvious medical reasons this trend doesn't catch on here.
Like most people, I was really pleased to hear that the Duke and Duchess of Cambridge are expecting their first baby; it really was the best news to end a brilliant 2012 for Great Britain.
I am however a little concerned that we will be overloaded with images of Kate and her pregnancy throughout 2013. Yes Kate has great style and I'm sure this will continue throughout her pregnancy, but surely the focus from the media and photographers should be on the welfare of Kate and her child.
I truly hope that the media in general will respect any fashion decisions Kate makes during her pregnancy and allows her the space and privacy she requires to fully enjoy this special time.
At the tender age of 10, Romeo Beckham made his fashion debut in an advertising campaign for Burberry Menswear. Whilst writing this article I heard rumors that Romeo will also make a cameo appearance at a Burberry breakfast on Tuesday in honour of London Men's Fashion Week.
Romeo already has the support of a major brand, and other models in the industry have complemented him on his first campaign. I fully expect 2013 to be the launch of brand 'Romeo Beckham', accompanied by a great deal of media coverage.
During my visit to the gadget show 2012 I saw the mood sensing cat ears. Possibly the craziest trend for 2013 could be the mood sensing cattail. The tail tucks into the top of your trousers or skirt and reacts to your mood. For example, if you are happy the tail wags.
Here's a video showing more on this crazy but hilarious trend.
http://youtu.be/qvHcBq7UaY0
I think this is the one trend I would most love to see become really popular in 2013. LOL.