The second edition of World Tourism Forum was held in Istanbul between 4th to 6th February. Considering that the summit is in its second year this was a highly successful event that attracted more than 7,000 participants and more than 100 speakers.
The event was held at Istanbul Lutfi Kirdar Convention and Exhibition Center which is one of the largest in the city.
The dominant themes at the summit were related to recent border security incidents and the new market 'Africa'.
This event was realized under the leadership of Bulut Bagci, the president of the World Tourism Forum. In 2012 he founded LinkLine Group, a company responsible for many organized events such as: International Sports Summit, Istanbul in March 2013; Travel Trends Summit in October 2012 and the latest one the World Tourism Forum.
The main idea of the World Tourism Forum is to serve as an annual meeting which will bring together world tourism leaders and tourism industry representatives and where new trends and policies will be discussed. The summit was established on the model of Davos Summit.
Undoubtedly this second summit will greatly contribute to Turkish tourism and will strengthen the Turkish brand even more. Besides the new trends and international crisis on the industry, Turkish economy was also at the top of the summit's agenda.
Bulut Bagci stated that this event will promote the potential of the Turkish tourism industry and that they will continue with the efforts to increase Turkey's tourism income.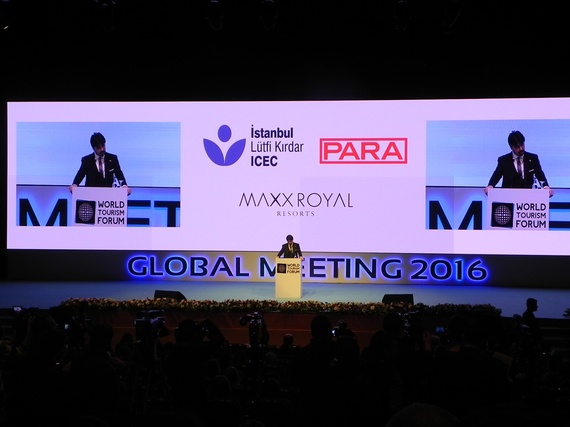 The leaders of the industry
The forum brought together opinion leaders, investors, political authorities and industry representatives. This event was held with the participation of Mr. Recep Tayyip Erdoğan who was the most famous guest of the event. The summit's speakers were also: Mr. Mehmet Şimşek - Deputy Prime Minister of the Republic of Turkey; Mahir Ünal - The Minister of Culture and Tourism; José Manuel Barroso - the former President of the European Commission; Başaran Ulusoy - the President of the Association of Turkish Travel Agencies; Sani Şener - CEO of TAV Airports Holding; Mark Tanzer - the CEO of ABTA; Serge Trigano - the Co-founder and President of Mama Shelter; Rolf Schrömgens - Co-Founder and Co-Chief Executive Officer of Trivago; Mr. Hakan Ateş - CEO of Deniz Bank and others.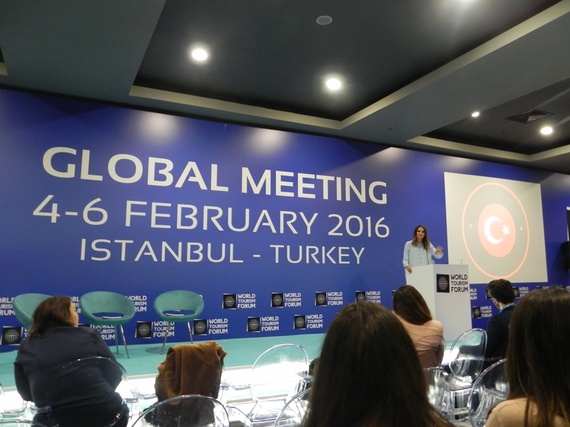 The President of Turkey Mr. Recep Tayyip Erdoğan stated that not only Istanbul has become a center for international events at the global scale, but other places too. He also stressed the importance of Antalya as the city hosted G-20 summit in 2015 and will host EXPO in 2016. "Tourism has a very important role in world's peace" - Erdogan said. The president also stated that even though Turkey continues to fight against the terrorism, the country will reach its 2023 target. That target is to be the fifth largest tourist destination, to host 50 million visitors per year and to obtain 50 billion USD of tourism revenue.
The World Tourism Awards
The gala ceremony on February 5th ended with the World Tourism Awards. Awards in over 40 categories were given away to their respective owners. This fantastic gala night was held at the Ciragan Palace - one of the most luxurious hotels in Istanbul. The gala attracted approximately one thousand guests.
The winners were;
Best Hotel Group
Kempinski Hotels
Best Airlines
Turkish Airlines
Best Luxury Business Hotel
Fairmont Baku
Best MICE Agency
Kuoni Global
Best Hotel Award Program
Starwood Hotels (SPG Program)
Best Tour Operator
Thomas Cook
Best Technology Innovation Company
IATI
Best Mobile Application for Travel
TripAdvisor
Best Tourism Investment Group
HNA Tourism Group
Best Luxury Boutique Hotel
Bill & Coo Mykonos
Best Luxury City Hotel
Ca'Sagredo Hotel
Best Business Class Service
Turkish Airlines
Best Wedding Hotel
Çırağan Palace Kempinski
Best Advertisement Campaign
Turkey Home
Best Winter Hotel
Rixos Flüela Hotel
Best Golf Hotel
Regnum Carya Hotel
Best Hotel Brand on Social Media
W Hotel İstanbul
Best Reservation System for Airline
Aerobilet
Excellence in Service Award for Hotel
St.Regis Hotel İstanbul
Best Easy to Use Travel Website
Expedia.com
Best Meetings & Conference Hotel
W Hotel Doha
Best Car Rental Company
AVIS
Best Resort Hotel
Maxx Royal Belek
Best Thermal Hotel
Plaza Hotel Italy
Best Family & Life Style Hotel
Titanic Deluxe Belek
Best C.I.P. Lounge
TAV Primeclass
Best Design Hotel
Mystique A Luxury Collection Hotel,Santorini
Best Event Supplier
M3
Best Select Service Hotel
Four Points By Sheraton İstanbul Dudullu
Best Advertising Solutions Company for Travel Industry
Sojern
Special Jury Award
Turkuvaz Medya Grubu
Blogging
Bloggers were also present at this edition of the World Tourism Awards. A blogging panel was held on the 5th February where several bloggers discussed the industry and potential cooperation between them and other representatives of the tourism industry. In total there were more than 50 bloggers from all over the world. The organizers also took an extra step to accommodate bloggers needs. A city tour was organized for them so they could get more familiar with Istanbul's rich culture and history, a place where civilizations have coexisted for centuries. This will of course highly contribute to global publicity of Istanbul and further promote Turkey as a travel brand. It's expected that bloggers will contribute to a reach of 1 million people for the Turkey brand.
Topics
One of the frequently asked questions was how the recent relations between Russia and Turkey will affect Turkish tourism. The Minister of Culture and Tourism of the Republic of Turkey, Mahir Ünal said that they will expand their presence to different markets so they can reduce dependence on Russia. One of these markets is Africa which is growing in the past years and which has great potential. After the recent terrorist attack this event will contribute to promotion of Turkey as a tourist destination. The impacts of politics on tourism industry was discussed at the event and a ministerial meeting was also held.
The forum also stressed the importance of a high growing sectors in tourism industry as per se medical and sports tourism.
The Future of the World Tourism Forum
Besides the Global Meeting which was held in Istanbul, there will also be a Gulf Meeting, Asia-Pacific meeting and Mediterranean meeting. The first edition of the World Tourism Forum saw 35 speakers and a 3 million USD of tourism revenue. The second edition of the World Tourism Forum attracted 123 speakers and approximately 10 million USD. The 2017 Global Edition will see 150 speakers and a tourism revenue of 30 million USD. Undoubtedly, this meeting is set to become one of the most important platforms in the tourism industry nowadays.