Eurozone Debt Crisis: European Leaders Reach Agreement Over Greek Debt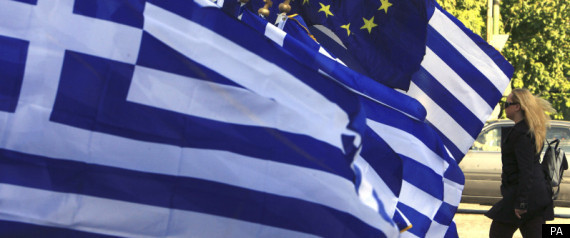 European leaders have reached a three-pronged agreement to resolve the eurozone debt crisis, including a deal that will halve Greek debt.
Banks were major gainers as European stock markets rose to hit three month highs on Thursday. The Dow Jones Stoxx Banks index, which aggregates the performance of European banks, was up nearly 5% in early trade. The German Dax and French CAC40 rose by 3.8% and 3.6% respectively on the open and extended gains to 4.46% and 5.14% by midday.
Athens will also receive another bailout of around €100bn, scheduled to be released in early 2012, while the overall bailout fund will be increased to €1tn (£872bn).
The deal also includes a recapitalisation of the banks, with institutions required to hold up to 9% of tier 1 capital by June next year.
"The haircut" of Greek debt will see holders accepting losses of around 50%.
Following nightlong talks brokered by German Chancellor Angela Merkel, French President Nicolas Sarkozy and IMF Managing Director Christine Lagarde, an agreement was finally reached in the early hours.
"We have reached an agreement which I believe lets us give a credible and ambitious and overall response to the Greek crisis," said Sarkozy.
"Because of the complexity of the issues at stake it took us a full night. But the results will be a source of huge relief worldwide."
The European commission president, José Manuel Barroso, said: "These are exceptional measures for exceptional times ... Europe must never again find itself in this situation.
"Europe will do what it takes to safeguard financial stability. I've always said this is a marathon, not a sprint."
Speaking on BBC Radio 4, Chancellor George Osborne said he was encouraged by the deal.
"I think they have made very good progress on the key issues they needed to make progress on – recapitalising the banks, reinforcing the firewall and resolving the Greek situation and I think they have got a good agreement last night," he said.
"Of course, we have now got to get the detail, there is still quite a lot of detail to be filled in and I think the crucial thing this morning is to maintain the momentum to ensure that we don't see what happened back in July when they agreed another package but then it took months to put into place.
"We have got to maintain the momentum from last night and turn what was a good package into something that has actually got all the detail and is going to work in practice."
According to reports, Sarkozy is due to speak to Chinese President Hu Jintao on later today.
The Xinhua news agency, China's official mouthpiece, described the deal as "positive but filled with difficulties".
When questioned on China's role, George Osborne said it was one of the "key details".
"There are very important questions to be resolved," he said. "Whether China is going to be involved, exactly how they are going to operate this new firewall, or the leveraged-up firewall, whether all the private sector are going to be involved in the Greek write-down of debt."
"These are very important questions but I don't think we should take away from the fact that we are in a much better position this morning than we were yesterday afternoon, that the eurozone leaders have grasped the seriousness of the situation.
"The pressure has paid off in that respect and now we have got to maintain the pressure to put the measures into place and actually fill in the blank spaces that remain and get the eurozone into a much more stable position and then address, of course, at the same time the longer term issues which is how we make the eurozone work in the long term which both economically and politically."