What Has A Face, No Arms, And Keeps A Look Out?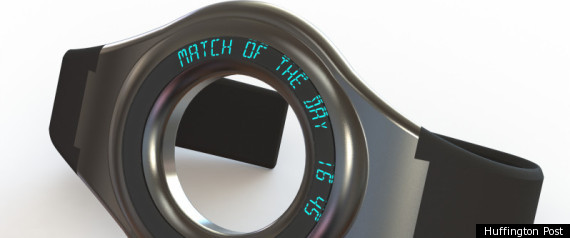 What has a face, no arms, and keeps a look out? A poorly constructed Dad joke for one, and an new armless, faceless watch developed by a British University too.
These digital watches by Nottingham Trent University and i2i Media Ltd, tell the time using Organic LEDs (OLEDS) shooting around the outside of the face and a flexible thin film display across the centre, where you expect to see a face.
Either way, they're a far cry from the old golden-faced Casios on the wrist of your average Dalston hipster.
The thin film makes the watch appear like some sort of heart rate monitor until you look closer to see the time. This may make it rubbish for a last minute poker bet, no-one will know what it is, but handy when avoiding pick-pockets who use that old "have to got the time" trick while snaffling that Rolex right off of you - it's far too confusing for them.
These watches of the future are being developed collaboratively within the university's School of Architecture, Design and the Built Environment, and the College of Science and the Arts. Mouthful, no? We'll call them SADBE and CSA.

Philip Radley-Smith, managing director of i2i Media, said that despite their long-winded department names, the university makes an excellent partner in developing new tech.
"It is a real pleasure working with the university, I really appreciate their energy and vision and as a result I can hardly wait for the launch of products which are truly going to change the way people use watches and bracelets to display information, be it text or images," he said.

So when can you get one? 2012, along with every other development in or near London. If you're a watch fetishist, and you have to get one earlier, make friends with a SADBE or CSA student - they're bound to need test subjects.