North Korea: Leaders Say 'No Change' In Foreign Policy After Kim Jong Un Named Supreme Leader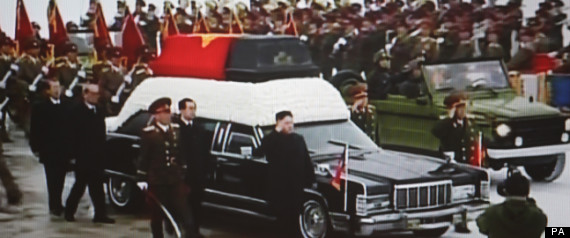 Leaders in North Korea have told "foolish politicians" around the world to expect no change in direction after the death of Kim Jong Il.
In a statement published by state media, the country's powerful National Defence Commission said the international community "should not expect any change from us".
The commission, thought to be one of the country's top decision-making bodies, addded that it would "never deal" with South Korean leader Lee Myung-bak and his "group of traitors".
"We declare solemnly and confidently that the foolish politicians around the world, including the puppet group in South Korea, should not expect any change from us," the statement said.
Kim Jong Il died on 17 December of a heart attack. His funeral was held on Wednesday and Thursday, as hundreds of thousands of mourning North Koreans gathered in Pyongyang.
Kim Jong Un, the former leader's son, has been declared "supreme leader of the party, state and army", and appeared at the funeral flanked by senior generals and officials.
The reclusive communist state is still technically at war with its neighbour South Korea and has been since 1950.
World leaders have been nervously watching to see how Kim Jong Il's death would affect the fragile ceasefire currently in place.
North Korea's leadership were reportedly angered by South Korea's decision to send just two non-official delegations to mark Kim's death, describing the move as "unforgivable".
In a statement released after Kim Jong Il's funeral, state media reiterated its pledge to pursue "national reunification".
Meanwhile the United States has said that it will send its diplomat Kurt Campbell, the assistant secretary for east asian and pacific affairs, to hold talks in Beijing, Seoul and Tokyo in early January.
After talks with South Korean officials on Thursday, the Pentagon said it "shared the view that peace and stability on the Korean peninsula is our overarching priority and agreed to maintain close co-operation and co-ordination in the weeks and months ahead".