UK Weather: Heavy Rain And 100mph Gale-Force Winds Cause Continuing Travel Chaos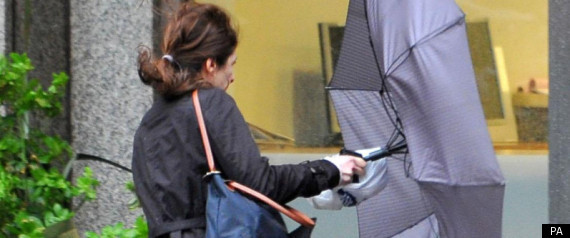 Gale force winds have blown Britain off its feet, as quasi-apocalyptic squalls have seen gusts of up to 100mph rage across the country, causing disruption on roads, railways and at ports.
Two people have now died in the extreme weather. The first was a man in his 50s, who died when his van was crushed by a falling tree in high winds in Tunbridge Wells, Kent Police said. The second was a crewman on the English Channel who died after being injured on board a tanker. Two other men were rescued from the vessel and taken to hospital.
The Scottish Government said about 60,000 electricity customers were left without power after strong winds affected electricity lines, but that number was likely to fluctuate through the day as the storm moved east and north and engineers were able to carry out repairs. Power cuts were also reported in parts of Dorset.
Part of Epsom grandstand's roof spiralled off into the skies, as high winds loosened tiles from the Duchess Stand, and the Surrey racecourse has had to be evacuated.
Southern parts of England and Scotland and almost the whole of Wales have been given a yellow 'be aware' warning by the Met Office due to the dangerously high speeds that winds are blasting across towns and railways.
Parts of Northern Scotland and Ireland have been issued an amber 'be prepared' warning of snow and wind by the Met Office, one down from the most severe red "take action" weather warning.
Even Cornwall is suffering from the miserable weather: Devon County Control told the BBC that 16 teams were sent to clear trees, branches and debris from roads. First Great Western rail services between Truro and Penzance are being affected by an obstruction blocking "all lines".
Many homes have also suffered power cuts. Western Power Distribution told the BBC that about 1,000 properties had lost power across the South West.
In Bangor, North Wales, the weather is thought to have caused a power surge at a house in Lon Y Wern, which led to a washing machine fire.
Commuters are due to face more travel chaos getting home, despite enduring a considerable battering at the hands of wind, rain and rail fares on the way in to work.

Scotrail has told passengers not to travel and bad weather has meant that some East Coast main line trains between London and Scotland had to start and terminate at Newcastle upon Tyne.
A tree fell onto a bus in Surrey, causing serious injury to the driver. The oak tree, measuring 6ft across, fell on to his single decker stagecoach at about 8.25am.
A lorry fell on its side on the A66, County Durham, while the Kingston Bridge in Glasgow has been shut by two overturned lorries. The Tay and Forth bridges are also closed.
Gemma Plumb, a forecaster from Meteogroup, the weather division of the Press Association, said:
"Everywhere has seen strong winds today.
"So far we've seen gusts across central and southern parts of Scotland of 85 to 97mph.
"That's an hourly figure, so there's a chance there may have been stronger gusts of more than 100mph.
"We are seeing gusts of 65 to 75mph across northern parts of England, and gusts of 60 to 70mph across Wales and the south coast of England."
Figures published by the Met Office reported wind speeds of 106mph at Great Dun Fell in the north Pennines and 102mph in Edinburgh.
The Port of Dover was forced to close because of high seas, a spokesman for DFDS Seaways said.
A ferry named the Norman Spirit, run by the LD Lines Network, was seen being buffeted by waves around the harbour walls.
Earlier, P&O Ferries reported that its Dover-Dunkirk services were suffering delays of up to 60 minutes, as well as suspending its Larne-Cairnryan crossings.
Ferry travel from the mainland to the Isle of Wight was also affected, with Redjet, some Red Funnel, Hovertravel and some Wightlink services suspended because of rough conditions.
Britain's biggest port in Felixstowe has also been forced to close
Continued heavy rain means both Wales and Scotlands have also been issued with flood warnings
MeteoGroup's Ms Plumb said: "At the moment we've got a band of quite heavy and persistent rain that's heading south-east across England and Wales."
She said an "intense area" in the middle of a wide band of rain would cause torrential downpours lasting 10 to 15 minutes.
"Parts of Wales and England have seen 5mm (0.2in) to 6mm (0.24in) of rain in an hour."
In the South West, the Environment Agency has yellow flood alerts active on 21 rivers from Cornwall to Wiltshire.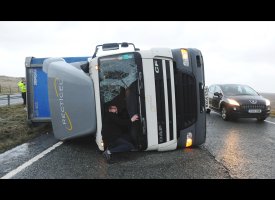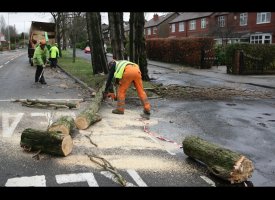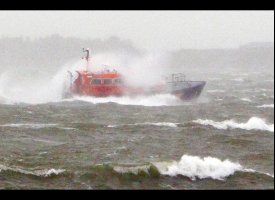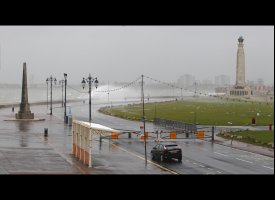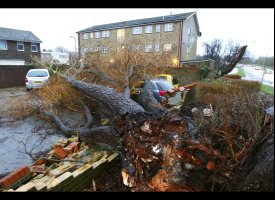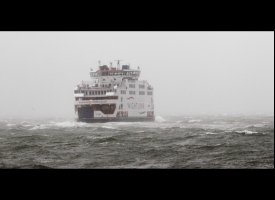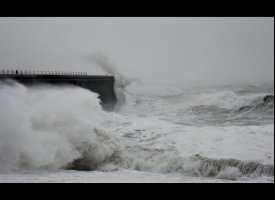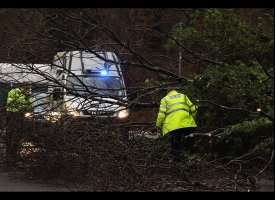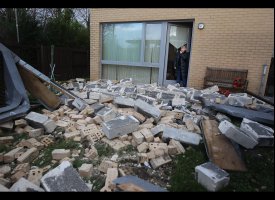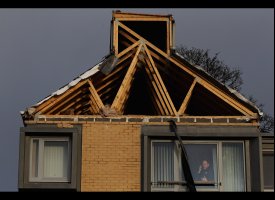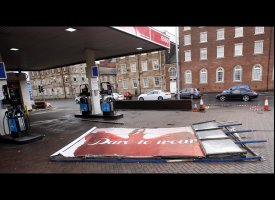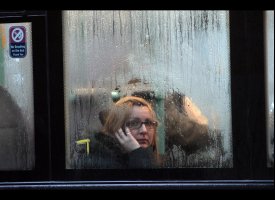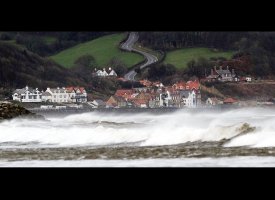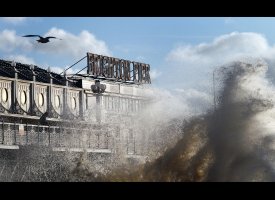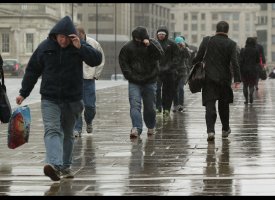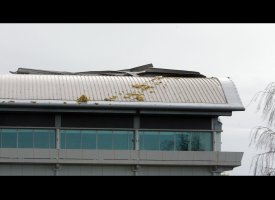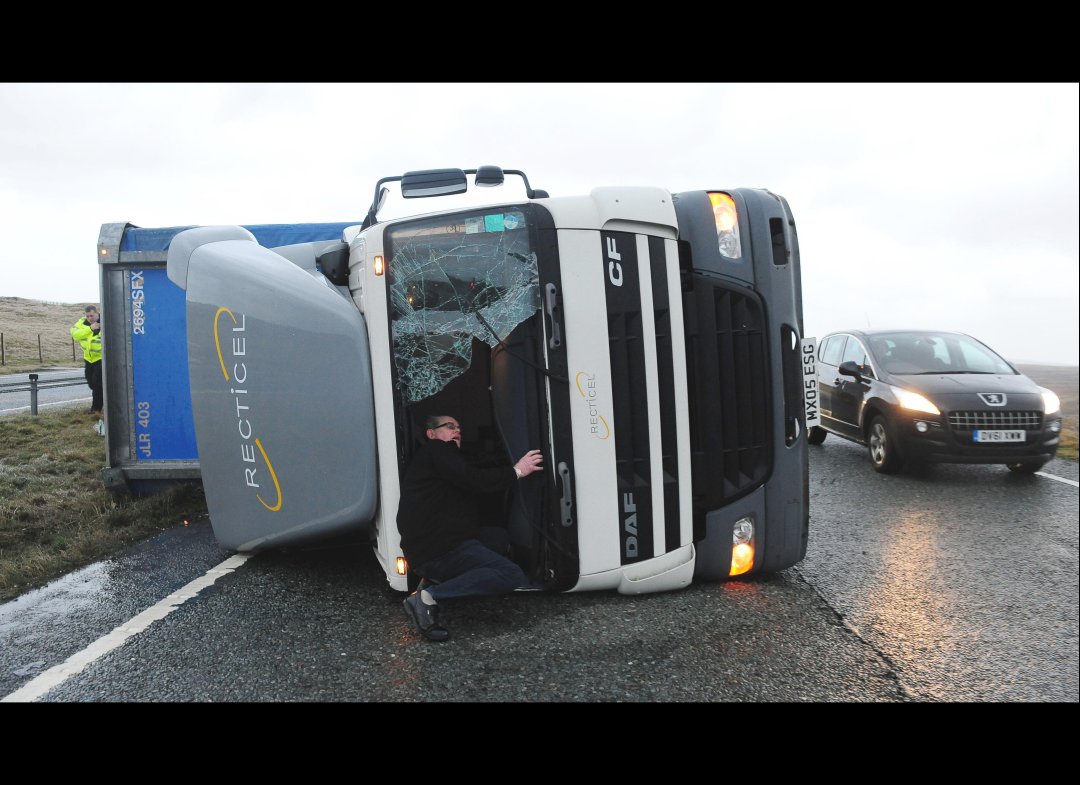 Largs seafront battered again by gale force winds