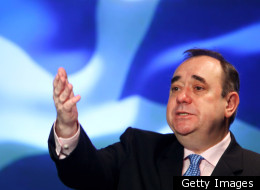 Alex Salmond has offered to hold talks with David Cameron and Nick Clegg, after a week of animosity between Westminster and Holyrood.
Salmond said he was willing to meet the prime minister "in Edinburgh, in London or wherever".
The SNP leader made the approach in Dublin where he is attending a summit of the British-Irish council with Nick Clegg.
Clegg's spokesperson welcomed the move, telling the press association: "If this means that Alex Salmond is saying he is going to engage constructively and join the conversation, then we welcome that."
However the spokesperson added that Scottish Secretary Michael Moore had already invited Salmond to talks with the government.
On Friday morning Salmond struck a less conciliatory tone, comparing Scotland with Ireland and hitting out at "Westminster politicians":
"I am sure many people in Ireland will remember that sometimes people who are in leadership positions in big countries find it very difficult not to bully small countries. What we have seen over the last week is a most extraordinary attempt to bully and intimidate Scotland by Westminster politicians," he told Irish broadcaster RTE.
Salmond added that Clegg, Cameron and Osborne would no longer be "dictating terms to Scotland."
It comes the day after George Osborne suggested an independent Scotland would not be able to keep the pound as its currency, as he spoke of "taking the fight" to the SNP.
Relations between Westminster and Scotland have reached the level where Northern Ireland's Deputy First Minister Martin McGuinness joked that he could facilitate peace talks between the British and Scottish leaders.
He said: "(First Minister) Peter Robinson and I have a castle in Belfast and I'm sure we will be prepared to make it available for peace discussions between the British Government and Scotland."
After failing to crush the Caledonian tries, the Roman Emperor Hadrian erected a wall to protect his English colony.

1296: Edward I of England - the 'Hammer of the Scots' - invades and deposes Scotland's King John. William Wallace (see Braveheart) defeats the English at the Battle of Stirling Bridge.

1314: Edward I's son, Edward II, tries to break the siege of Stirling castle and reassert English control. He is defeated by Robert the Bruce at the Battle of Bannockburn - securing de facto independence for Scotland. Scottish losses: between 400-4000 English losses: 700 cavalry, 4,000-11,000 infantry.

The first Parliament of Scotland meets in 1326 and in 1328 Edward III signs the Treaty of Northampton, recognising Scottish independence.

1587: Elizabeth I successfully orders the execution of Mary, Queen of scots. Elizabeth feared her Catholic cousin could become a rallying point for dissent and disturb England's religious stability.

1707: The flow of trade brought the English and Scottish parliaments together under the 1707 Act of Union - creating the new state of Great Britain.

1872: The world's first official international football match played between England and Scotland, hosted at Hamilton Crescent. The patriotic fever whipped up by England v Scotland matches is still evident. In 1977, The Tartan Army invaded the Wembley pitch after beating England 2-1.

Under Thatcher, critics claimed the country was used as a Petri dish for free market experiments ahead of England. Scotland was handed the poll tax in 1989 - one year ahead of England. More than 1.5m refused to pay the tax and the Scots hit the streets in protest - some travelled to London and protested outside Parliament.

Alex Salmond's Scottish National Party party took control of the legislature in 2011 - clearing the way for a referendum on full independence.