10 Diamond Jubilee Gifts That Cost Less Than A Yacht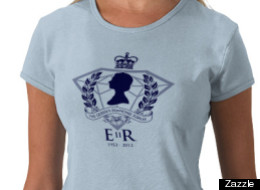 2012 is likely to be a year to remember. The Queen is celebrating her Diamond Jubilee, London is hosting the Olympic Games, and Adam Sandler's cross-dressing movie Jack And Jill is coming out.
And we know what you're asking. You're asking: 'We're buying the Queen a yacht, Huffington Post UK Comedy - but what about us? What can we buy ourselves to celebrate Elizabeth's 60 years on the throne [insert joke here]?"
Well, look no further, dear friends:
You may think that you love the Queen. But do you love her enough to put her head on your chest? Buy it from Zazzle

For all your online usage requirements in 2012! Buy it from Zazzle

Whether you're celebrating the Diamond Jubilee by opening letters, using a napkin or stirring a cup of tea, there's something for everyone here. Buy it from Distinctly British

Thank you, person wearing badge! I will! Buy it from Zazzle

He's even wearing a commemorative jumper. How very meta. Buy it from Gift Flair

The last teddy bear wasn't quite up to this standard, admittedly. But that's because this teddy bear IS THE QUEEN. Look - she's even waving! Buy it from Special Gifts 4 U

A tie never goes out of fashion! But sadly, this one can only be worn during 2012. Buy it from Zazzle

Know an old lady who's celebrating a Diamond Jubilee this year? Yes - this card is custom-made for you to send to the Queen. How thoughtful! Buy it from Zazzle

One for all American celebrants of the Diamond Jubilee. Buy it from Zazzle

The Queen in a headscarf! The Queen in a crown! The Queen in one of those fancy official hat things! THE QUEEN! *faints* Buy it from Zazzle