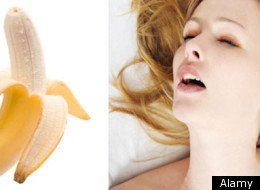 Has your love life lost its spark? Or do you struggle to summon up the energy to raise a smile, yet alone anything else?
It happens to the best of us, but before you reach for the Viagra, be rest assured that the solution to your sluggish sex life could be as simple as feasting on a banana washed down with orange juice with a little splash of chilli...
Read on to find out which food are best at enhancing your libido, reigniting the passion and getting the blood pumping.
Natural Alternatives To Viagra
Feed your libido with these superfoods for sex...

If you struggle to get into the mood with your partner, eat a stick of black licorice, as it's proven to increase blood flow around the body, providing a surge of excitement. It's also a great aphrodisiac for women as according to recent research by Smell and Taste Treatment and Research Foundation in Chicago, just the smell of it increases sexual desire. Licorice also strengthens adrenal glands to boost energy levels and minimise the effects of stress, which always benefits flagging sex lives.

If you're always tired and struggle to raise a smile let alone anything else, try eating more fatigue-fighting foods packed with Thiamin - the B1 vitamin renowned for its energy-boosting properties. Swap the coffee and red bulls for tuna, sunflower seeds to reap the benefits.

Adding zinc to your diet is as easy as whipping up a dish of delicious oysters to get the blood flow working - in all the right directions. Zinc helps aid the production of testosterone hormones involved with healthy genital function and helps women, in particular, to sustain their sex drive. For men, zinc can work to increase the sperm count, and in women, zinc works to increase fluid secretions, which increase sexual pleasure.

Tackle the pre-coital nerves and stress with foods containing muscle-relaxing vitamins magnesium and calcium. These soothing ingredients help relax the muscle fibres in the body and also aids a healthy blood flow around the nether regions. Spinach, swiss chard and orange juice are the most potent foods to get your juices flowing.

There's a reason some women say chocolate is a substitute for sex... Cocoa flavanols in chocolate helps the body to release nitric oxide, found in the inner lining of blood vessels that helps normalise blood flow through the arteries and relaxes blood vessels. Eating chocolate instantly boosts production of phenylethylamine, a chemical that directly affects the brain's pleasure centre, which makes you feel calm and satisfied. Since sex drive is affected by stress and nerves, it's easy to see how chocolate could aid a healthy sex drive.

If you're going through a dry spell and are starting to see your sex life suffer as a result, boost your feel-good mood and your confidence with Omega-3 packed foods, such as flax seeds, walnuts and salmon. These foods increase the levels of serotonin in the body, which is a natural 'love hormone' that helps the body relax, be happy and more in the mood for passion.

Having lot's of lingering kisses is the key to a good sex life, but if you're suffering from bad breath, it will most definitely dampen your passion. Avocado is a great fruit for combating halitosis as it effectively kills enzymes that cause bad breath by releasing a powerful germ killer. Another great, natural freshener is parsley, which contains chlorophyll - a natural fresh breath saviour.

What you eat not only affects your mood but the taste of your body's secretions, like semen and vaginal lubricant. If you want to smell (and taste) your best during your love making session, stock up on sweet, acidic foods like citrus fruits like mango, oranges, lemons and pineapple. Steer clear of spicy, pungent foods.

Bananas help to boost male libido largely due to the presence of the enzyme 'bromelain' (and not because of its phallic appearance!) Bananas are also a good source of B vitamins like riboflavin and potassium, which increase the body's total energy levels. They are also very rich in potassium and B vitamins, which are vital for sex-hormone production.

Chilli's are a great way of heating up your sex life, due to capsaicin substance that gives the 'kick' to peppers, curries and other spicy foods. Triggering the release of endorphins, capsaicin is therefore a feel-good chemical for your brain. It also stimulates nerve endings and raises your heart rate.