Claire's Accessories In Twitter Storm After Tatty Devine's 'Can You Spot The Difference?' Blog Post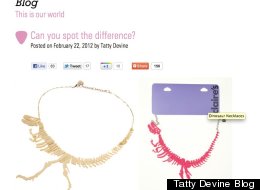 Claire's Accessories has been at the centre of a Twitter storm after the high street chain was accused of making almost identical jewellery to that of independent British designer Tatty Devine.
The perspex jewellery makers which craft their designs from hand, highlighted the similarities between the cheaper plastic necklaces that Claire's Accessories are selling, and their own versions, on a blog post entitled "Can you spot the difference?"
In particular, a glasses pendant, a dinosaur design and a fishbone necklace look remarkably similar, the Tatty Devine blog points out.
A social media backlash saw Claire's Accessories begin trending on Twitter, with widespread support being offered for Tatty Devine.
Although Britain teeters on the brink of recession, the views expressed both on Facebook and on Twitter suggest that the general public don't necessarily want cheaper accessories if it comes at a cost. One user tweeted:
@jamesmoran

James Moran
Tatty Devine has now sought legal action against the accessories giant, and an update on their site suggests that popular interest on social media sites helped leverage that decision. Tatty Devine designers Rosie Wolfenden and Harriet Vine told Stylist that the way that the blog post had gone viral on both Twitter and Facebook had been "amazing."
A second blog post entitled "Claire's Accessories update" includes the following statement.
"We want to say a big thank you to everyone who commented, and for all the support on Facebook, Twitter and Pinterest too. We are truly heartened and impressed by the amazing response on this issue."
Claire's Accessories could not be reached for comment. The high street store has been criticised for removing negative comments off their Facebook page, however this may be due to legal reasons, as Tatty Devine has also closed comments on its blog post for this reason.
Although many users tweeted support at Tatty Devine other social media reactions show that many took the news a little more light-heartedly than others. Check out the range of twitter responses below.