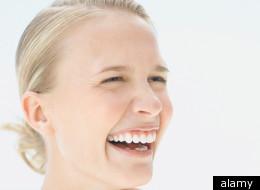 According to a new study, our thirties are the new twenties, as seven in ten of us admit to feeling at our happiest at 33.
Twentysomethings may have youth, wrinkle-free skin and stamina on their side but 70% of Brits do not feel truly happy until they reach 33, a study by Friends Reunited has revealed.
In contrast, only 6% claimed they were at their happiest during their college years when they were supposed to be having the time of their lives and only 16% said their happiest period was during their childhood.
Over 36% admitted that their happy levels soared once they settled down and had children.
But what makes 33 the magic number?
Over half of us believe life is more fun at 33, with 42% admitting to feeling more optimistic about the future and 38% revealing they stress less at this age than they did when they were younger.
Talking about the study's findings, psychologist Donna Dawson said: "The age of thirty-three is enough time to have shaken off childhood naivety and the wild scheming of teen-aged years without losing the energy and enthusiasm of youth.
"By this age innocence has been lost, but our sense of reality is mixed with a strong sense of hope, a "can do" spirit, and a healthy belief in our own talents and abilities. We have yet to develop the cynicism and world-weariness that comes with later years."
The study also discovered that many of us seek happiness through our professional achievements, with 21% admitting they felt happy when they excelled at work.
"While many of us look back and reminisce about our carefree childhood, it's also important to remember that it's the big life experiences and the momentous events that we go through that make us who we are, added head of Friends Reunited, Matt Bushby.
This study follows a study by The Huffington Post UK and YouGov, which discovered that Brits feel at their most content at 38.
Boost your feel-good mood with these simple happiness tips from life coach Sophia Davis.

"Have a PMA (Positive Mental Attitude). Choose your thoughts and be your own best friend. Nothing negative can come from being positive, so believe that life is full of opportunity to be happy and it will be. Say affirmations, notice where your mind chatter takes over, and be in charge!"

"It's important to feel you have a purpose, that your important, and have something to get up for In the mornings. Know what your 'purpose' is, and keep it in mind for a great start to each day."

"Our body is (or should be) a temple. Its the thing that carries us from day to day and stays with us always. Its important to nourish it with good food, and keep it exercised. Try out a new dance class, go to the gym, or set up your own running club. You'll feel better for it."

"Everyone likes to feel that they are achieving. Set yourself goals for the week, month or even year and make sure you always feel challenged (not stressed). Sign up for the race for life, walk on hot coals, or learn a new skill, it will make you feel fabulous."

"Give something back, it feels good to give back to others. Use It to nourish your soul. Giving back doesn't need to be dramatic, a smile at someone on the street, a chat with the homeless, or volunteering your time for charity are all equally as rewarding."