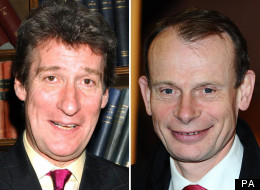 BBC and Newsnight presenter Jeremy Paxman is giving evidence at the Leveson inquiry into press standards.
Earlier fellow BBC presenter Andrew Marr told the inquiry he had taken out a super injunction to prevent details of an affair being reported because the Press Complaints Commission was too weak to do anything.
Marr said that the country had looked "agog" at some of the evidence presented so far, but that the newspaper industry could be fatally injured by too much regulation.
"Without individual contacts... and a bit of wining and dining... I don't think the public would have known about the difficulties in the Brown/Blair relationship... and that was a really important story," he said.
Former Labour defence secretary Lord Reid and Tory MP Stephen Dorrell, who oversaw media policy as heritage secretary in John Major's Conservative government in the mid 1990s, were also called to give evidence on Wednesday.
The inquiry, sitting at the Royal Courts of Justice, is to hear from Culture Secretary Jeremy Hunt's former special adviser Adam Smith and News Corporation lobbyist Frederic Michel on Thursday.
Paxman recalls a dinner at Canary Wharf in 2002 where Piers Morgan teased Ulrika Johnson about private conversations between her and a third party.
Morgan put on a mock Swedish accent, pretending to be Sven Goran Eriksson mock Swedish accent". He said he didn't know if Morgan was repeating a conversation he had heard or had just "imagined" it.
Paxman says that Morgan then told him how mobile phones were hacked.
"Have you got a mobile phone?" Morgan apparently asked.
"I said yes."
"Have you got a security setting," Morgan asked, according to Paxman. "I didn't know what he was talking about" said Paxman.
"He then explained that the way to get into someones messages was to "go into the security settings and press 0000… and that if you didn't you were in, his words, a fool."
"It was clearly something he was familiar with."
The atmosphere in the room "struck me as close to bullying, frankly."
Other people in the room included:
"Sir Victor Blank, chairman of Trinity Mirror, Piers Morgan, the then editor of the Sunday Mirror whose name I have forgotten, Ulrika Jonsson, Philip Green."