David Cameron is to join a meeting of world leaders in Mexico on Monday where a long-term solution to Europe's economic turmoil is likely to be top on the agenda. A "very bad crisis" was averted when Greeks rejected anti-bailout proposals in crunch elections.
Right-wing New Democracy's victory was too narrow to form a government without support, showing the deep divisions of feeling among Greeks.
However the eurozone hailed the result as the basis for a new administration backing reforms leading to growth.
With 97% of ballots counted anti-austerity party Syriza was defeated with 26.9% of the vote by New Democracy on 29.7% with Pasok in third place at 12.3%.
All eyes will now be on the jittery stock markets today, which opened up in Asia when trading began this morning.
Antonis Samaras, leader of the right-wing party, branded the result a "victory for all Europe" despite failing to secure enough votes to form a government.
He said voters had shown they wanted to "stay anchored" in Europe and called for all political parties that shared that objective to form a coalition.
The British coalition said it would work with "whatever Greek government is formed".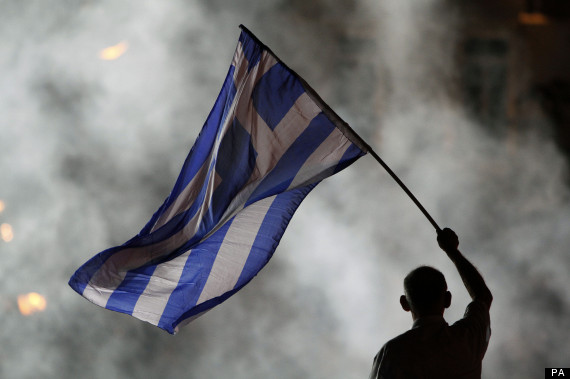 New Democracy's is likely to win by a whisker, showing that that Greeks are still divided over the right solution to the crisis
Former chancellor Norman Lamont said Syriza's failure at the ballot box had probably delayed a "very bad crisis" but warned "nothing underneath has changed very much".
Mr Lamont told Sky News: "I think there will be a certain amount of relief that what some people would see as the worst outcome has been avoided and you are not going to get confrontation between a Syriza-led government and the eurozone.
"But I think in reality nothing underneath has changed very much. Very few people believe Greece is in a tenable position for the long term but at least an immediate very bad crisis has probably been put off."
Leaders will meet in Mexico today for the G20 summit of leading nations where the ramifications of the result are expected to be top of the agenda.
In a joint statement from Mexico, European Commission president Jose Manuel Barroso and European Council president Herman Van Rompuy welcomed the result and said the EU would now stand by Greece as eurozone and EU members.
They insisted the current bail-out deal for Greece - 130bn euros with strict national austerity conditions attached - remained the right way to restore the country's growth and prosperity.
The statement said: "The Greek people have spoken. We fully respect its democratic choice. We are hopeful that the election results will allow a government to be formed quickly."
A Foreign Office spokeswoman said: "The UK will work with whatever Greek government is formed."
A statement issued in Brussels on behalf of the 17 single currency countries said: "The Eurogroup acknowledges the considerable efforts already made by the Greek citizens and is convinced that continued fiscal and structural reforms are Greece's best guarantee to overcome the current economic and social challenges and for a more prosperous future of Greece in the euro area.
"The Eurogroup reiterates its commitment to assist Greece in its adjustment effort in order to address the many challenges the economy is facing.
"The Eurogroup therefore looks forward to the swift formation of a new Greek government that will take ownership of the adjustment programme to which Greece and the Eurogroup earlier this year committed themselves."
But James Hickman, MD of currency business Caxton FX, warned of an adverse market reaction. He said: "It's going to take a few days for the leading parties to form a working collation but unlike in April, there will be a more concerted effort from all sides to make concessions given the seriousness of the situation.
"Given the uncertainty of the result, it is unlikely to fill the markets with confidence and this will weigh further on the euro as investors seek out safe-haven currencies."
Voters returned to the ballot boxes just six weeks after the last election, which left no party with enough support to form a government.
Parties now face a fresh round of coalition talks in the hope of forming an administration. Failure could mean a third round of elections later this year.
Asian stock markets climbed early today after Greece's elections eased fears of global financial turmoil.
Tokyo's benchmark Nikkei 225 index was up 2.1%, at 8,749.31; Hong Kong's Hang Seng rose 1.8% to 19,578.13; Australia's S&P/ASX200 rose 1.6% to 4,123.30 and South Korea's Kospi rose 2.2% at 1,899.49.
Greeks go to the polls:
Loading Slideshow
Evangelos Venizelos

Evangelos Venizelos

Greece's Socialist leader Evangelos Venizelos casts his ballot during the elections in Thessaloniki, Sunday, June 17, 2012. Greeks voted Sunday for the second time in six weeks in what was arguably their country's most critical election in 40 years, with the country's treasured place within the European Union's joint currency in the balance. (AP Photo/Nikolas Giakoumidis)

A woman walks up to the polling station to vote during the elections in Thessaloniki, Sunday, June 17, 2012. Greeks voted Sunday for the second time in six weeks in what was arguably their country's most critical election in 40 years, with the country's treasured place within the European Union's joint currency in the balance. (AP Photo/Nikolas Giakoumidis)

A child looks on from a polling booth as her mother prepares to vote at a polling station during the elections in Thessaloniki, Sunday, June 17, 2012. Greeks voted Sunday for the second time in six weeks in what was arguably their country's most critical election in 40 years, with the country's treasured place within the European Union's joint currency in the balance. (AP Photo/Nikolas Giakoumidis)

A Police officer helps a woman to find a polling station during the elections in Thessaloniki, Sunday, June 17, 2012. Greeks voted Sunday for the second time in six weeks in what was arguably their country's most critical election in 40 years, with the country's treasured place within the European Union's joint currency in the balance. (AP Photo/Nikolas Giakoumidis)

An elderly woman is helped to access the poling station after voting during the elections in Thessaloniki, Sunday, June 17, 2012. Greeks voted Sunday for the second time in six weeks in what was arguably their country's most critical election in 40 years, with the country's treasured place within the European Union's joint currency in the balance. (AP Photo/Nikolas Giakoumidis)

A Greek man leaves the booth after voting during the elections in Thessaloniki, Sunday, June 17, 2012. Greeks voted Sunday for the second time in six weeks in what was arguably their country's most critical election in 40 years, with the country's treasured place within the European Union's joint currency in the balance.(AP Photo/Nikolas Giakoumidis)

An elderly woman passes next to a bust of Alexander the Great as she is helped to leave the poling station after voting during the elections in Thessaloniki, Sunday, June 17, 2012. Greeks voted Sunday for the second time in six weeks in what was arguably their country's most critical election in 40 years, with the country's treasured place within the European Union's joint currency in the balance. (AP Photo/Nikolas Giakoumidis)

Evangelos Venizelos

People vote inside booths during the elections in Thessaloniki, Sunday, June 17, 2012. Greeks voted Sunday for the second time in six weeks in what was arguably their country's most critical election in 40 years, with the country's treasured place within the European Union's joint currency in the balance. (AP Photo/Nikolas Giakoumidis)

Evangelos Venizelos

Greece's Socialist leader Evangelos Venizelos casts his ballot during the elections in Thessaloniki, Sunday, June 17, 2012. Greeks voted Sunday for the second time in six weeks in what was arguably their country's most critical election in 40 years, with the country's treasured place within the European Union's joint currency in the balance. (AP Photo/Dimitri Messinis)

Evangelos Venizelos

Greece's Socialist leader Evangelos Venizelos talks to a man as he leaves the poling station after voting during the elections in Thessaloniki, Greece, Sunday, June 17, 2012. The Greek people are voting Sunday for the second time in six weeks in what may be their country's most critical election in 40-years. (AP Photo/Dimitri Messinis)