The Queen has begun her historic visit to Northern Ireland in Enniskillen, arriving to crowds cheering - despite torrid weather and a late arrival from the monarch.
Accompanied by Prince Philip, the Queen, who flew by helicopter from Belfast to Enniskillen, touched down at St Angelo Airport an hour later than planned.
The most prominent moment in the tour, which signals a key moment in relations between Northern Ireland and the monarchy, will be the Queen's handshake with Sinn Fein politician and former IRA commander Martin McGuinness on Wednesday in a gesture which will herald another milestone in Anglo-Irish relations.
As a staunch Republican, McGuinness heavily opposes the role of the monarchy, but the handshake, set to take place behind closed doors, will see both set aside their political differences in a display of peace and respect.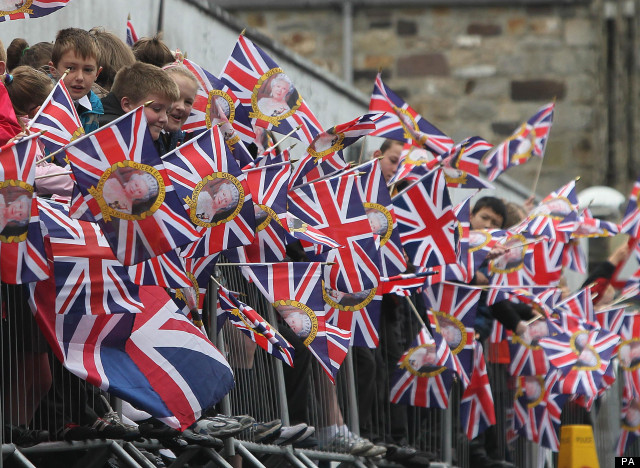 Crowds lined the streets as the Queen arrived in the town for the service
Wearing powder blue, the monarch was followed from the aircraft by Prince Philip, who is still recovering from a recent spell in hospital with an infection.
The pair were greeted by the Lord Lieutenant of Fermanagh, the Earl of Erne, before heading to Enniskillen for a service in the town's cathedral for a service.
Hundreds of drenched well-wishers who had braved the elements cheered the Queen and waved flags as her convoy arrived in the town.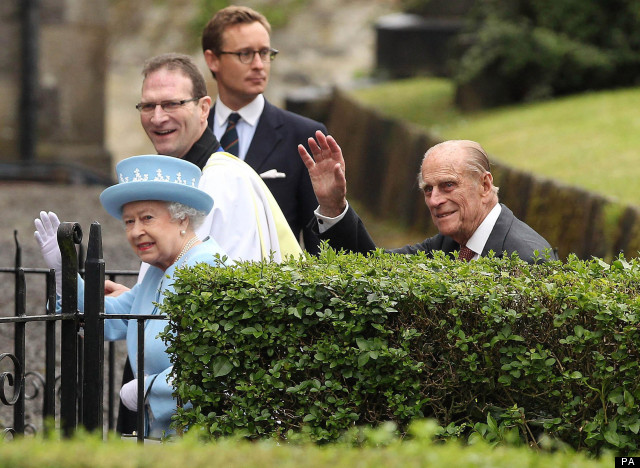 The Queen and Prince Philip arrive at Enniskillen's St Macartin's Church
The start of the thanksgiving service at St Macartin's Church of Ireland Cathedral was delayed by an hour due to the Queen's late arrival in the country.
A few minutes walk from St Macartin's Cathedral is the local cenotaph that has become a memorial commemorating the 11 people killed in the blast which happened during a Remembrance Day service, a far cry from the jubilant scenes in the town on Tuesday.
The Queen will meet relatives of some of the victims after the service, signifying a massive step forward in the relations between Northern Ireland and the monarchy.
The Queen's visit to Northern Ireland will also comprise a two-day tour of the country in celebration of her Diamond Jubilee.
Loading Slideshow
Royal visit to Northern Ireland - Day 1

Queen Elizabeth II and the Duke of Edinburgh leave St. Macartin's Cathedral in Enniskillen, County Fermanagh, accompanied by Dean Kenneth Hall (second right) and Lord Anthony Hamilton (right) during a two-day visit to Northern Ireland as part of the Diamond Jubilee tour.

Royal visit to Northern Ireland - Day 1

A well wisher waits for Queen Elizabeth II in Enniskillen, County Fermanagh, during a two-day visit to Northern Ireland as part of the Diamond Jubilee tour.

145496

Crowds wait for HM The Queen to do a walkabout after she attended a Service of Thanksgiving in St Macartin's Cathedral and a visit to St.Michael's Catholic Church along with HRH The Duke of Edinburgh Prince Phillip in Enniskillen Co.Fermanagh Northern Ireland during the Royal Jubilee visit to Northern Ireland ..Picture date: Tuesday June, 26, 2012.See PA story Royal Queen. Photo credit should read: Julien Behal/PA Wire

Royal visit to Northern Ireland - Day 1

Queen Elizabeth II speaks with Dean Kenneth Hall (left) after a service at St. Macartin's Cathedral in Enniskillen, County Fermanagh, during a two-day visit to Northern Ireland as part of the Diamond Jubilee tour.

Royal visit to Northern Ireland - Day 1

Queen Elizabeth II arrives at St. Macartin's Cathedral in Enniskillen, County Fermanagh, during a two-day visit to Northern Ireland as part of the Diamond Jubilee tour.

Royal visit to Northern Ireland - Day 1

A well wisher waits for Queen Elizabeth II in Enniskillen, County Fermanagh, during a two-day visit to Northern Ireland as part of the Diamond Jubilee tour.

Royal visit to Northern Ireland - Day 1

Well wishers wait for Queen Elizabeth II in Enniskillen, County Fermanagh, during a two-day visit to Northern Ireland as part of the Diamond Jubilee tour.

Royal visit to Northern Ireland - Day 1

Queen Elizabeth II and the Duke of Edinburgh arrive at St. Macartin's Cathedral in Enniskillen, County Fermanagh, during a two-day visit to Northern Ireland as part of the Diamond Jubilee tour.

Royal visit to Northern Ireland - Day 1

Crowds wait in the rain for Queen Elizabeth II to arrive in Enniskillen, County Fermanagh, during a two-day visit to Northern Ireland as part of the Diamond Jubilee tour.

Royal visit to Northern Ireland - Day 1

Crowds watch from a rooftop as Queen Elizabeth II and the Duke of Edinburgh arrive at St. Macartin's Cathedral in Enniskillen, County Fermanagh, during a two-day visit to Northern Ireland as part of the Diamond Jubilee tour.

Royal visit to Northern Ireland - Day 1

Crowds watch in the rain as Queen Elizabeth II and the Duke of Edinburgh arrive in Enniskillen, County Fermanagh, during a two-day visit to Northern Ireland as part of the Diamond Jubilee tour.

Royal visit to Northern Ireland - Day 1

Crowds wave Union flags in Enniskillen, County Fermanagh, as they wait for the arrival of Queen Elizabeth II during a two-day as part of the Diamond Jubilee tour.

Royal visit to Northern Ireland - Day 1

Crowds wait in heavy rain in Enniskillen, County Fermanagh, for the arrival of Queen Elizabeth II during a two-day as part of the Diamond Jubilee tour.

Royal visit to Northern Ireland - Day 1

Crowds wait in heavy rain in Enniskillen, County Fermanagh, for the arrival of Queen Elizabeth II during a two-day as part of the Diamond Jubilee tour.

Royal visit to Northern Ireland - Day 1

Crowds wave Union flags in Enniskillen, County Fermanagh, as they wait for the arrival of Queen Elizabeth II during a two-day as part of the Diamond Jubilee tour.

Royal visit to Northern Ireland - Day 1

Crowds wave Union flags in Enniskillen, County Fermanagh, as they wait for the arrival of Queen Elizabeth II during a two-day as part of the Diamond Jubilee tour.

Royal visit to Northern Ireland - Day 1

Crowds wait in heavy rain in Enniskillen, County Fermanagh, for the arrival of Queen Elizabeth II during a two-day as part of the Diamond Jubilee tour.

Royal visit to Northern Ireland - Day 1

A well wisher waits for Queen Elizabeth II in Enniskillen, County Fermanagh, during a two-day visit to Northern Ireland as part of the Diamond Jubilee tour.

Royal visit to Northern Ireland - Day 1

Well wishers wait for Queen Elizabeth II in Enniskillen, County Fermanagh, during a two-day visit to Northern Ireland as part of the Diamond Jubilee tour.

Royal visit to Northern Ireland - Day 1

A well wisher waits for Queen Elizabeth II in Enniskillen, County Fermanagh, during a two-day visit to Northern Ireland as part of the Diamond Jubilee tour.

Royal visit to Northern Ireland - Day 1

Crowds wait for Queen Elizabeth II and the Duke of Edinburgh to leave St. Macartin's Cathedral in Enniskillen, County Fermanagh, during a two-day visit to Northern Ireland as part of the Diamond Jubilee tour.

Royal visit to Northern Ireland - Day 1

Queen Elizabeth II arrives at St. Macartin's Cathedral in Enniskillen, County Fermanagh, during a two-day visit to Northern Ireland as part of the Diamond Jubilee tour.

Royal visit to Northern Ireland - Day 1

Queen Elizabeth II speaks with Dean Kenneth Hall (left) after a service at St. Macartin's Cathedral in Enniskillen, County Fermanagh, during a two-day visit to Northern Ireland as part of the Diamond Jubilee tour.

Royal visit to Northern Ireland - Day 1

Queen Elizabeth II and the Duke of Edinburgh leave St. Macartin's Cathedral in Enniskillen, County Fermanagh, accompanied by Dean Kenneth Hall (second right) and Lord Anthony Hamilton (right) during a two-day visit to Northern Ireland as part of the Diamond Jubilee tour.

145496

Crowds wait for HM The Queen to do a walkabout after she attended a Service of Thanksgiving in St Macartin's Cathedral and a visit to St.Michael's Catholic Church along with HRH The Duke of Edinburgh Prince Phillip in Enniskillen Co.Fermanagh Northern Ireland during the Royal Jubilee visit to Northern Ireland ..Picture date: Tuesday June, 26, 2012.See PA story Royal Queen. Photo credit should read: Julien Behal/PA Wire