Syrian President Bashar al-Assad has made his first public appearance since Wednesday's bomb blast in Damascus that killed three members of his inner circle.
The sight of Assad on Syrian state TV should end rumours that the beleaguered leader had been injured in the bombing, with some on the social networks even suggesting that Assad had been killed.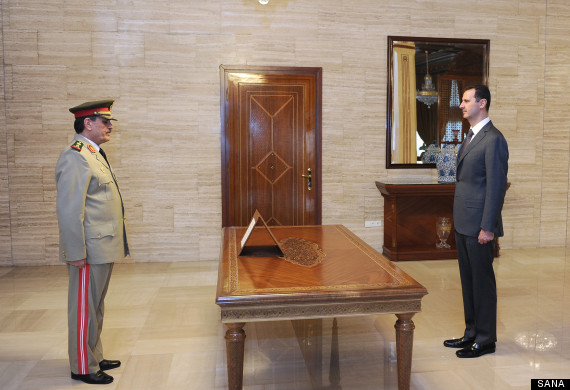 General Fahd al-Freij is sworn-in as the defence minister
Images released by the SANA news agency shows Syrian General Fahd al-Freij being sworn-in by Assad in Damascus. Assad appointed Freij as the country's new defence minister, replacing Daoud Rajiha, who was killed in the bomb blast.
The attack also killed the President's brother in law, Assef Shawkat, the man widely regarded as the mastermind behind the government's brutal crackdown.
Former defence minister Hasan Turkmani also died, while Maher Assad, the president's brother and the leader of the renowned 4th Armoured Division, reportedly sustained injuries.
At the UN on Thursday afternoon, Russia and China vetoed a Security Council draft resolution to hit Syria with further sanctions.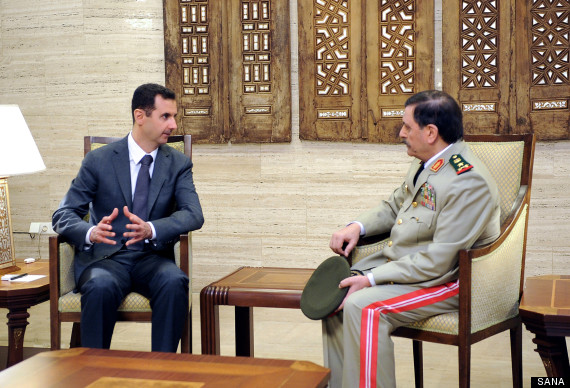 Assad sits down with his new defence minister
The expected veto was quickly condemned by diplomats from the UK and US.
The UK's ambassador to the UN, Sir Mark Lyall Grant said he was "appalled" at the decision, which he predicted would lead to "further bloodshed and the likelihood of a descent into all-out civil war".
And he dismissed as "irrational" the arguments of Moscow and Beijing that the Western-backed resolution could act as a precursor to military action.
The vetoes at the UN in New York came just hours after Prime Minister David Cameron issued a personal plea to Russian president Vladimir Putin to help the Security Council send "clear and tough messages about sanctions" to the Assad regime.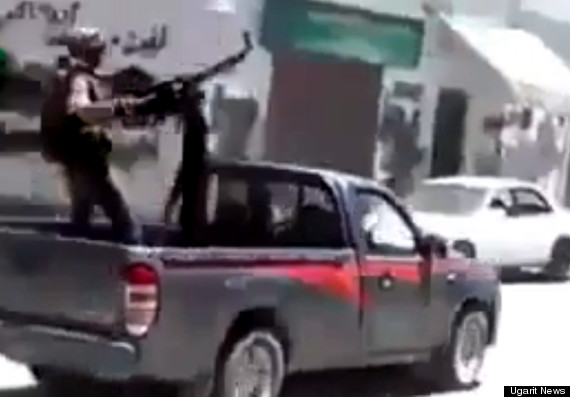 Rebels in Damascus are fighting running battles with Assad's forces
Speaking during a visit to Afghanistan, Cameron warned that Syria was facing civil war unless Assad stepped down.
"I have a very clear message for president Assad. It is time for him to go," said the Prime Minister.
"It is time for transition in the regime. If there isn't transition it's quite clear there's going to be civil war."
But Thursday's vetoes by Russia and China are likely to have the effect of shoring up Assad and allowing him to remain in power for longer.
A rival Russian resolution to extend the UN observers mission in Syria by up to 90 days after its mandate runs out on Friday was dismissed by Britain as ineffective.
Addressing fellow-ambassadors at the UN, Sir Mark said: "The effect of their actions is to protect a brutal regime.
"They have chosen to put their national interests ahead of the lives of millions of Syrians. The consequence of their decision is obvious - further bloodshed and the likelihood of a descent into all-out civil war."
Thursday's 11-2 vote, with two abstentions, marked the third time that Russia and China have acted to block efforts to step up pressure on the Assad regime.
It came a day after the most daring strike by rebels since the outset of the uprising 16 months ago, when a bomb inside a crisis meeting in Damascus killed three leading regime figures, including Assad's brother-in-law and the defence minister.
Rumours circulated that Assad himself may have been injured in the blast or have fled the capital with his British-born wife Asma, but state TV showed footage of him swearing in a new defence minister.
Government forces used attack helicopters, heavy machine guns and mortar shells against rebels in a fifth day of fighting in Damascus, while thousands of refugees flooded across the border into Lebanon.
Cameron said: "It is time for transition in this regime. Clearly, Britain doesn't support violence on either side, but if there isn't transition it's quite clear there's going to be civil war. That is the clear fact, I think, that we can all see on the ground.
"The regime has done some truly dreadful things to its own people and I don't think any regime that carries out acts as they have against their own citizens - and continues to do so, by the way - should survive. I think that regime should go."
And he added: "The alternative to political transition at the top of Syria is revolution from the bottom in Syria."
Sir Mark said that Russia and China had "refused to engage" with the arguments for non-military sanctions backed not only by the UK, but also by international peace envoy Kofi Annan and UN secretary general Ban Ki-moon.
"We offered flexibility on Russia and China's terms and gave them more time but still they refused to engage," he said.
"Instead they advocated more of the same approach that has consistently failed to have an effect.
"Instead of the pressure that Mr Annan had requested, they advocated relying on Assad's empty promises. The same promises that have been made and broken with predictable consistency since November last year.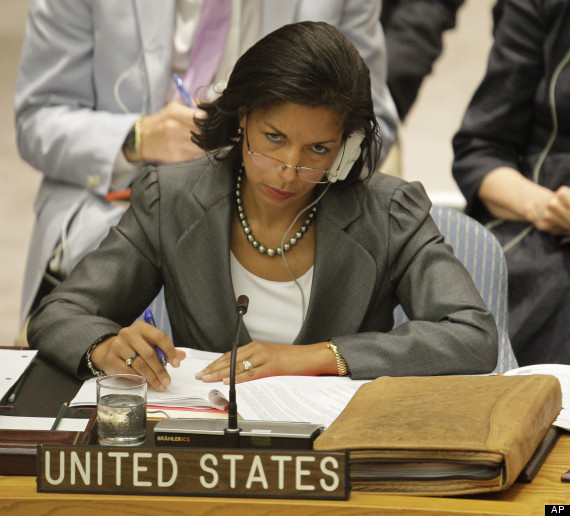 Susan Rice, the United States Ambassador to the United Nations, listens during the Security Council meeting
"And instead of trying to generate the conditions in which the UN mission could be effective, they argued for its extension in a manner that wilfully ignored the fact that it was currently unable to operate.
"By exercising their veto today, Russia and China are failing in their responsibilities as permanent members of the Security Council to help resolve the crisis in Syria. They are failing to provide the joint envoy and Secretary General with the support they have asked for. They are failing the people of Syria."
Sir Mark added: "For our part, we will continue to work with the envoy, the secretary general and responsible members of the international community to achieve the political transition which is the only way forward for Syria.
"It is deeply regrettable that this Council has been unable today to play the role for which it was established and it is duty-bound to fulfil."