David Cameron has caused a bit of a stir by taking the Tube to see Tom Daley in the men's diving at the Olympics in East London.
Commuters seemed mildly shocked to find themselves in the same carriage as the prime minister, who seemed keen to encourage people to travel to the 2012 London games by public transport.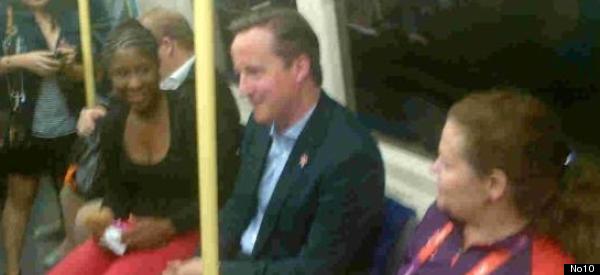 As far as we know, this is only the second time Cameron has used the London Underground since getting the keys to Number 10 - he's also ridden with Boris Johnson on the tube in March of this year. Two journeys in the space of six months? Get the man a Travelcard!
Passengers later told BBC London 94.9 that the PM was "friendly" when they bumped him after boarding the train at Westminster tube station, happy to answer questions and have his photo taken with his fellow travellers.
On Monday rules on many of the "zil" road lanes which were reserved for Olympics traffic only - and which have upset many taxi drivers - were relaxed. LOCOG said they were able to do this because so many people were using public transport to get to the games.
Looks like the PM's doing his bit to try to get even more people out of their cars and onto tube trains and buses, that didn't stop an, ahem, mixed response from the Twitterati. Well you can't please everyone...
Loading Slideshow
M D

Adrian Johnson

Kate Bevan

Benjamin David Neild

beaubodor

tariq panja