The uncle of missing schoolgirl Tia Sharp urged her to come home on Thursday and said her family was "in bits".
David Sharp was speaking outside Tia's grandmother's home, where she was last seen almost a week ago.
He told reporters: "The family, as you can imagine, are in bits.
"Everyone is trying to do their best by sticking together and keeping everything tight and supporting each other."
He went on: "I don't know what has happened to Tia. I don't want anyone to think the worst has happened to Tia."
The statement came as the Met confirmed the force that investigated the kidnapping of Shannon Matthews were now involved in the search for Tia.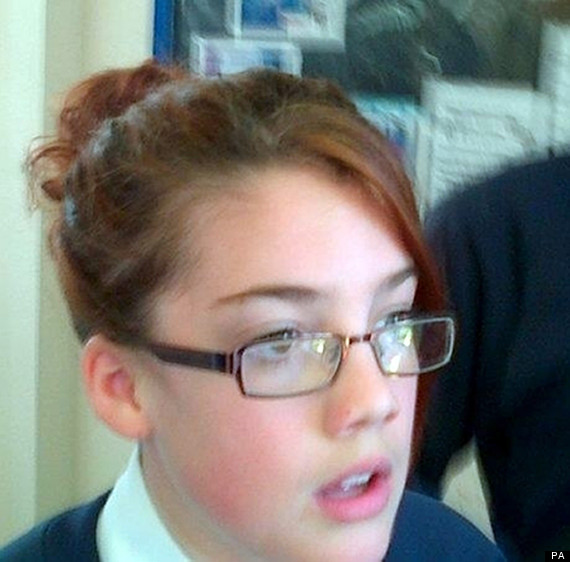 Tia was last seen leaving her grandmother's house on Friday

He said he hoped she was "somewhere safe" and urged her: "Come home. There is no trouble. Walk through that door."
He praised the "amazing" support of members of the public helping in the search.
He was speaking after Detective Chief Inspector Nick Scola, who is leading the search, gave Tia's family an update on the investigation.
DCI Scola spent 40 minutes with the Sharp family at their home in New Addington, near Croydon, south London.
When he came out, he told reporters: "I've been inside again to see Tia's family to offer support at this difficult time.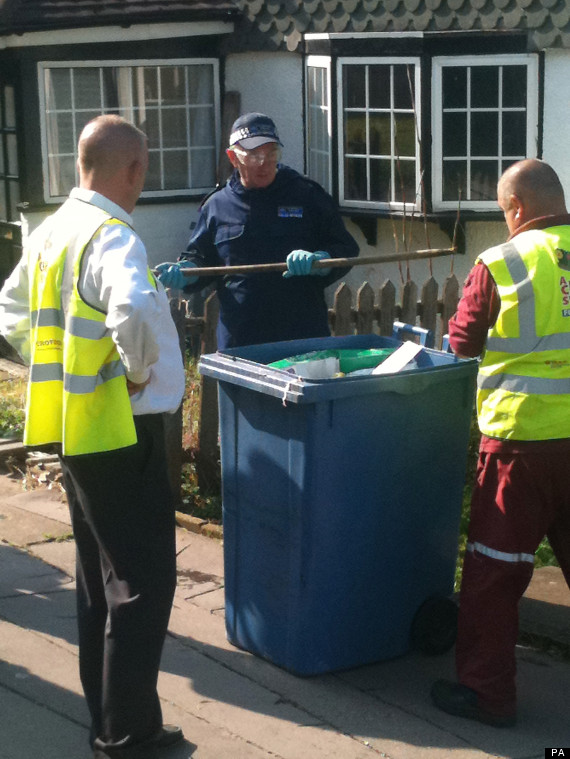 Police were searching bins outside Tia Sharp's grandmother's house


"We're still desperately trying to find Tia for them. I have updated them as to the depth of the investigation."
DCI Scola added: "I'd just like to remind everyone that it's a week tomorrow that Tia went missing.
"Obviously we're concerned that our investigations and the hard work of the team and the community continue."
Tia has never run away before but vanished last Friday afternoon after telling relatives she was going shopping at the Whitgift Centre in Croydon.
She was last seen at the house where her grandmother Christine Sharp, 46, lives with partner Stuart Hazell, 37, at The Lindens in New Addington. Appeals to find Tia at a bus stop in south East London


Mr Hazell, thought to be one of the last people to see Tia, was questioned by police as a witness for more than two hours yesterday before returning home.
This morning, police searched bins around the estate, using sticks to scour through rubbish.
Refuse collections in The Lindens had been suspended at the request of officers but resumed this morning.
Tia's mother, Natalie Sharp, 30, said she did not want to speak to reporters on Thursday morning.
Her partner, David Niles, 29, wearing a 'Find Tia' T-shirt, said to reporters on Thursday afternoon: "Just find my little girl, just find my little girl please."
Scotland Yard has received more than 300 calls and 60 reported sightings, including a member of the public who came forward saying they saw Tia leaving her grandmother's house at about noon last Friday. Tia Sharp has been missing for five days

Police Olympics resources have been redirected to the search, which involves around 40 detectives and 40 specialist search officers.
The local community has rallied to help in the search, donning Find Tia T-shirts and handing out leaflets to passing motorists.
A candle is also burning outside Tia's grandmother's house and candles and tealights have been left at a makeshift vigil at a bus stop nearby, along with hand-written messages.
Officers have been searching woodland near Tia's grandmother's house.
Tomorrow they plan to hand out leaflets on trams and buses, a Scotland Yard spokeswoman said.
Police have also been liaising with the police forces that have dealt with other missing person cases.
A police spokesman said: "As is routine, we liaise with all forces that have dealt with similar cases.
"This case, like the Shannon Matthews case, involved the search for a missing child. This is a missing persons inquiry and we are putting all of our resources into finding her.
"We would like to make it clear that officers who worked on a particular missing person case in West Yorkshire are not involved in the investigation to find Tia Sharp.
"This remains a missing person inquiry and we are keeping an open mind about the circumstances of Tia's disappearance."
Nine-year-old Shannon disappeared in February 2008 but was later found safe in Dewsbury, West Yorkshire, and her mother Karen Matthews and her partner's uncle Michael Donovan were later convicted of her kidnap, which they carried out to claim £50,000 in reward money.
Loading Slideshow
A Press Conference Is Held Into The Disappearnce Of 12 Year Old Tia Sharp

LONDON, ENGLAND - AUGUST 06: David Sharp (C), the uncle of missing schoolgirl Tia Sharp, attends a press conference in New Scotland yard to appeal for her safe return with his friends Mark Havers (L) and Steven Subine (R) on August 6, 2012 in London, England. Tia Sharp, aged 12, has been missing since leaving her grandmother's house in New Addington on Friday afternoon and was last sighted heading to the Whitgift shopping centre in Croydon. (Photo by Oli Scarff/Getty Images)

A Press Conference Is Held Into The Disappearnce Of 12 Year Old Tia Sharp

LONDON, ENGLAND - AUGUST 06: David Sharp (C), the uncle of missing schoolgirl Tia Sharp, attends a press conference in New Scotland yard to appeal for her safe return on August 6, 2012 in London, England. Tia Sharp, aged 12, has been missing since leaving her grandmother's house in New Addington on Friday afternoon and was last sighted heading to the Whitgift shopping centre in Croydon. (Photo by Oli Scarff/Getty Images)

A Press Conference Is Held Into The Disappearnce Of 12 Year Old Tia Sharp

LONDON, ENGLAND - AUGUST 06: Detective Chief Inspector Nick Scola holds up a CCTV image of missing schoolgirl Tia Sharp in a press conference in New Scotland Yard where David Sharp, Tia Sharp's uncle, appealed for her safe return on August 6, 2012 in London, England. Tia Sharp, aged 12, has been missing since leaving her grandmother's house in New Addington on Friday afternoon and was last sighted heading to the Whitgift shopping centre in Croydon. (Photo by Oli Scarff/Getty Images)

A Press Conference Is Held Into The Disappearnce Of 12 Year Old Tia Sharp

LONDON, ENGLAND - AUGUST 06: David Sharp (R), the uncle of missing schoolgirl Tia Sharp, and Detective Chief Inspector Nick Scola attend a press conference in New Scotland yard to appeal for her safe return on August 6, 2012 in London, England. Tia Sharp, aged 12, has been missing since leaving her grandmother's house in New Addington on Friday afternoon and was last sighted heading to the Whitgift shopping centre in Croydon. (Photo by Oli Scarff/Getty Images)

A Press Conference Is Held Into The Disappearnce Of 12 Year Old Tia Sharp

LONDON, ENGLAND - AUGUST 06: David Sharp (R), the uncle of missing schoolgirl Tia Sharp, attends a press conference in New Scotland yard to appeal for her safe return on August 6, 2012 in London, England. Tia Sharp, aged 12, has been missing since leaving her grandmother's house in New Addington on Friday afternoon and was last sighted heading to the Whitgift shopping centre in Croydon. (Photo by Oli Scarff/Getty Images)

A Press Conference Is Held Into The Disappearnce Of 12 Year Old Tia Sharp

LONDON, ENGLAND - AUGUST 06: David Sharp, the uncle of missing schoolgirl Tia Sharp, attends a press conference in New Scotland yard to appeal for her safe return on August 6, 2012 in London, England. Tia Sharp, aged 12, has been missing since leaving her grandmother's house in New Addington on Friday afternoon and was last sighted heading to the Whitgift shopping centre in Croydon. (Photo by Oli Scarff/Getty Images)

A Press Conference Is Held Into The Disappearnce Of 12 Year Old Tia Sharp

LONDON, ENGLAND - AUGUST 06: David Sharp (R), the uncle of missing schoolgirl Tia Sharp, attends a press conference in New Scotland yard to appeal for her safe return on August 6, 2012 in London, England. Tia Sharp, aged 12, has been missing since leaving her grandmother's house in New Addington on Friday afternoon and was last sighted heading to the Whitgift shopping centre in Croydon. (Photo by Oli Scarff/Getty Images)
SEE ALSO