Oxbridge students are in the spotlight again after reports charting their bad behaviour, which included naked parades, restaurant food fights and public urinating, were made public.
A comment on one report even noted: "It apparently never occurred to students that there was something fundamentally wrong with their behaviour."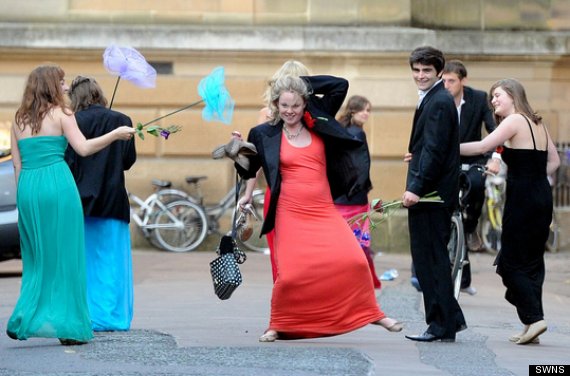 Students behaving badly: Cambridge's Trinity May Ball gets messy
The dossiers cataloguing the Oxford and Cambridge students' bad behaviour were obtained by the Daily Telegraph under the Freedom of Information (FOI) Act.
Hundreds of incidents are listed in the documents, most notably Cambridge's Sidney Sussex College boat club captain being paraded naked around Sainsbury's supermarket.
Another memorable incident involves the same college's rugby team chanting abuse and hurling curry at customers in an Indian restaurant.
Notorious dining society the Myrmidons, compiled of students from Oxford's Merton College, saw its summer party banned after "alcohol-induced bad behaviour".
Although not listed in the dossier, another Oxford student dining club - Bullingdons - has long been infamous for its members' antics. Boris Johnson and George Osborne have previously been associated with the club during their times at the university.
Other incidents made public on Monday by the FOI included students urinating in public, abusing ambulance staff and collapsing in their own vomit at society dinners.
A spokesperson for Oxford University said: "Oxford and Cambridge between them account for tens of thousands of young people, so it is not entirely surprising that incidents of stupid and inappropriate behaviour do come up.
"When they go too far, they face the consequences."
But it is not just Oxbridge students who have made headlines for bad behaviour. In March this year, the University of East Anglia's rugby team was disbanded after they attended a "bad taste" party dressed as Joseph Kony, Baby P and the late Gary Speed.
In 2010, York University's hockey club was fined £200 after hosting a vomit-filled initiation ceremony, where students were made to down drinks mixed with dog food and goldfish.
SEE ALSO:

'They Had To Eat Their Own Vomit': Student Initiation Horror Stories

Cambridge University Students Get Lairy After Trinity May Ball 2012 (PHOTOS)

Caesarian Sunday Sees Cambridge Students Drinking Port Out Of Condoms, Stripping And Vomiting In Park
Loading Slideshow
Southampton medic students perform sex act in hospital

Two medical students who were caught on CCTV performing a sex act at a hospital prompted a senior university academic to send a round-email telling students to "find a more comfortable place" in future.

'I spat on a working class person - f**king jokes'

The Cambridge University website set up for exam revision discussion was shut down after its abusive messages were exposed.

Caesarian Sunday

Drinking port out of condoms, stripping naked, vomiting and drinking themselves unconscious - it can only be Cambridge's Caesarian Sunday

UEA Rugby Team disbanded

The university's rugby team was shut down after players allegedly dressed up as Ku Klux Klan extremists and late Wales manager Gary Speed for a boozy party.

Students attacks street busker

Cambridge University took action against a student who harassed and thew a stink bomb at a street busker.

Student's 'surprise rape' article

Student Jamie Street faced disciplinary action by his university after writing an article for "magazine" Unilad which seemed to encourage rape.

LSE students' Nazi drinking game

A Nazi-themed drinking game played on an LSE student skiing trip sparked an inquiry after the "Nazi Ring of Fire" culminated in a brawl, leaving a Jewish student with a broken nose.

Exeter society prints sick rape 'joke' in leaflet

Exeter University society was forced to apologise after provoking outrage when it printed a sick rape "joke" in a leaflet dubbed the "shag mag" to promote a safe sex student ball. The joke estimated the number of calories a man could burn off by stripping a girl naked without her consent and has been described as "beyond ugly". It was part of a two-page spread which detailed the energy spent on sexual practices.

Charlie Gilmour jailed for student protests activity

Charlie Gilmour, son of Pink Floyd guitarist David Gilmourwas jailed for 16 months after he went on a drug-fuelled rampage at the 2010 student protests. Despite being a history student at Cambridge University, Charlie Gilmour claimed he did not realise he was swinging from the cenotaph...