Forensic experts said the first job for police who arrived at the crime scene in the French Alps should have been to check for survivors.
But it could be that the first officers called to the rural beauty spot in the French countryside simply "panicked" when confronted with the horror.
In the UK, a doctor would be called to certify death - in doing so, in this instance, that could have alerted officers that the child was alive amidst the carnage in the car.
Their comments come after a British father, mother and grandmother were shot dead and a seven-year-old violently beaten, as her four-year-old sister hid under her family's dead bodies, in the car during a camping holiday in the French Alps.
Jim Fraser, professor of forensic science at the University of Strathclyde, said the first responsibility for officers confronted with such a crime scene is to check the victims for signs of life.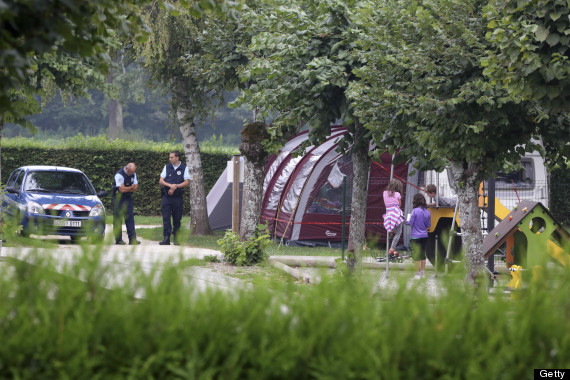 A gendarme stands by the caravan where the slain British family were holidaying in a camp site of Saint Jorioz, near Annecy
It has been known for victims even with gunshot wounds to the head to live for hours and survive if they get emergency treatment.
He said: "The overriding responsibility to the first responder at a crime scene, in the UK, would be to ensure that all individuals present are accounted for, their health and welfare, with an initial but thorough look at the crime scene."
Prof Fraser said of such multiple death crimes: "It's a pretty horrible scene - not for the faint-hearted."
Forensic experts say it is a fiction to think murder scenes are preserved in pristine condition until they are examined by crime scene investigators.
They have to be checked by the first police officers on the scene to see if the victim or victims are still alive, whether there is one or more bodies, whether there are weapons still there - and whether anyone is hiding or any other danger is present.
So some "interference" with the crime scene is inevitable, not least to check for signs of life - especially at a crime scene as confined as a motor car.
Only after police have carried out their duty to preserve life and certify death do they "freeze the scene".
Another forensic expert, who did not want to be named, said there is a possibility the first French police officer to arrive was a "village bobby", who might not have dealt with a shooting death before, let alone a multiple murder.
He said: "I don't want to jump up and down on our French colleagues but I would expect, if you go to a scene and find a body, you don't just assume - the first thing you do is have a good look around.
"They should have checked. They should have seen her. I suspect someone panicked."
Another possibility is that officers did not want to touch the bodies because the position of bodies at crime scenes is so important, and even more so in multiple deaths with firearms as working out the "firing positions" can give police clues to exactly what happened.
Philip Boyce, a ballistics expert and senior forensic consultant at Forensic Scientific, said: "The French police will look at the bodies in situ and try to find out what has happened in terms of bullet trajectories, bullet casings, what type of firearm has been used.
"If there are any spent cartridges or bullets, they are recovered from the scene to ascertain how many guns were involved.
"The bodies will go for post-mortem and any projectiles will be recovered from them.
"If there are casings found, they will actually look at crime records from other shootings to see if the gun has a history."
Mr Boyce said police authorities across Europe use a computer system that produces a 3D profile of the bullet to see if it can be matched to other shootings.
He said forensic experts will also work out the range of fire - how far away the victim was from the gun.
Control samples will be taken of fibres and glass from the car if the windows of the vehicle were smashed in the shooting.
If an arrest is made, then the clothing of the suspect can be tested for microscopic fibres and glass to see if they match the crime scene, Mr Boyce said.
And there will be DNA aspects to the analysis of the crime scene.
"They don't know at this time if the perpetrators have come into contact with the people. For instance, and I'm only surmising, let's say it is a robbery gone wrong, the gunman could have been up very close," Mr Boyce said.
"There is the possibility it was someone in the car - it is all conjecture at the moment - but the police will have to look at all this."
SEE ALSO

Was Killing Of British Family 'Car-Jacking' by Armed Bandits?
Loading Slideshow
Police around the BMW at scene of shooting in woods near Chevaline in the French Alps where british family and cyclist were shot dead

Police around the BMW at scene of shooting in woods near Chevaline in the French Alps where british family and cyclist were shot dead

French gendarmes talk with investigators near the caravan of the British family hit by gun attack on September 6, 2012 in the camping "Le Solitaire du lac" in the French Alpine village of Saint-Jorioz. A four-year-old girl spent hours curled up under her mother's body and miraculously survived the deadly attack that left her father, mother and grandmother dead and her elder sister seriously injured, officials said. (Photo credit: PHILIPPE DESMAZES/AFP/GettyImages)

A French gendarme stands guard near the caravan of the British family hit by gun attack on September 6, 2012 in the camping "Le Solitaire du lac" in the French Alpine village of Saint-Jorioz. A four-year-old girl miraculously survived the deadly attack that left her father, mother and grandmother dead and her elder sister seriously injured, officials said. (Photo credit: PHILIPPE DESMAZES/AFP/GettyImages)

A vehicle of rescuers arrives on Septembre 6, 2012, where four people were shot dead in or close to a British-registered car that was found in a forest car park on the edge of the French Alpine village of Chevaline. The car, a BMW, contained the bodies of a man, in the front, and two women who were seated in the back, police said. (Photo credit: JEAN-PIERRE CLATOT/AFP/GettyImages)

A road sign is seen while a Gendarme blocks access to a killing site near Chevaline, French Alps, Wednesday Sept. 5, 2012. French authorities say at least four people have been shot to death in a forest in the Alps. An official with the regional administration for the Haute-Savoie region says three of the bodies were found in a BMW registered in Britain. (AP Photo/Alexis Moro)

Gendarmes block access to a killing site near Chevaline, French Alps, Wednesday Sept. 5, 2012. French authorities say at least four people have been shot to death in a forest in the Alps. An official with the regional administration for the Haute-Savoie region says three of the bodies were found in a BMW registered in Britain. (AP Photo/Alexis Moro)

Gendarmes block access to a killing site near Chevaline, French Alps, Wednesday Sept. 5, 2012. French authorities say at least four people have been shot to death in a forest in the Alps.An official with the regional administration for the Haute-Savoie region says three of the bodies were found in a BMW registered in Britain. (AP Photo/Alexis Moro)

Gendarmes block access to a killing site near Chevaline, French Alps, Wednesday Sept. 5, 2012. French authorities say at least four people have been shot to death in a forest in the Alps.An official with the regional administration for the Haute-Savoie region says three of the bodies were found in a BMW registered in Britain. (AP Photo/Alexis Moro)

Gendarmes block access to a killing site near Chevaline, French Alps, Wednesday Sept. 5, 2012. French authorities say at least four people have been shot to death in a forest in the Alps.An official with the regional administration for the Haute-Savoie region says three of the bodies were found in a BMW registered in Britain. (AP Photo/Alexis Moro)

Gendarmes block access to a killing site near Chevaline, French Alps, Wednesday, Sept. 5, 2012. French authorities say at least four people have been shot to death in a forest in the Alps. An official with the regional administration for the Haute-Savoie region says three of the bodies were found in a BMW registered in Britain. (AP Photo / Alexis Moro)

Gendarmes block access to a killing site near Chevaline, French Alps, Wednesday, Sept. 5, 2012. French authorities say at least four people have been shot to death in a forest in the Alps. An official with the regional administration for the Haute-Savoie region says three of the bodies were found in a BMW registered in Britain. (AP Photo / Alexis Moro)

A Gendarme's car heads to a killing site near Chevaline, French Alps, Wednesday Sept.5, 2012. French authorities say at least four people have been shot to death in a forest in the Alps. An official with the regional administration for the Haute-Savoie region says three of the bodies were found in a BMW registered in Britain. (AP Photo/Alexis Moro)

Alps shooting

Members of the public arrive with flowers at the home of French shooting victim, Saad al-Hilli in Claygate, Surrey, as French police investigating the murder of four people are sending four officers to the UK to work with British detectives and plan to search the house of victim Saad al-Hilli.

Alps shooting

A police officer accepts flowers outside the home of French shooting victim, Saad al-Hilli in Claygate, Surrey, as French police investigating the murder of four people are sending four officers to the UK to work with British detectives and plan to search the house of victim Saad al-Hilli.

Alps shooting

A police officer lays flowers outside the home of French shooting victim, Saad al-Hilli in Claygate, Surrey, as French police investigating the murder of four people are sending four officers to the UK to work with British detectives and plan to search the house of victim Saad al-Hilli.

Alps shooting

British Scenes of Crime Officers (SOCO) outside the home of French shooting victim, Saad al-Hilli in Claygate, Surrey, as French police investigating the murder of four people are sending four officers to the UK to work with British detectives and plan to search the house of victim Saad al-Hilli.

Alps shooting

A British Scenes of Crime Officer (SOCO) outside the home of French shooting victim, Saad al-Hilli in Claygate, Surrey, as French police investigating the murder of four people are sending four officers to the UK to work with British detectives and plan to search the house of victim Saad al-Hilli.

Alps shooting

A British Scenes of Crime Officer (SOCO) outside the home of French shooting victim, Saad al-Hilli in Claygate, Surrey, as French police investigating the murder of four people are sending four officers to the UK to work with British detectives and plan to search the house of victim Saad al-Hilli.

Alps shooting

British Scenes of Crime Officers (SOCO) outside the home of French shooting victim, Saad al-Hilli in Claygate, Surrey, as French police investigating the murder of four people are sending four officers to the UK to work with British detectives and plan to search the house of victim Saad al-Hilli.

Alps shooting

British Scenes of Crime Officers (SOCO) outside the home of French shooting victim, Saad al-Hilli in Claygate, Surrey, as French police investigating the murder of four people are sending four officers to the UK to work with British detectives and plan to search the house of victim Saad al-Hilli.

Alps shooting

Forensic officers outside the home of French shooting victim, Saad al-Hilli in Claygate, Surrey, as French police investigating the murder of four people are sending four officers to the UK to work with British detectives and plan to search the house of victim Saad al-Hilli.

Alps shooting

Forensic officers outside the home of French shooting victim, Saad al-Hilli in Claygate, Surrey, as French police investigating the murder of four people are sending four officers to the UK to work with British detectives and plan to search the house of victim Saad al-Hilli.

Alps shooting

British police forensic officers Saturday Sept. 8, 2012, outside the home of Saad al-Hilli, in Claygate, Britain, during investigations into the death of four people shot dead on Wednesday in the French Alps. French police officers are expected to arrive Saturday in Britain as part of an investigation into the slayings of the British-Iraqi al-Hilli family members while vacationing in France. The children of the al-Hilli family survived the killing, as 4-year-old daughter Zeena stayed hidden below the body of her dead mother, and 7-year-old Zaina who was shot in the shoulder and beaten. (AP Photo / Steve Parsons, PA) UNITED KINGDOM OUT - NO SALES - NO ARCHIVES

Alps shooting

British Scenes of Crime forensic officers (SOCO) Saturday Sept. 8, 2012, outside the home of Saad al-Hilli, in Claygate, Britain, during investigations into the death of four people shot dead on Wednesday in the French Alps. French police officers are expected to arrive Saturday in Britain as part of an investigation into the slayings of the British-Iraqi al-Hilli family members while vacationing in France. The children of the al-Hilli family survived the killing, as 4-year-old daughter Zeena stayed hidden below the body of her dead mother, and 7-year-old Zaina who was shot in the shoulder and beaten. (AP Photo / Steve Parsons, PA) UNITED KINGDOM OUT - NO SALES - NO ARCHIVES

Alps shooting

British police officers places flower tributes Saturday Sept. 8, 2012, outside the home of Saad al-Hilli, in Claygate, Britain, during investigations into the death of four people shot dead on Wednesday in the French Alps. French police officers are expected to arrive Saturday in Britain as part of an investigation into the slayings of the British-Iraqi al-Hilli family members while vacationing in France. The children of the al-Hilli family survived the killing, as 4-year-old daughter Zeena stayed hidden below the body of her dead mother, and 7-year-old Zaina who was shot in the shoulder and beaten. (AP Photo / Steve Parsons, PA) UNITED KINGDOM OUT - NO SALES - NO ARCHIVES

Alps shooting

British police forensic officers Saturday Sept. 8, 2012, outside the home of Saad al-Hilli, in Claygate, Britain, during investigations following the deaths of four people shot dead on Wednesday in the French Alps. French police officers are expected to arrive Saturday in Britain as part of an investigation into the slayings of the British-Iraqi al-Hilli family members while vacationing in France. The children of the al-Hilli family survived the killing, as 4-year-old daughter Zeena stayed hidden below the body of her dead mother, and 7-year-old Zaina who was shot in the shoulder and beaten. (AP Photo / Steve Parsons, PA) UNITED KINGDOM OUT - NO SALES - NO ARCHIVES

Alps shooting

The home of Saad al-Hilli, in Claygate, Britain, who was shot dead on Wednesday with three others while vacationing in the French Alps, as it is secured by British police Saturday Sept. 8, 2012. French police officers are expected to arrive Saturday in Britain as part of an investigation into the slayings of the British-Iraqi al-Hilli family. The children of the al-Hilli family survived the killing, as 4-year-old daughter Zeena stayed hidden below the body of her dead mother, and 7-year-old Zaina who was shot in the shoulder and beaten. (AP Photo / Steve Parsons, PA) UNITED KINGDOM OUT - NO SALES - NO ARCHIVES

Alps shooting

British police secure the area Saturday Sept. 8, 2012, outside the home of Saad al-Hilli, in Claygate, Britain, who was shot dead on Wednesday with three others while vacationing in the French Alps. French police officers are expected to arrive Saturday in Britain as part of an investigation into the slayings of the British-Iraqi al-Hilli family. The children of the al-Hilli family survived the killing, as 4-year-old daughter Zeena stayed hidden below the body of her dead mother, and 7-year-old Zaina who was shot in the shoulder and beaten. (AP Photo / Steve Parsons, PA) UNITED KINGDOM OUT - NO SALES - NO ARCHIVES

Alps shooting

The home of French shooting victim, Saad al-Hilli in Claygate, Surrey, as French police investigating the murder of four people are sending four officers to the UK to work with British detectives and plan to search the house of victim Saad al-Hilli.

Alps shooting

Police outside the home of French shooting victim, Saad al-Hilli in Claygate, Surrey, as French police investigating the murder of four people are sending four officers to the UK to work with British detectives and plan to search the house of victim Saad al-Hilli.

Alps shooting

Police on Thursday Sept. 6, 2012 stand outside the home of Saad al-Hilli in Claygate, Surrey, who has been named by French media as one of the members of a British family who was shot dead by a gunman in the French Alps. (AP Photo/Steve Parsons/PA) UNITED KINGDOM OUT NO SALES NO ARCHIVE

General view of the hospital of Grenoble , France, Thursday, Sept. 6, 2012, where the young British girl is hospitalized after four people were found shot to death on a forest road, last Wednesday, in the French alps. Immobilized with fear, a 4-year-old British girl huddled for eight hours beneath the legs of her slain mother in the back of a car filled with corpses on a remote Alpine road — all while French investigators stood nearby, unaware the girl was there. The stunning discovery Thursday of the girl, apparently unharmed, heightened the drama around a mysterious shooting rampage that left four adults dead and a 7-year-old girl hospitalized with bullet wounds and skull fractures. The reason for the killing, in a wooded area near the village of Chevaline, remains unclear. (AP Photo/Lionel Cironneau)

General view of the hospital of Grenoble , France, Thursday, Sept. 6, 2012, where the young british girl is hospitalized after four people were found shot to death on a forest road, on Wednesday, in the French alps. Immobilized with fear, a 4-year-old British girl huddled for eight hours beneath the legs of her slain mother in the back of a car filled with corpses on a remote Alpine road — all while French investigators stood nearby, unaware the girl was there. The stunning discovery Thursday of the girl, apparently unharmed, heightened the drama around a mysterious shooting rampage that left four adults dead and a 7-year-old girl hospitalized with bullet wounds and skull fractures. The reason for the killing, in a wooded area near the village of Chevaline, remains unclear. (AP Photo/Lionel Cironneau)

Alps shooting

A Royal Logistic Corps bomb disposal truck arrives at the cordon close to the home of Saad al-Hilli in Claygate, Surrey, as police evacuated an area around his home due to "concerns" about items found at the address.

Alps shooting

A Royal Logistic Corps bomb disposal truck arrives at the cordon close to the home of Saad al-Hilli in Claygate, Surrey, as police evacuated an area around his home due to "concerns" about items found at the address.

Alps shooting

Police close to the home of Saad al-Hilli in Claygate, Surrey, as they evacuated an area around his home due to "concerns" about items found at the address.

Alps shooting

Police stand outside the home of Saad al-Hilli in Claygate, Surrey, who has been named by French media as one of the members of a British family who was shot dead by a gunman in the French Alps.

Alps shooting

Police walk close to the home of Saad al-Hilli in Claygate, Surrey, as they evacuated an area around his home due to "concerns" about items found at the address.

Alps shooting

Police close to the home of Saad al-Hilli in Claygate, Surrey, as they evacuated an area around his home due to "concerns" about items found at the address.

Alps shooting

Police search teams leave the home of French shooting victim, Saad al-Hilli in Claygate, Surrey, after police resumed their search at the home of the family gunned down in the French Alps.

Alps shooting

A police firearms officer at the home of French shooting victim, Saad al-Hilli in Claygate, Surrey, as police resumed their search at the home of the family gunned down in the French Alps.

Alps shooting

Police firearms officers at the home of French shooting victim, Saad al-Hilli in Claygate, Surrey, as police resumed their search at the home of the family gunned down in the French Alps.

Alps shooting

Police at the home of French shooting victim, Saad al-Hilli in Claygate, Surrey, as police resumed their search at the home of the family gunned down in the French Alps.

Saad al-Hilli killed in the French Alps