The cyclist who was first on the scene of the French Alps shooting has told how it was "like a Hollywood scene."
Former RAF cyclist Brett Martin told the BBC he saw a little girl stumbling around and bleeding, before making the grisly discovery of three bodies in a car: "If you've seen CSI Miami it was pretty much what you would imagine the set from CSI Miami would be like," he said.
"There was a lot of blood and heads with bullet holes in them."

Brett Martin told the BBC 'It seemed just like a Hollywood scene'

He said he saw a little girl "stumbling" around, bleeding and "moaning" at the crime scene.
Engineer Saad al-Hilli, his wife and mother-in-law were brutally murdered in a remote spot close to Lake Annecy a week ago, along with cyclist Sylvain Mollier. Their two children, Zainab, seven, and Zeena, four survived the attack, with Zeena hiding under the skirts of her dead mother in the car for eight hours after the scene.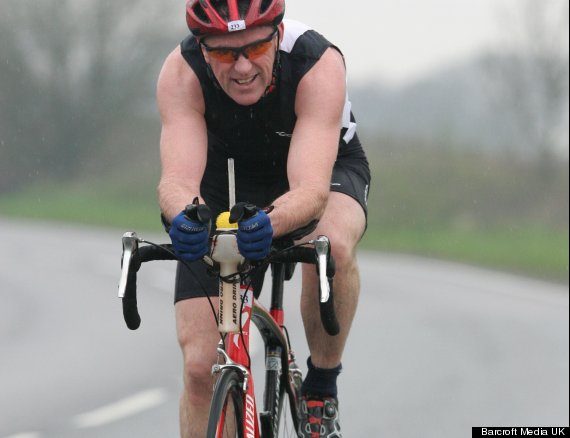 Brett Martin left seven year old Zainab at the crime scene

Martin said he'd had no idea Zeena remained in the car and was "not surprise" her body was missed by police. "Unless you were to open that car and look in the way the bodies in the car were slumped [you would not have known]," he said.
He said when he first arrived at the scene "at first I just thought they'd been a terrible accident between a cyclist and a car."
He said BMW's engine was still revving and its wheels were spinning when he got to the scene. Inside were the bodies of engineer Saad al-Hilli, 50, his dentist wife Iqbal, 47, and her mother. "If someone had said cut and everyone walked away that would have been it but unfortunately it was real life," he said.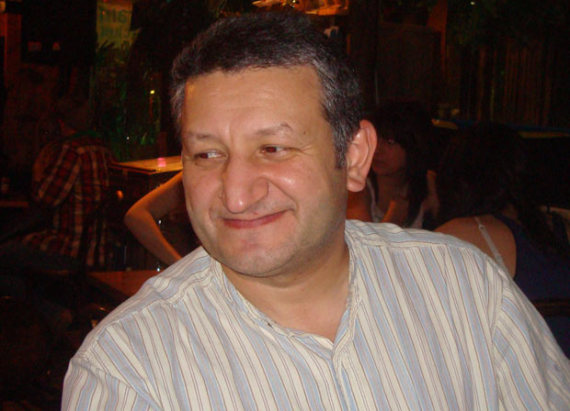 Saad al-Hilli, whose was murdered in the attack alongside his wife and mother-in-law
Martin then wanted to phone for help but found he had no reception on his mobile - meaning he had to leave seven-year-old Zainab at the scene.
"Dragging her on my shoulder may have killed her. I decided to leave her in the recovery position. I was not comfortable in making that decision."
Martin's comments came after the chief prosecutor in the area of the French Alps where three Britons were gunned down said that the causes and origins of their deaths lay in the UK.
Annecy's chief prosecutor Eric Maillaud made the comments as he travelled to Britain as investigators continue to probe the mystery killings of the Al-Hilli family.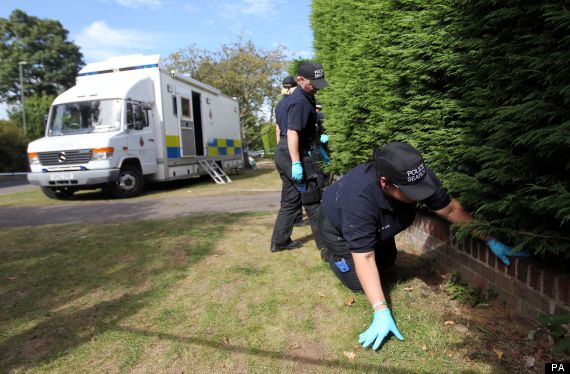 Police searching the Al-Hilli family's house on Thursday

Maillaud and examining magistrate Michel Mollin, another senior member of the inquiry team, met officers from Surrey Police at Woking police station to discuss the case.
Maillaud told reporters outside Woking police station it was "without any doubt that the reasons and causes have their origins in this country".
@tomsymonds

tomsymonds
Brett Martin had to leave 7 year old Zainab Al Hilli to seek help. "That wasn't a very comfortable decision to have to make to be honest."
The journalist who interviewed Martin tweeted about the encounter

He added: "It is only by being together that we will find the murderers."
Martin told the BBC how he needed to move the body of cyclist Sylvain Mollier, who was seemingly passing the murder scene, and break the windows of the car to turn off the ignition.
"I moved him away from the vehicle and then I checked him for a pulse, any signs of life," he said.
But as he climbed to the top of a hill in the Combe d'Ire forest, near Chevaline, last Wednesday, he was faced with a bloodbath.
"It was the sort of thing you would never in your life expect to come across," he said. "It seemed at that moment in time like there had been a terrible car accident."
"As I approached the scene, the first thing I saw was a bike on its side. I had seen the cyclist ahead of me much earlier so I thought he was just having a rest.
"As I got a little bit closer, a very young child stumbled out onto the road and at first I thought she was actually just playing with her sibling because she sort of looked, from a distance, as if she was falling over, larking about like a child would.
"However, as I approached her it was obvious that she was quite badly injured and there was a lot of blood on her.
Loading Slideshow
Crime coordinator Capt. Laurent Dourel, left, Annecy prosecutor Eric Maillaud, second left, and French Gendarmes Col. Bertrand Francois, third left, and Lt. Col. Benoit Vinneman atttend a news conference in Annecy, French Alps, on Thursday, Sept. 6, 2012. (AP Photo/Lionel Cironneau)

Annecy prosecutor Eric Maillaud answers a question during a news conference in Annecy, France, on Thursday, Sept. 6, 2012. (AP Photo/Lionel Cironneau)

A gendarme blocks access to the site where people were shot to death near Chevaline, French Alps, on Thursday, Sept. 6, 2012. (AP Photo/Laurent Cipriani)

A Gendarme's car heads to a killing site near Chevaline, the French Alps, on Wednesday, Sept.5, 2012. (AP Photo/Alexis Moro)

Gendarmerie Col. François, left, and Annecy prosecutor Eric Maillaud answer reporter near a killing site, near Chevaline, the French Alps, on Wednesday, Sept. 5, 2012. (AP Photo/Alexis Moro)

Gendarmes block access to a killing site near Chevaline, the French Alps, on Wednesday, Sept. 5, 2012. (AP Photo/Alexis Moro)

Gendarmes blocks access to site where people were shot to death near Chevaline, the French Alps, on Thursday, Sept. 6, 2012. (AP Photo/Laurent Cipriani)