Armed police shot Mark Duggan as he raised a gun he had been hiding under his jacket when they swooped on a taxi he was in, a court has heard.
Duggan, 29, whose death last year sparked widespread riots, was hiding something in his right hand when the minicab was stopped by police in north London, the CO19 officer, known only as W70, told Snaresbrook Crown Court on Thursday.
He told the trial of Kevin Hutchinson-Foster, who is accused of providing Duggan with a handgun minutes before he was killed on 4 August last year, that Duggan started to get out and raised the gun, before he was shot twice.
The officer added that Duggan, who was less than five metres away from him, was "stooped" as they surrounded the cab and identified themselves. Mark Duggan, 29, who was shot by police last year
He said the raid's target could be seen hiding something under the left-hand side of his jacket, in a pocket or in the waistband of his trousers.
"It very much appeared he was concealing something in his right hand with that jacket," W70 said.
"As he was pivoting in that position (to exit the car), concealing something in his right hand, at the same time he has very quickly drawn out his right hand from the left-hand side of his waistband and inside his jacket.
"He was holding a self-loading pistol or a handgun."
Prosecutor Edward Brown QC asked the officer, who had four years of firearms unit experience at the time of the shooting: "Do you have any doubt as to what was in Mark Duggan's hand?"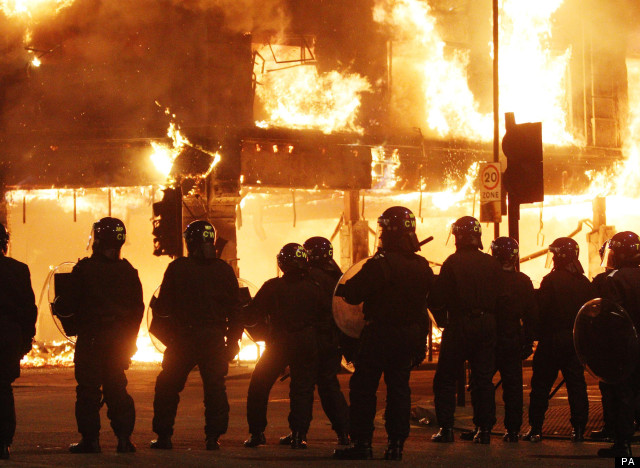 The shooting of Duggan sparked a week of rioting in London and other British cities
He replied: "No, I believe it was a handgun."
The officer, who gave evidence from behind a screen, said that the armed officers were in "state red" with weapons drawn and high-visibility hats on to identify them when they approached the taxi in Ferry Lane.
The court has previously heard that Duggan had been under surveillance on that and the previous day.
The prosecution claims he travelled in a minicab to collect the gun from Hutchinson-Foster in Leyton, east London, before continuing to Tottenham.
It is alleged that Duggan travelled via minicab from Hoxton to Leyton where he collected the gun in a shoebox, then continued his journey until he was stopped by police.
The prosecution has said Hutchinson-Foster admitted using the same gun in an attack on a barber six days previously.