The father of maths teacher Jeremy Forrest will make a public appeal for his son to return home with his runaway teenage pupil, Megan Stammers on Thursday.
Jim Forrest will speak to the media at Sussex Police HQ at 3.15pm as the search for the pair continues a week after they fled across the Channel, Sussex Police said.
The last confirmed sighting of Megan, 15, and 30-year-old Forrest - who taught maths at Bishop Bell C of E School in Eastbourne, East Sussex - was from CCTV cameras on board a Dover-to-Calais ferry at 9.30pm last Thursday.
The release of two images of the pair, arm in arm and holding hands, was intended to trigger a response from the public about their whereabouts.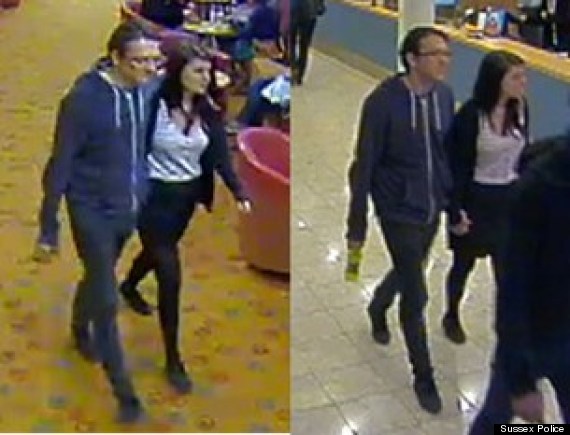 CCTV images show the pair holding hands
But there have been no further sightings, police have said.
At the news conference, Chief Inspector Jason Tingley will also speak about the inquiry into the missing pair and "clarify the status" of the European inquiry.
It comes amid confusion over how intensely the search is being carried out on the Continent, with reports claiming that French police are not actively looking and have not carried out standard credit card or mobile phone checks. Megan's mother and stepfather have already begged their daughter to come home
BBC News reported that Interpol was unable to confirm that it is working on the case.
Neither Megan nor Forrest has a profile on the crime agency's website, www.interpol.int, under its "yellow notices" section which "help locate missing persons, often minors, or to help identify persons who are unable to identify themselves".
Forrest is also not listed under the website's "red notices" - profiles used "to seek the location and arrest of wanted persons with a view to extradition or similar lawful action".
Loading Slideshow
http://jeremyayremusic.com/

Pixel 8000

Megan Stammers missing

Megan Stammers' mother Danielle Wilson and stepfather Martin Stammers speak to the media at Sussex Police Headquarters, Lewes, as they make an appeal for their missing teenager daughter to come home.

Megan Stammers missing

Megan Stammers' mother Danielle Wilson and stepfather Martin Stammers speak to the media at Sussex Police Headquarters, Lewes, as they make an appeal for their missing teenager daughter to come home.

Megan Stammers missing

Megan Stammers' mother Danielle Wilson and stepfather Martin Stammers speak to the media at Sussex Police Headquarters, Lewes, as they make an appeal for their missing teenager daughter to come home.

Megan Stammers missing

Megan Stammers' mother Danielle Wilson and stepfather Martin Stammers speak to the media at Sussex Police Headquarters, Lewes, as they make an appeal for their missing teenager daughter to come home.

Megan Stammers missing

Megan Stammers' mother Danielle Wilson and stepfather Martin Stammers speak to the media at Sussex Police Headquarters, Lewes, as they make an appeal for their missing teenager daughter to come home.

Megan Stammers missing

Megan Stammers' mother Danielle Wilson and stepfather Martin Stammers speak to the media at Sussex Police Headquarters, Lewes, as they make an appeal for their missing teenager daughter to come home.

Megan Stammers missing

Megan Stammers' mother Danielle Wilson and stepfather Martin Stammers speak to the media at Sussex Police Headquarters, Lewes, as they make an appeal for their missing teenager daughter to come home.

Megan Stammers missing

Megan Stammers' mother Danielle Wilson speaks to the media at Sussex Police Headquarters, Lewes, as she makes an appeal for her missing teenager daughter to come home.

Megan Stammers missing

Megan Stammers' stepfather Martin Stammers speaks to the media at Sussex Police Headquarters, Lewes, as he makes an appeal for his missing teenager daughter to come home.

Megan Stammers missing

Chief Inspector Jason Tingley speaks to the media at Sussex Police Headquarters, Lewes, as Megan Stammers's family made an appeal for their missing teenager daughter to return home.

Megan Stammers missing

Megan Stammers' stepfather Martin Stammers speaks to the media at Sussex Police Headquarters, Lewes, as he makes an appeal for his missing teenager daughter to come home.

Megan Stammers missing

Megan Stammers' mother Danielle Wilson and stepfather Martin Stammers speak to the media at Sussex Police Headquarters, Lewes, as they make an appeal for their missing teenager daughter to come home.

Megan Stammers missing

Megan Stammers' mother Danielle Wilson speaks to the media at Sussex Police Headquarters, Lewes, as she makes an appeal for her missing teenager daughter to come home.

Megan Stammers

Facebook

Megan's father Martin Stammers and wife Tracy (Facebook)