The stepfather of schoolgirl Megan Stammers says he is "over the moon" that the 15-year-old has been found safe and well after going missing with her maths teacher in France for a week.
Martin Stammers told reporters that she would be home "very soon" after being found shortly after midday.
French media reported that the teenager and her teacher Jeremy Forrest, 30, were spotted in Bordeaux.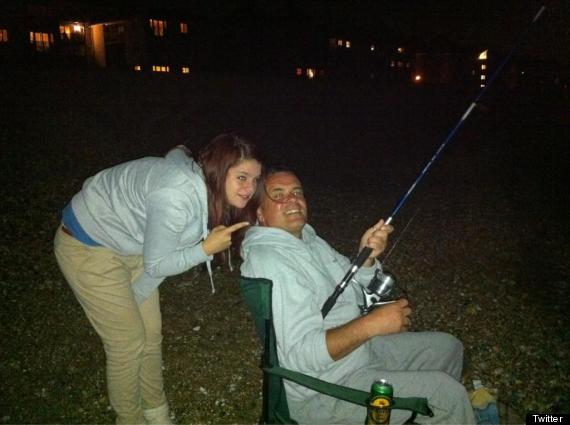 Martin Stammers, Megan's stepfather, posted this picture on his Twitter account
He has been arrested on suspicion of child abduction and Megan taken into protective custody, Sussex Police said.
Mr Stammers told Sky News he was "thrilled to bits, just over the moon" at news of his stepdaughter's return.
He said: "The relief, the outpouring of love from everyone, has just been amazing. We're so happy."
He said he felt "pure elation, pure relief that she is just safe and well", and went on: "As time goes on you despair even more, but knowing Megan, knowing the girl she is, I always had that belief that she was strong enough within herself to remain safe and well."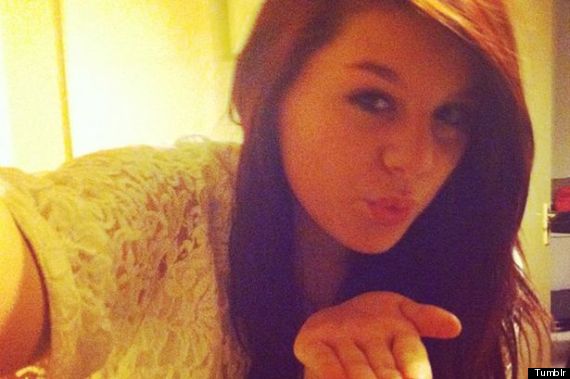 Megan Stammers has been found safe and well in France
He said there was no indication of exactly when she would return to the UK, and thanked police and campaign supporters on Twitter and Facebook who helped maintain publicity of the case.
Mr Stammers added: "I'm just happy. I just know in my heart that she's safe and well and she will be back with us very soon.
"We have our daughter back, it's just such joy."
Members of the family and friends also tweeted their relief.
@BrookeStammers

Brookieee
Absolutely on top of the world of the world right now, to know our Megan is safe and sound! Love you so much my beautiful sister xxxxxx
@thel4stsong

mollystammers✝
my sisters been found!!!!!!!!!!!!!!!!!!!!!!!!!!!!!!!!!!!!!!!!!!!!!!!!! <3
Terry Boatwright, headteacher of Bishop Bell C of E School, which Megan attends, said: "Everyone in the Bishop Bell School community is delighted that Megan has been found and can now be reunited with her family, who must be so relieved.
"Throughout the last week, finding Megan has been everyone's priority and a major focus of our thoughts and prayers in school.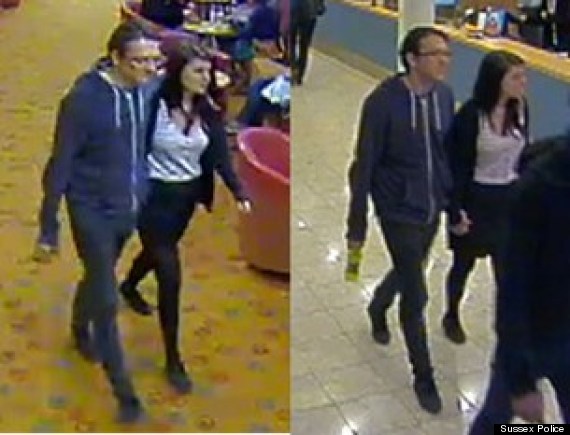 CCTV images from the Dover-to-Calais ferry revealed the pair holding hands

"Clearly, much needs to be done now to support Megan, and her family, as they seek to return to some sort of normality and we will do all we can to play our part in that."
Agnes Auboin, vice-prosecutor in Bordeaux, said: "The couple were found in Bordeaux by police acting on a European arrest warrant.
"They were intercepted at 1.15pm local time.
"As the girl is a minor, the maximum will be done to return her to her family. She is in good health."
Comments have been turned off this entry for legal reasons.
Loading Slideshow
http://jeremyayremusic.com/

Pixel 8000

Megan Stammers missing

Megan Stammers' mother Danielle Wilson and stepfather Martin Stammers speak to the media at Sussex Police Headquarters, Lewes, as they make an appeal for their missing teenager daughter to come home.

Megan Stammers missing

Megan Stammers' mother Danielle Wilson and stepfather Martin Stammers speak to the media at Sussex Police Headquarters, Lewes, as they make an appeal for their missing teenager daughter to come home.

Megan Stammers missing

Megan Stammers' mother Danielle Wilson and stepfather Martin Stammers speak to the media at Sussex Police Headquarters, Lewes, as they make an appeal for their missing teenager daughter to come home.

Megan Stammers missing

Megan Stammers' mother Danielle Wilson and stepfather Martin Stammers speak to the media at Sussex Police Headquarters, Lewes, as they make an appeal for their missing teenager daughter to come home.

Megan Stammers missing

Megan Stammers' mother Danielle Wilson and stepfather Martin Stammers speak to the media at Sussex Police Headquarters, Lewes, as they make an appeal for their missing teenager daughter to come home.

Megan Stammers missing

Megan Stammers' mother Danielle Wilson and stepfather Martin Stammers speak to the media at Sussex Police Headquarters, Lewes, as they make an appeal for their missing teenager daughter to come home.

Megan Stammers missing

Megan Stammers' mother Danielle Wilson and stepfather Martin Stammers speak to the media at Sussex Police Headquarters, Lewes, as they make an appeal for their missing teenager daughter to come home.

Megan Stammers missing

Megan Stammers' mother Danielle Wilson speaks to the media at Sussex Police Headquarters, Lewes, as she makes an appeal for her missing teenager daughter to come home.

Megan Stammers missing

Megan Stammers' stepfather Martin Stammers speaks to the media at Sussex Police Headquarters, Lewes, as he makes an appeal for his missing teenager daughter to come home.

Megan Stammers missing

Chief Inspector Jason Tingley speaks to the media at Sussex Police Headquarters, Lewes, as Megan Stammers's family made an appeal for their missing teenager daughter to return home.

Megan Stammers missing

Megan Stammers' stepfather Martin Stammers speaks to the media at Sussex Police Headquarters, Lewes, as he makes an appeal for his missing teenager daughter to come home.

Megan Stammers missing

Megan Stammers' mother Danielle Wilson and stepfather Martin Stammers speak to the media at Sussex Police Headquarters, Lewes, as they make an appeal for their missing teenager daughter to come home.

Megan Stammers missing

Megan Stammers' mother Danielle Wilson speaks to the media at Sussex Police Headquarters, Lewes, as she makes an appeal for her missing teenager daughter to come home.

Megan Stammers

Facebook

Megan's father Martin Stammers and wife Tracy (Facebook)