A man died during violent clashes in Athens as 40,000 strikers pitted themselves against riot police on the streets of the Greek capital.
Petrol bombs hurled by protesters exploded at the feet of police who returned fire with tear gas and baton charges.
Officials say the 65-year-old died of a heart attack but local media is reporting that he was tear-gassed.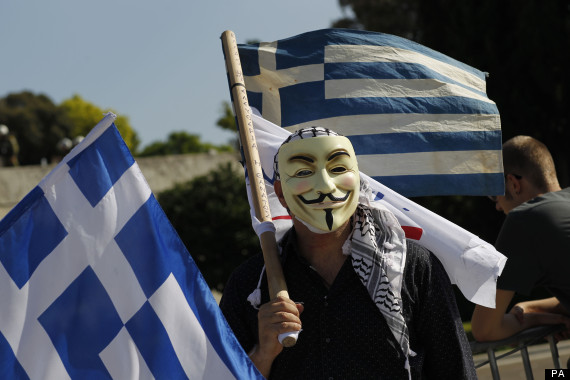 Union leaders claimed 80,000 people attended the march but official figures are closer to 40,000
The country's 20th general strike in two years has been called in Greece to coincide with a meeting of EU leaders in Brussels.
Greeks are demonstrating against further austerity measures imposed by the EU and International Monetary Fund (IMF), as the near-bankrupt country struggles to secure a 13.5bn-euro (£11bn) bailout fund.
Without a bailout, Greece will run out of money next week. Greece is trying to secure bailout funding from the EU and IMF
Five years of recession have taken their toll on the population and many feel that any further wage and pension cuts will ruin the country.
A quarter of Greece's workforce is already unemployed.
Tania Karayiannis, of at ADEDY, a civil servants' union, told the Guardian: "Greeks are becoming increasingly conscious of what is happening.
"The political leadership of this country should not under-estimate that. It is the 20th strike in two years
"If they don't take our opposition seriously they will bear historic responsibility for the disintegration of Greece's social fabric and the developments that will surely follow."
Many fear that austerity may be manifesting itself in the rise of far-right political groups such as Golden Dawn which currently has 18 seats in the Hellenic Parliament.
The 24-hour strike, instigated by the country's two biggest labour unions, ADEDY and GSEE, has ground most of the business and public sector to a halt.
"I am here to ensure that the measures won't go through and because I feel Greek people should have a say on what is being done," a demonstrator told CNN.
"There is no other way. The only way is for the working class to understand that we must change things. That what is happening is a result of a flawed system. And we must make sure that it stops to exist."