Rio Ferdinand has decided to shake hands with Ashley Cole prior to Chelsea and Manchester United's Premier League clash on Sunday, according to reports.
The Sun claim Rio and his brother Anton are ready to acknowledge not just Cole but John Terry, who is currently serving a four-match ban for racially insulting Anton.
Anton Ferdinand snubbed both Terry and Cole in September when Queens Park Rangers hosted Chelsea, but his Rio has not played against the Blues since February.
Both Cole and Ferdinand will likely come face-to-face for the first time since a series of incidents effectively ended their friendship.
Cole defended Terry in court and during his FA trial for allegedly racially abusing Anton, and labelled the football governing body a "bunch of twa*s" after they questioned his evidence.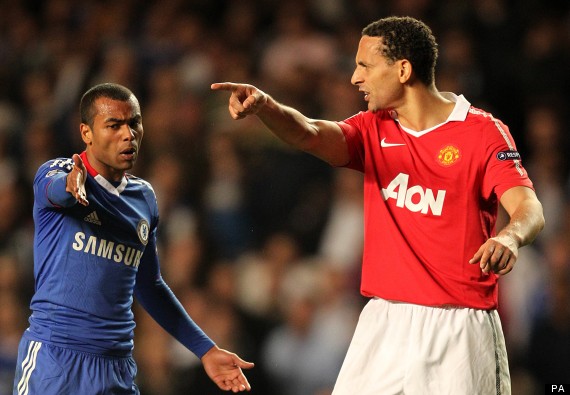 Ferdinand faced Cole in February this year
Ferdinand meanwhile was fined £40,000 by the FA after he endorsed a tweet calling Cole a "choc ice" on Twitter. The term suggested the Chelsea left-back was black on the outside but white on the inside.
Ferdinand responded to the tweeter with "I hear you fella! Choc ice is classic hahahahahahha!"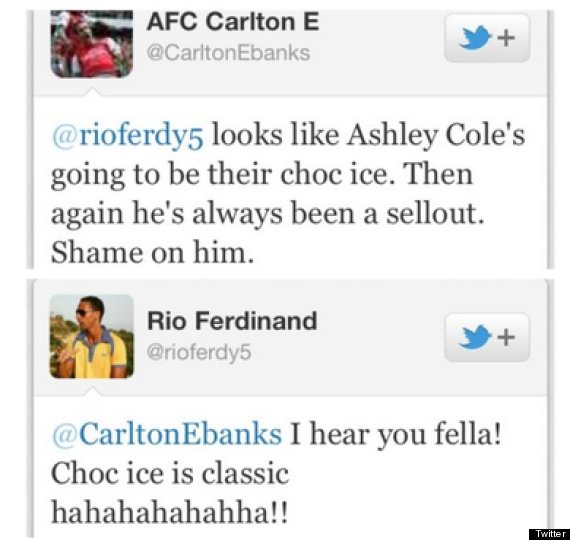 The 33-year-old then deleted the tweet and attempted to diffuse suggestions he had reacted inappropriately.
Ferdinand and Cole had been close friends, emerging into the England first-team at the same time when Sven-Göran Eriksson was named coach of the national side in 2001. The duo's friendship also led to commercial ventures, when they executively produced the 2009 British film Dead Man Running.
On Wednesday evening the Ferdinand brothers released a statement expressing their gratitude to the under-fire Kick It Out campaign but warned there were "deep divisions" in football. The Ferdinands released a statement on Wednesday night
It has been a year since the incident at Loftus Road. During that time, some of the deep divisions that exist in football have been exposed. In the coming months there will be ongoing discussions, we are sure, on finding a way forward. We intend to participate in these discussions, along with numerous other current and ex-professionals of all races, from the grass roots upwards, across the football community as a whole.

On the issue of Kick It Out, we would like to go on record to say what fantastic work they have done in the past regarding education and awareness. However, times change and organisations need to change with them. We are more than happy to join the discussion, privately, to make Kick It Out more relevant in its fight to stamp out racism in football.

Although we have been left disappointed by the PFA and the FA's actions over the last year, as a family, we are committed to working with football's existing organisations towards the betterment of the game and to achieve immediate action.

We would like to thank all the fans and the staff at Queens Park Rangers and Manchester United for their support in what has been a difficult year. In particular we want to thank Sir Alex Ferguson and Mark Hughes.

We will not be discussing publicly any issues connected with the case. We are now going to concentrate on playing football.

- Rio and Anton Ferdinand
SUBSCRIBE AND FOLLOW
Get top stories and blog posts emailed to me each day. Newsletters may offer personalized content or advertisements.
Learn more