A disturbing photo has emerged showing a Chelsea supporter apparently making a monkey gesture towards Manchester United striker Danny Welbeck during the club's Wednesday night Capital One Cup tie.
The fan is surrounded by laughing supporters as he makes the gesticulation towards Welbeck during the Wednesday night match at Stamford Bridge.
Chelsea have promised to investigate the matter.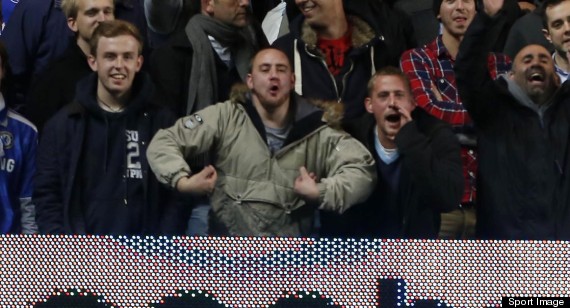 The supporter can be seen in the bottom left-hand corner
"We are investigating an incident involving a member of the crowd at last night's game against Manchester United," a cub statement said.
"The club will be examining all available footage and asks anyone who can identify the individual to contact the club."
It is another potentially embarrassing incident for Chelsea after John Terry was suspended for four matches and fined £220,000 by the FA for racially insulting Anton Ferdinand.
Ashley Cole's evidence during the trial was also questioned and the club, who have banned supporters for racism in the past, have been criticised for only fining club skipper Terry two weeks' wages for his behaviour.
Serbian supporters were slammed for airing monkey chants at England Under-21 defender Danny Rose in October after a European Championship qualifier.
SUBSCRIBE TO & FOLLOW UK SPORT