Chelsea have filed their complaint to the Football Association detailing allegations referee Mark Clattenburg used "inappropriate language" against John Obi Mikel during their Premier League defeat to Manchester United.
The club has however decided to drop its initial complaint Clattenburg also abused Juan Mata. After the internal review, the Blues have concluded there is not enough evidence to suggest the playmaker was called a "Spanish twa*" by the official. Oriol Romeu told a Spanish radio station this week Mata did not hear anything said to him by Clattenburg.
Chelsea defended their conduct, having swiftly made the claims less than three hours after the United match ended, after a "thorough investigation", in a statement last night.
"Board members began establishing the details of the allegations, speaking to all relevant players and staff. After those initial interviews, it was clear that the matter had to be reported.

"Since reporting the matter to the delegate, the club and outside legal counsel have conducted further investigations.

"Having completed that process, we have now followed the correct protocol and lodged a formal complaint with the FA regarding John Mikel Obi.

"There was not sufficient evidence to support a second claim to the FA with regard to the alleged verbal abuse of another first-team player."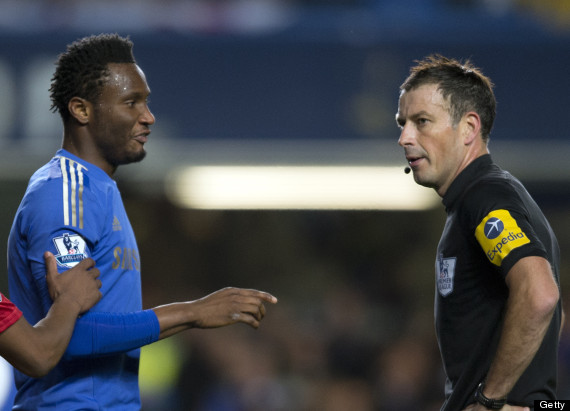 Signed witness statements from a number of players and staff were submitted in the investigation to the FA, who have begun their own probe into the matter.
Chelsea however refused to comment on reports neither Mikel nor Mata had heard Clattenburg abuse them but were rather told of the allegations by team-mates.
Clattenburg, who privately denies any wrongdoing, is also under investigation from the police after the Society of Black Lawyers contacted them.
The County Durham referee, his assistants and fourth official were confronted by Mikel following the 3-2 defeat.
The quartet were miked up during the game but referees' conversations cannot be recorded by Fifa law.