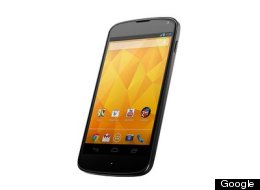 Google's new line-up of flagship Nexus phones has sold out within less than an hour of going on sale.
The LG-built Nexus 4 went on sale at 8.30 am in the UK - but within as little as 10 minutes was listed as "not available".
Google has not yet made a statement clarifying when the phone will be back on sale.
There were also "big crowds" outside mobile phone stores to pick up the new device in person, something which is usually only seen for the launch of a new iPhone or Galaxy phone.
@O2

O2 in the UK
But those who tried to buy one online were quickly out of luck. Many users took to Twitter to complain that they had already missed their chance to buy the phone at launch.
@Psychobunny13

Psycho Bunny
I hate Google. Tried to order the Nexus 4 this morning. Got it in my shopping basket then an error occured and now it's sold out. Losers.
@stevelitchfield

Steve Litchfield
And now the 8GB Nexus 4 has 'sold out' too. How many did Google order from LG? This isn't a conference, you know, G, this is the real world!
The high demand for the Nexus 4 was likely in part due to the handset's low price - it costs just £239 unlocked with 8GB of on-board storage, or £279 with 16GB.
However Google's other devices, including the Nexus 7 tablet by Asus and the Nexus 10 by Samsung were still available.