A senior British diplomat has warned the increased tension between Israel and the Hamas-ruled Palestinian territory threatens a "spiral of violence".
Sir Mark Lyall Grant, UK ambassador to the UN, called for a de-escalation of tension as Israeli airstrikes and rockets fired from the Gaza strip left a reported 14 people dead.
Three Israelis were killed in the southern town of Kiryat Malachi when a rocket hit a four-storey building.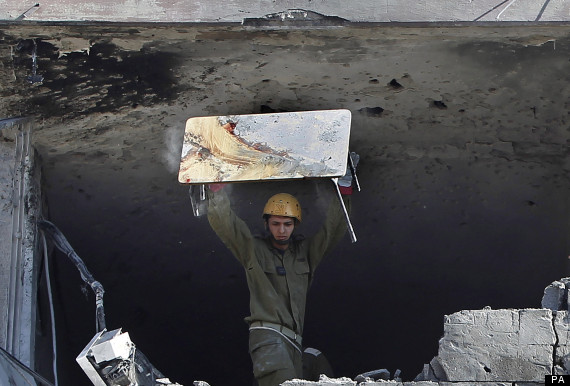 An Israeli soldier throws a blood-stained table from an apartment building hit by a rocket fired from the Gaza Strip
Israel has dropped leaflets in Gaza warning people keep clear of "Hamas operatives & facilities".
Prime Minister David Cameron will chair a meeting of the National Security Council today as tension in the region intensifies.
Following a formal private meeting of the UN Security Council on the developing situation, Grant said: "I utterly condemn rocket attacks from Gaza into southern Israel, which threaten Israeli civilians and risk precipitating another crisis in Gaza.
"My government understands the intolerable situation for civilians in southern Israel. They have the right to live without fear of attack from Gaza.
"We urge Israel to act in a way that de-escalates tension and which increases the prospects for both sides to live in peace.
"We call on all those involved to avoid any action which risks civilian casualties, and deeply regret civilian casualties that have already taken place.
"And we are gravely concerned about the prospect of a spiral of violence. An escalation would be in no one's interest."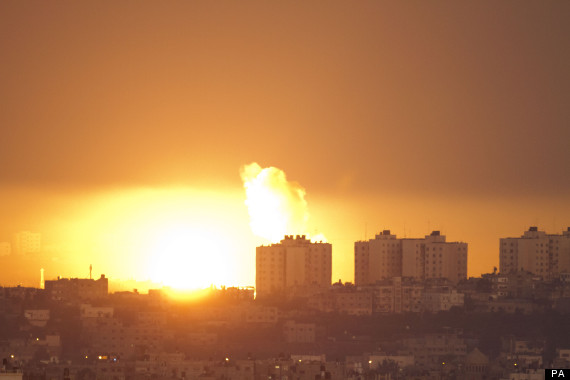 Explosion and smoke rise following an Israeli air strike in the northern Gaza Strip
The Israeli ambassador said the strikes were launched after days of rocket fire out of Gaza and Israel had a right to defend itself.
On Wednesday Hamas said that Israel will "pay a high price" for the attack, while Izz ad-Din al-Qassam, the military arm of the group, posted a message on its Twitter profile warning that the strike had opened the gates of hell.
SEE ALSO:
GRAPHIC WARNING: Israel And Gaza Tensions
SUBSCRIBE TO & FOLLOW UK DAILY BRIEF