The fragility of the ceasefire between Israel and Hamas was underlined on Wednesday by a rocket attack by Palestinian militants an hour after the Egyptian-brokered truce came into effect.
Twelve rockets were launched from the Gaza Strip into Israel after hostilities officially ended, according to Reuters.
Israeli police spokesman Micky Rosenfeld told the news agency: "We have not changed our mode of alert and remain vigilant." Joy: Palestinians celebrate the ceasefire in Gaza City
There were no reports of any injuries, with Israel's sophisticated anti-missile system shooting down most of the rockets.
The ceasefire was announced by the Egyptian foreign minister Kamel Amr leading to Gazans celebrating in the streets.
The truce came after eight days of violence that saw the deaths of over 140 Palestinians and five Israelis. Israeli Prime Minister Benjamin Netanyahu, right, together with Israel's Defense Minister Ehud Barak, centre and Israeli Foreign Minister Avigdor Lieberman deliver a joint statement on the truce
It comes hours after twenty-one people were injured in a bus bomb a block away from the headquarters of the Israeli Defence Force (IDF) in Tel Aviv, the first significant terror incident in six years. In its aftermath more raids were carried out in Gaza, killing 13.
UK Foreign Secretary William Hague welcomed the ceasefire, tweeting that it was now important to make it last.
@WilliamJHague

William Hague
I welcome
#Gaza
ceasefire. Challenge now is to make it stick, build on it, and restart negotiations on two state solution urgently
US Secretary of State Hillary Clinton said it was "a critical moment for the region." She thanked Egypt's new president Mohammed Morsi for his "personal leadership in de-escalating the situation and ending the violence."
"There is no substitute for a just and lasting peace," she said.
"The US welcomes the agreement today for a ceasefire in Gaza - for it to hold the rocket attacks must end and a broader calm must return.
"In the days ahead the US will work with partners across the region to consolidate this progress, improve conditions for the people of Gaza, provide security for the people of Israel."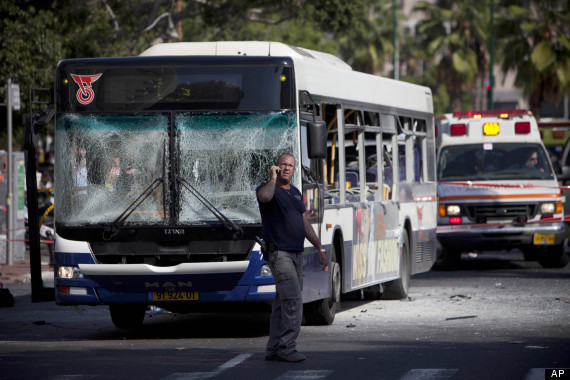 An Israeli security officer stands next to a blown up bus in Tel Aviv
A Whitehouse statement said: "Barack Obama commended Israeli prime minister Benjamin Netanyahu for agreeing to the Egyptian ceasefire proposal - which the President recommended the Prime Minster do - while reiterating that Israel maintains the right to defend itself."
A statement from Benhamin Netanyahu's office, reported by Aljazeera, said: "A short while ago Prime Minister Benjamin Netanyahu spoke with President Barack Obama and agreed to his recommendation to give a chance to an Egyptian proposal for a ceasefire and thereby give an opportunity for the stabilisation of the situation and a calming of it."
@BBCPaulAdams

Paul Adams
No lifting of
#Gaza
blockade as part of deal. Palestinians settling for bare minimum.
@BBCNewsUS
It comes a week after Operation Pillar of Defence began with Israel assassinating the head of Hamas' military wing Ahmed Said Khalil al-Jabari.
While the cease-fire agreement between Israel and Gaza on Wednesday brought an end to the rockets and airstrikes, the political fallout is just beginning. The Associated Press offers a breakdown of who won and who lost as a result of the truce agreement:
Loading Slideshow
Israel and Prime Minister Benjamin Netanyahu

Israel secured an agreement to stop the persistent rocket fire from the Gaza Strip into southern Israel without launching a ground invasion into Gaza or losing the support of its international allies. Netanyahu's bid for re-election in January could be vastly strengthened by the operation and by the killing of Hamas militant leader Ahmed Jabari on the first day of fighting. Netanyahu got the backing of President Barack Obama during the fighting, a significant achievement after their already shaky relationship grew colder when Netanyahu was perceived to favor Republican nominee Mitt Romney during the recent U.S. election. Israel also secured a commitment from the U.S. to help stop weapons smuggling into Gaza. Caption: <em>Israeli Prime Minister Benjamin Netanyahu speaks during a visit to the national police headquarters on November 22, 2012 in Jerusalem, Israel.</em> (Gali Tibbon-Pool/Getty Images)

Hamas

The Islamic militant group that rules Gaza gained significant international credibility, with Arab and Turkish diplomats pouring into the Palestinian territory to show support. Though it has been branded a terror group by Israel and the United States, it was treated as an equal partner with Israel during indirect cease-fire talks in Egypt. In those talks, it secured a commitment for the freer movement of people and goods into and out of Gaza. Hamas also proved its ability to fire rockets as far as Tel Aviv and Jerusalem despite being battered with airstrikes. As the Arab Spring brings Islamists to power across the region, Hamas' influence is on the rise. Caption: <em>A Hamas militant talks during a press conference in Gaza City, Thursday, Nov. 22, 2012.</em> (AP Photo/Hatem Moussa)

Palestinian President Mahmoud Abbas and Fatah

Abbas, who lost control of Gaza to Hamas five years ago, might be the biggest loser. He had no seat in the cease-fire negotiations and was largely sidelined during the crisis. Hamas' ability to stand up to Israel and survive could also diminish Palestinians' patience with their president's so far fruitless efforts to push for a negotiated solution to the conflict with Israel. Abbas' Western-backed government only rules in the West Bank, and his dreams of reconciling the rival Palestinian territories seems more elusive than ever. Caption: <em>Palestinian President Mahmoud Abbas speaks during a meeting of the Palestinian leadership at his compound in the West Bank city of Ramallah, Friday, Nov. 16, 2012. </em>(AP Photo/Majdi Mohammed)

Mohammed Morsi

Egyptian President Mohammed Morsi: The former Muslim Brotherhood leading figure emerged from his first major international crisis with enhanced prestige and proved his government can mediate between the two sworn enemies, something the United States cannot do because it considers Hamas a terrorist organization and doesn't allow contacts between its members and American officials. Egypt's sponsorship of the cease-fire ensures Morsi a central role in the future of the region. Caption: <em>In this Friday, July 13, 2012 photo, Egyptian President Mohammed Morsi speaks to reporters during a joint news conference with Tunisian President Moncef Marzouki, unseen, at the Presidential palace in Cairo, Egypt.</em> (AP Photo/Maya Alleruzzo)

The United States

While the Obama administration has sought to refocus its foreign policy on Asia, the Gaza fighting forced it to turn back to a conflict it has sought to move past. U.S. Secretary of State Hillary Clinton's last-minute shuttle diplomacy might have strengthened a U.S.-Egyptian partnership that has been strained in the 21 months since Egyptians toppled autocratic ruler Hosni Mubarak. After a first term characterized by repeated failures in forging Israeli-Palestinian peace, the U.S. role in supporting the cease-fire could signal renewed American engagement in the region. A U.S. commitment to help stop arms smuggling to Gaza may also help repair Obama's strained relationship with Netanyahu. Caption: <em>U.S. President Barack Obama and Secretary of State Hillary Rodham Clinton wave as they arrive at Yangon International Airport in Yangon, Myanmar, on Air Force One, Monday, Nov. 19, 2012.</em> (AP Photo/Carolyn Kaster)
Read the full story on HuffPost World.