Movie stars, singers and models have long been attacked for being foolish, materialistic and dumb, mostly by tabloid editors.
But the Leveson Inquiry has been more than an opportunity for celebrities like Hugh Grant and Charlotte Church to air their grievances about press intrusion.
It has been a golden opportunity for them, and others, to prove they are not just a pretty face, to reinvent themselves as campaigners and lobbyists, and to face down the editors who they claim made their lives a misery.
One of the most prominent voices in the debate on press reform has been Hugh Grant, who sits on the board of directors of Hacked Off.
The group, which counts former Reuters and Independent journalist-turned academic Brian Cathcart among its founders, says its aim is a "free and accountable press". Hugh Grant speaking on behalf of Hacked Off at the Conservative Party conference
Its detractors say it will pave the way for state regulation of the press but Hacked Off says it has not proposed any particular form of regulation, instead calling for an "effective" system "independent of both the government and the press industry".
Grant has become the face of the celebrity movement, appearing on Newsnight, Question Time and a host of media to make the case for tougher regulation, even being pursuaded to join Twitter as @HackedOffHugh to pursue the cause.
The actor, who listed his location as 'Anywhere but Wapping' follows just 31 people, including nemesis and News International owner Rupert Murdoch, and other Leveson Inquiry journalists like Ian Burrell of the Independent and the BBC's Nick Robinson, and fellow celebrity privacy campaigner Charlotte Church.
Many, including tabloid editors and chat show host Piers Morgan, have ridiculed the actor, known for romantic comedy's like Bridget Jones Diary and Four Weddings and a Funeral, for using the cause for career purposes.
Grant, who gave evidence to the inquiry, said he wants to see "independent regulation underpinned by statute" which would likely involve parliament giving more powers to whatever body replaces the Press Complaints Commission.
Charlotte Church, who told the inquiry into media standards that she was pressured into waiving a £100000 fee to sing at Rupert Murdoch's wedding, has also used the inquiry to spearhead a privacy campaign, and will appear on Question Time to debate the issue on Thursday night, after the report is published.
Actor Steve Coogan has also taken on the campaign, appearing on numerous political talk shows and the Liberal Democrat conference to petition Nick Clegg.
Their campaigning led Murdoch to deride them as "scumbag celebrities" on Twitter and was forced to apologise.
But many have commented that the appearance of celebrities like Grant, Church, Coogan, Sienna Miller and Abi Titmuss, detracted from some of the victims of crime whose phones were allegedly hacked by the News of the World journalists.
Graham Foulkes, whose 22-year-old son David was one of the 52 people killed in the 2005 7/7 attacks criticised the inquiry for turning into a "celebrity circus".
He told BBC Breakfast: "Leveson went from being a really serious piece of work for Joe Public to OK! magazine overnight.
"The whole focus of the issue was which celebrity was on, what was he saying, what was she saying?
"And then it became the Rebekah Brooks show and the David Cameron show and the horse-riding show."
29/11/2012 14:03 GMT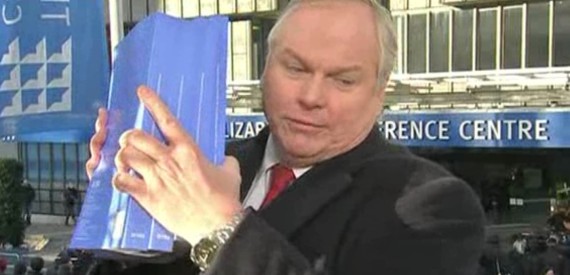 Adam Boulton shows the size of the Leveson report which consists of over 2000 pages
29/11/2012 13:43 GMT
Read The Full Report
The report has now been published online. You can read it here:
29/11/2012 13:42 GMT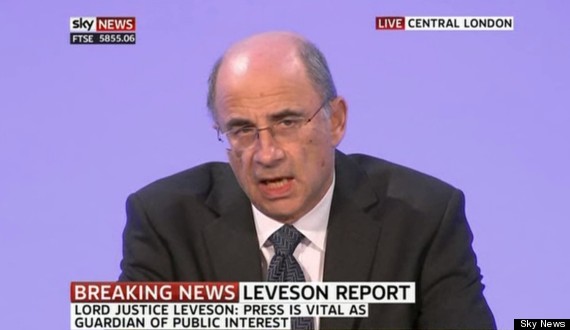 Lord Leveson delivers his speech
29/11/2012 13:36 GMT
And he said politicians of all parties had developed "too close a relationship with the press in a way which has not been in the public interest".
29/11/2012 13:36 GMT
The judge said the press had ignored its own code of conduct in a way that had "wreaked havoc with the lives of innocent people" on far too many occasions over the last decade.
29/11/2012 13:36 GMT
He said there had been a "recklessness in prioritising sensational stories", irrespective of the harm that may be caused.
29/11/2012 13:36 GMT
Lord Justice Leveson today called for legislation to underpin a "genuinely independent and effective system of self-regulation" for the press.
29/11/2012 13:32 GMT
Leveson Report Published
In his report on press standards and ethics, Lord Justice Leveson has called for legislation to provide "an independent process to recognise the new self-regulatory body and reassure the public that the basic requirements of independence and effectiveness were met".
29/11/2012 13:21 GMT
@ JGForsyth :

Does the Leveson report come under one in, one out? If the coalition regulates newspapers, does it have to de-regulate another industry?
29/11/2012 12:46 GMT
@ politicshomeuk :

Sir Ming Campbell says there's "a division of opinion in the Coalition, a division of opinion in the Conservative party" on #leveson.
SUBSCRIBE TO & FOLLOW UK DAILY BRIEF