Thousands of young girls are using dangerous 'pro-ana' websites that encourage users to 'starve for perfection'.
According to a new report, Virtually Anorexic - Where's The Harm?, supported by eating disorder charity beat and internet safety organisation Childnet International, hundreds of websites that encourage extreme dieting and eating disorders are being used with alarming regularity.
The research by University Campus Suffolk notes how 'pro-ana' sites, which promote the eating disorder anorexia nervosa, encourage weight loss via dieting competitions, advocate diets of just 400-500 calories per day and champion "thinspiration" (where images of celebrities such as Victoria Beckham and Keira Knightley are used to idealise a certain look).
According to the report, these websites are extremely influential. Many boast communities of thousands of members, with forums and chat rooms available to share tips to hide eating disorders and find an "anabuddy" for support.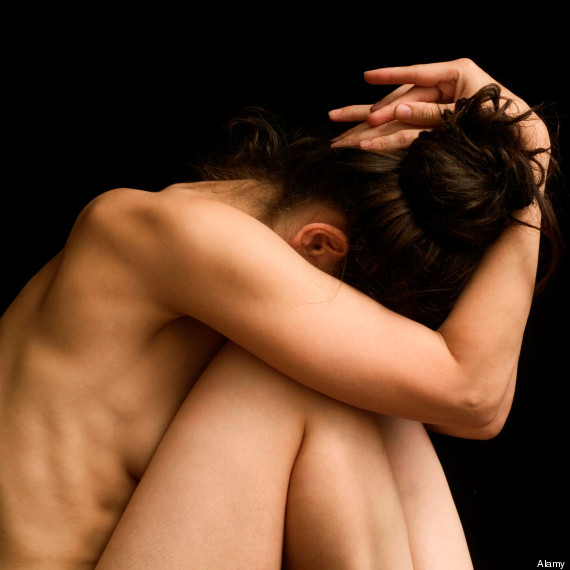 According to the National Institute of Health and Clinical Excellence, 1.6 million people in the UK are affected by an eating disorder, of which around 11% are male
Natasha Devon, co-founder of Body Gossip, a campaign that promotes natural, healthy and realistic beauty, said that although the intentions of sites are not always intended to be damaging, the emotional state and vulnerability of users often leads to mutual encouragement.
She told HuffPost UK Lifestyle: "People assume they would automatically know if they were on a pro-anorexia or pro-bulimia website. The press often portrays them as being quite obvious in their intention.
"The reality is that quite often they are just support groups set up on social networking sites by people with the best intentions, but they attract users who are unwell and are completely unregulated.
"It's important to remember that eating disorders are a mental illness. Even if you're on an 'extreme diet' or training regime you're not in the best frame of mind. People who still struggle are certainly not in a position to be giving advice to others. Often users of these support groups simply egg each other on."
LIKE HUFFPOST UK LIFESTYLE ON FACEBOOK | FOLLOW US ON TWITTER
In a statement, Dr Emma Bond, author of the report and senior lecturer in Childhood and Youth Studies at University Campus Suffolk (UCS) outlined her recommendations for change:
"People, especially parents and teachers need to increase their awareness so that young people can be helped. We need to encourage young people to develop critical media literacy skills and the media should be more responsible in not publishing pictures of very thin models and celebrities because young people wish to emulate them.
"Eating disorders are not going away, if anything they are becoming more common. We need to alert people to the dangers of harmful content on the Internet. Everyone needs to understand better the risks online and the harm that eating disorders can do to young people"
The report was funded by social investor Nominet Trust.
Also on HuffPost UK Lifestyle:
Loading Slideshow
Do Magazines Create Body Image Anxiety? UK Parliamentary Inquiry Finds Out

On Monday at the Parliamentary Inquiry into the Causes and Consequences of Body Image Anxiety in the UK, the media were on the stand. Hardly anyone from the media would give evidence - mainly because editors and publishers know the causes and consequences of body image anxiety and no one wants to admit their part in it.

Advertising: Where Are We Now on Body Image?

The advertising industry is highly aware of its responsibilities. <em>Pretty as a Picture</em> was commissioned to help advertisers understand what young women think about images in advertising, and it's good to hear policymakers recognising the industry's positive response.

My Battle With Body Image

My body and weight has always been a concern for me. I know people might look at me and think that I have the great body and that when I mention my issues, they assume I am just seeking attention.

Stop Writing About My Body

There's been an awful lot written about women's bodies recently. What with the endless articles devoted to Kate's boobs, the revelation that the 'average' woman spends 17 years of her life on a diet, not to mention the ongoing political battle about who gets to decide when she keeps or doesn't keep her unborn child. All in all, that's a lot of column inches devoted to fatness, thinness and everything in-between. No wonder we're all so f*cked up about our figures.

We Live in a Culture Obsessed With Extremes

Switch on your television, flick through a magazine or browse the internet and you'll be assaulted by headlines tempting you to behold the spectacle of "the 63 stone man!", the "anorexic who weighs the same as your average five year old!", or "the model whose desperate bid for success ended in botched cosmetic surgery!".

Cosmetic Surgery - A Cure for Confidence or an Obsession With Perfection?

I am still conquering my lack of self esteem, goodness only knows how girls of today will turn out. We owe it to them to reverse the trend - let's start the inner beauty revolution.

Is the 'Porn Chic' Tendency Affecting Girls' and Boys' Body Confidence?

Many young people upload photos of themselves on popular websites, and I am thrilled that so many take full advantage of the different social media. However, at the same time it is apparent that too many girls and boys are copying symbols and codes from the pornographic industry.

How Women Are Getting Media Smart in More Ways Than One

With the USA following the UK lead in a move towards banning Photoshop in advertising, it's time to reflect on a groundswell of activity that finds us at All Walks Beyond the Catwalk celebrating a shift in energy.