Toy company Hasbro has had its fair share of toddlers with 'tude throwing their sexist toys out of the pram this year.
It feels like just yesterday that a 6-year-old wrote to Hasbro complaining that there were more male characters than female on Guess Who? (and quickly became HuffPost UK Lifestyle's new feminist hero).
Now we find ourselves at the tail end of a story about a toy oven, which has been bubbling in the US for weeks, and thankfully, because it's Christmas, there is a happy ending.
Hasbro has said it will release a gender-neutral version of its popular Easy-Bake Oven after a teenage girl from New Jersey called for a product that could appeal to all children.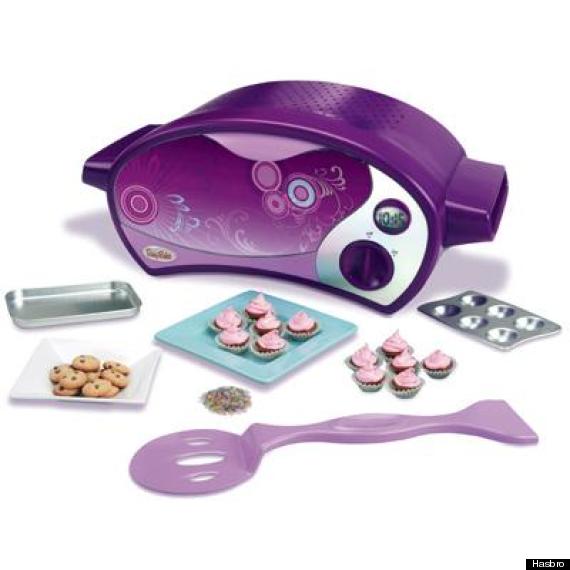 The Easy-Bake Oven in purple and pink
McKenna Pope, 13, started an online petition on change.org, complaining that the toy's gender-specific packaging excluded her 4-year-old brother, who dreams of being a chef and asked for the oven as a Christmas present. McKenna Pope and her brother
"We found it quite appalling that boys are not featured in packaging or promotional materials for Easy Bake Ovens," McKenna writes on the campaign's site. "And the oven comes in gender-specific hues: purple and pink.
"I feel that this sends a clear message: women cook, men work... I want my brother to know that it's not 'wrong' for him to want to be a chef."
HuffPost UK's Most Inspirational Women Of The Year
After securing more than 45,000 signatures on the petition, the toy manufacturer invited McKenna and her family to its head office on Rhode Island to unveil their newest product: an Easy-Bake Oven in blue, black and silver.
John Frascotti, Hasbro's chief marketing officer, said that since the toy was first launched over 30 years ago, the toy has had many different colour schemes including yellow, green and silver. McKenna Pope with Easy-Bake Ovens from over the years
"It's actually a product that's played with by both boys and girls," he said. "We will continue to offer the existing product too because it's so popular."
It's not the first time that a toy company has made a stand against this year against sexist toys, Swedish Toys 'R' Us published a Christmas catalogue using images that challenge gender stereotypes.
Also on HuffPost UK Lifestyle:
Loading Slideshow
Boots Remove Sexist Girls And Boy Signs From Toys

Just months after a Mother's Day signage gaff had the high-street chemist making inappropriate present suggestions to customers (nothing says 'I love you, mum!' like condoms and Canesten), the chain had to apologise for stereotyping certain toys for boys and girls. Read more <a href="http://www.huffingtonpost.co.uk/2013/05/01/boots-sexist-boys-girls-toys-science-signage_n_3191238.html" target="_blank">here</a>.

Sexy Little Geisha

Type 'Sexy Little Geisha' into the Victoria's Secret search engine and no results are thrown up -- and that's because the lingerie company has pulled their latest Go East collection. Race and pop culture blog Racialicious criticised the underwear retailer's controversial new line for appropriating, sexualising and degrading Asian culture for Western consumption. <a href="http://www.huffingtonpost.co.uk/2012/09/25/racist-sexy-little-geisha-lingerie-victorias-secret-racialicious_n_1911966.html">Read more here</a>.

Floral Kiss Laptop

<a href="http://www.huffingtonpost.co.uk/belinda-parmar/floral-kiss-laptops-women-more-like-awf_b_2008162.html">Blogger Belinda Parmar</a> argues that there is no audience for gender-specific laptops. "Clearly the management of Fujitsu believe in this fantasy otherwise they would not have just announced <a href="http://www.fujitsu.com/global/news/pr/archives/month/2012/20121019-03.html">Floral Kiss</a>, the most preposterously stereotypically ultra-feminine computer invented since Look Around You's Petticoat 5."

Sony's Playstation Vita

You can almost hear the sexist cogs turn in the advertising brainstorm for Sony's Playstation Vita as they came up with the four-breasted woman and the titillating slogan: "Two touch screens. Twice the sensation." Speaking to Le Huffington Post, Sony explained the origins of this advert: "It is part of a catalogue distributed at the Paris Games Week and was therefore intended for gamers at the event." <a href="http://www.huffingtonpost.co.uk/2012/11/05/playstation-vita-advert-sexist-controversial_n_2075412.html">Read more here</a>.

Bic For Her

When Virginia Woolf asked for a room of her own, she was of course mistaken. What she needed was a feminine pen, or biro, to help focus her girly mind. Thankfully, pen manufacturers BIC understand the difficulties women face attempting to write 'her story' with male-orientated scribbling implements. So, for a mere £14.83 (slightly less if you're willing to go second-hand...) Amazon.co.uk will sell you a box of 12 BIC For Her Amber Medium Ballpoint Pen - Black. <a href="http://www.huffingtonpost.co.uk/2012/08/28/bic-for-her-sexist-biros-review-storm-amazon_n_1835952.html">Read more here</a>.

Honda's Car For Women

To add to the never-ending list of ridiculous lady products including Dairy Milk's Crispello sexist chocolate, Bic For Her lady pens and Fujitsu's Floral Kiss, Honda has designed a car especially for women. It's a version of the manufacturers current model, the Honda 'Fit', but with some girly add-ons to make it nicer to use for the fairer sex. Naturally it's pink - the favourite colour of anyone with a uterus - and retails at $17,500. <a href="http://www.huffingtonpost.co.uk/2012/10/29/honda-car-women-pink-fit-shes_n_2037611.html">Read more here</a>.

Guess Who

There's nothing we love more at HuffPost UK Lifestyle than people standing up to sexism, especially when that person is just six years old. A week ago, an unhappy primary school pupil complained to her mother that there simply weren't enough women characters in the game Guess Who? (a pressing issue for a young girl who always likes to imagine she's a female character). <a href="http://www.huffingtonpost.co.uk/2012/11/21/guess-who-letter-sexism-six-year-old-girl_n_2170044.html">Read more here</a>.

Australian Prime Minister Julia Gillard

Australian Prime Minister, Julia Gillard, is hard as nails and here's the video to prove it. Tony Abbott, the Australian Leader of the Opposition, was torn to pieces by the PM in a row over sexism and misogyny. The opposition was attempting to pass a motion to fire the Speaker of the House of Representatives, Peter Slipper, who caused outrage last month after sending some rather vile sexist text messages to an aide. <a href="http://www.huffingtonpost.co.uk/2012/10/09/australian-prime-minister-julia-gillards-smackdown-tony-abbott_n_1950663.html">Read more here</a>.

Science: It's A Girl Thing Video

A video which has been made to encourage more girls to consider science as a career has been branded "offensive" and "sexist". Science: It's A Girl Thing! is part of a marketing campaign launched by the European Commission in Brussels on Thursday and aimed at fostering female pupils' interest in science and technology. <a href="http://www.huffingtonpost.co.uk/2012/06/22/is-science-its-a-girl-thing-sexist_n_1618343.html">See the video here</a>.

Female Athletes Travel Economy

Sports governing bodies from Japan and Australia are under fire after complaints that male Olympic athletes flew business class to the London Games, while the women sat in the cheap seats. <a href="http://www.huffingtonpost.co.uk/2012/07/20/olympics-2012-female-athletes-economy_n_1689030.html">Read more here</a>.

'Crispello' Chocolate Bar For Women

We've said it before and we'll say it again -- gender-specific food marketing is annoying. The Dr. Pepper for men campaign is totally obnoxious; don't get us started on Chick Beer. But if there is any food that is natural to market just toward women, of course it going to be chocolate. There are countless article about why women love chocolate. However, there are also countless articles and accounts of women avoiding chocolate because they want to lose weight. <a href="http://www.huffingtonpost.com/2012/10/05/crispello-chocolate-bar-women_n_1943313.html">Read more here</a>.