We would love to hear your thoughts on the stories of the day - leave a comment at the bottom of the blog.
24/12/2012 15:34 GMT
Miley Has A Strange Passenger In Tow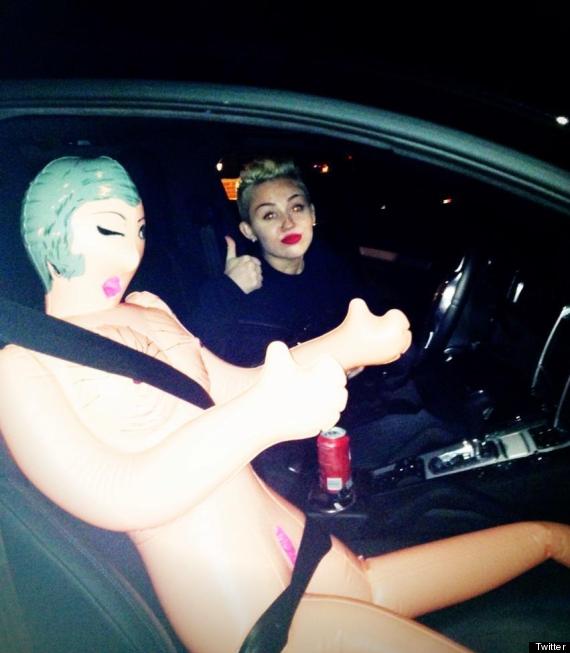 Miley Cyrus goes for a ride with an unusual passenger in tow, The Singer posted this picture of herself and an inflatable doll which she received as a gift
24/12/2012 14:58 GMT
A Flat Galaxy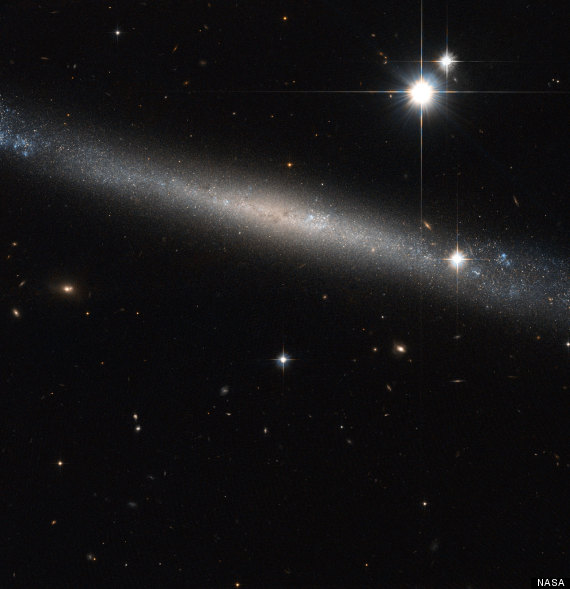 Like finding a silver needle in the haystack of space, the NASA/ESA Hubble Space Telescope has produced this beautiful image of the spiral galaxy IC 2233, one of the flattest galaxies known. Typical spiral galaxies like the Milky Way are usually made up of three principal visible components: the disk where the spiral arms and most of the gas and dust is concentrated; the halo, a rough and sparse sphere around the disk that contains little gas, dust or star formation; and the central bulge at the heart of the disk, which is formed by a large concentration of ancient stars surrounding the Galactic Center.
24/12/2012 14:55 GMT
The Last Of The Christmas Shoppers Shoppers make their way along Market Street in Manchester, Spending over the final weekend before Christmas hit the predicted £5 billion, according to the British Retail Consortium (BRC), but swathes of retailers still risk going under after the festive period
24/12/2012 14:47 GMT
A68 Car Crash Leave Three Dead Crash investigators view a gold Nissan Note as it is removed from the crash scene on the A68 near Pathhead. Three men have been killed in the two car crash.The female driver of the Nissan managed to get out before emergency services arrived and fire crews cut one man free. Three male passengers sitting in the back of the Nissan died at the scene, Lothian and Borders Police said
24/12/2012 12:20 GMT
Lets' Play Some Ball Jennifer Lopez attends the Pre-Concert Celebrity Football Game Benefiting Hurricane Sandy Relief at Hiram Bithorn Stadium in San Juan, Puerto Rico
24/12/2012 10:28 GMT
Santa's Little Helper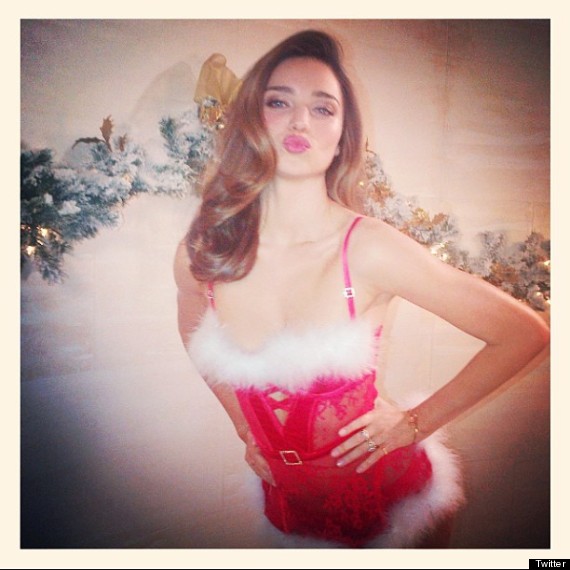 Miranda Kerr gets into the Christmas spirit and posts a saucy snap of herself in some festive lingerie
24/12/2012 09:53 GMT
Swansea City v Manchester United - Premier League Manchester United's Robin van Persie, left, speaks to referee Michael Oliver after appearing to have a ball kicked against his head by Swansea's Ashley Williams during their English Premier League soccer match at the Liberty Stadium, Swansea, Wales
24/12/2012 08:49 GMT
Last Minute Christmas Shop Filipinos crowd along makeshift stalls along a road in downtown Manila, Philippines as they make their last-minute shopping on Christmas eve. Christmas is one of the most important holidays in this predominantly Roman Catholic nation
24/12/2012 07:48 GMT
Queen's Christmas Broadcast Queen Elizabeth II with producer John McAndrew and director John Bennett (right), in the White Drawing Room of Buckingham Palace in central London, as they watch the recording of her Christmas message to the Commonwealth which is to be broadcast in 3D for the first time Queen Elizabeth II records her Christmas message to the Commonwealth in 3D for the first time, from the White Drawing Room of Buckingham Palace in central London
23/12/2012 23:50 GMT
Christmas at Melbourne Zoo Sumatran Tiger Aceh opens a Xmas present at Melbourne Zoo in Melbourne, The food bearing gift was one of number given to animals at various enclosures at the zoo as a Christmas treat An orangutan holds a Christmas present in his mouth at Melbourne Zoo in Melbourne, The food bearing gift was one of number given to animals at various enclosures at the zoo as a Christmas treat
SUBSCRIBE TO & FOLLOW UK DAILY BRIEF
Get top stories and blog posts emailed to me each day. Newsletters may offer personalized content or advertisements. Learn more