The head of Syria's military police has defected and reportedly fled to Turkey.
Lt Gen Abulaziz al-Shalal announced his decision speaking in a video released on YouTube.
He said: "I am General Abdelaziz Jassim al-Shalal, head of the military police. Syrians removing the bodies of those killed after a government airstrike hit the Hama Suburb of Halfaya, on December 23
"I have defected because of the deviation of the army from its primary duty of protecting the country and its transformation into gangs of murder and destruction.
"The army has destroyed cities and villages and has committed massacres against an unarmed population that took to the streets to demand freedom," he said. "Long live free Syria."
Lt al-Shalal is one of the highest-ranking officials to join the uprising against President Bashar al-Assad's regime.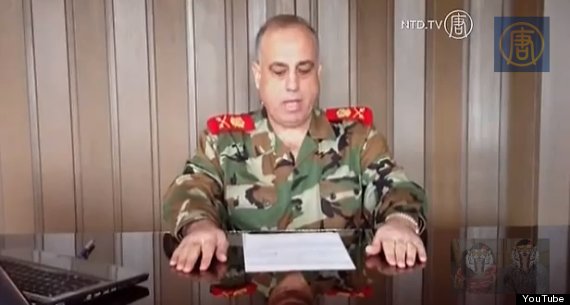 Lt Gen Abulaziz al-Shalal made his video announcement from an undisclosed location
"Shalal did defect but he was due to retire in a month and he only defected to play hero," the source said.
"The last three hours of al-Shalal fleeing the borders were on a scooter. This is how hard things can get when it comes to the coordination of the defections of some of the Syrian officers and how the FSA works hard to guarantee their safety and the passageway of their families," Louai Miqdad said from Turkey.
More than 45,000 people have been killed in Syria since the outbreak in March 2011 of an anti-regime revolt that became a bloody insurgency after a brutal crackdown on dissent, a watchdog said Wednesday.
Giving a breakdown, he said those killed included "31,544 civilians, 1,511 defectors, 11,217 soldiers and 776 unidentified bodies."
Syria Rebels: Past And Present
SUBSCRIBE TO & FOLLOW UK DAILY BRIEF