Donald Trump's Twitter feed took a strange turn on Thursday... well, stranger than usual.
The mogul's stream of ripostes to his rivals and relentless promotion of the Trump brand was suddenly interrupted by the phrase: "These hoes think they classy, well that's the class I'm skippen."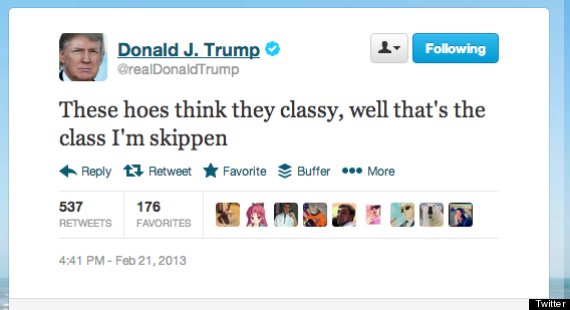 No, we didn't have Trump down as a Lil' Wayne fan either.
Anyhoo, the tweet was swiftly deleted, with Trump promising to strike down with great vengeance and furious anger.

@realDonaldTrump

Donald J. Trump
My Twitter has been seriously hacked--- and we are looking for the perpetrators.
This was naturally followed by a barrage of jokers who claimed not to have noticed anything untoward about Trump's twitter feed.
@Brianhopecomedy

Brian Hope
@Vikkylicious1

*Miss V*
@JasonAtDavid

Jason Stone
.@realDonaldTrump It's been hacked for the past two years and whoever's been writing your tweets has made you look like a complete clown.
SEE ALSO: 'My Father Is Not An Orangutan': Donald Trump Sues Comedian For $5m
Loading Slideshow
Trump Teas

Trump launched a line of premium teas priced at <a href="http://www.luxist.com/2010/08/18/trump-launches-trump-tea/"> $12.95 per tin.</a> The blends include: Park Avenue, Union Square, Westchester and Mar-a-Lage.

Trump ICE

Yes, the Don introduced a bottled water line made from "<a href="http://www.trump.com/Merchandise/Trump_Ice.asp" target="_hplink">purest natural spring water</a>."

Trump Magazine

After several failed attempts to build a profitable eponymous magazine, the Donald finally <a href="http://gawker.com/5259789/trump-magazine-folds-american-dream-dies" target="_hplink">shut down his editorial venture last Ma</a>y.

Trump Steaks

<a href="http://www.trumpsteaks.com/" target="_hplink">Trump Steaks</a> come in a combination of cuts, are available in 'collections' and shipped frozen on dry ice to anywhere. 4- 5 ounce cuts of Fillet Mignon will run you $99.95.

Trump: The Board Game

First introduced in 1989, the <a href="http://www.boardgamegeek.com/boardgame/1824/trump-the-game" target="_hplink">Trump board game</a> lets players negotiate the sale of fictional real estate properties. (Pictured is a Parker Brothers version of the game from 2004.)

Trump University

Donld Trump charges people up to $35,000 to "learn from the master" at <a href="http://www.trumptactics.com/" target="_hplink">"Trump University."</a> New York state officials recently accused Trump of <a href="http://www.nydailynews.com/money/2010/04/16/2010-04-16_state_wants_to_demote_trumps_university.html" target="_hplink">breaking the law</a> by calling his cyber-school a "university." Trump's educational venture has also been hit with complaints from more than 150 students who claim Trump cheated them out of tens of thousands of dollars, <a href="http://www.nydailynews.com/news/2010/05/31/2010-05-31_trump_u_flunks_students_complaints_pile_up_from_those_who_paid_up_to_30g_say_the.html#ixzz0x2Wd5RZ4" target="_hplink">reports the <em>NY Daily News</em></a>.

Trump Golf Holdings

<a href="http://www.trumpgolf.com/Default.aspx?p=DynamicModule&pageid=300652&ssid=184945&vnf=1" target="_hplink">Trump Golf Courses </a>can be found across the U.S. in places like Florida and New Jersey and outside the country in Scotland and the Caribbean. Donald's controversial development in Aberdeen Scotland is pictured above. Now, he reportedly has his eyes on a <a href="http://www.charlotteobserver.com/2010/07/30/1590074/trump-has-eye-on-the-point.html" target="_hplink">North Carolina course</a>.

Trump Vodka

Care for a "<a href="http://www.trumptini.com/" target="_hplink">Trumptini</a>?" The real-estate mogul makes his own premium brand of vodka, starting at around $30 a bottle.

Trump Model Management

Based in Soho, Trump Model Management is considered by <a href="http://allaboutmodels.net/top-15-modeling-agencies-in-new-york-city/" target="_hplink">All About Models</a> to be the 10th best modeling agency in New York City.

Trump Home Furniture Line

Now design your property just like the master of real-estate with <a href="http://www.lexington.com/brands/collections-trump-home.cfm" target="_hplink">Trump's line </a>of bedroom sets, dining room tables, dressers -- you name it.