Footage of a Syrian rebel commander cutting the heart out of a soldier and biting into it has emerged online.
He says: "I swear to God we will eat your hearts and your livers, you soldiers of Bashar the dog," to offscreen cheering.
Scroll down to see pixellated video (WARNING, GRAPHIC CONTENT)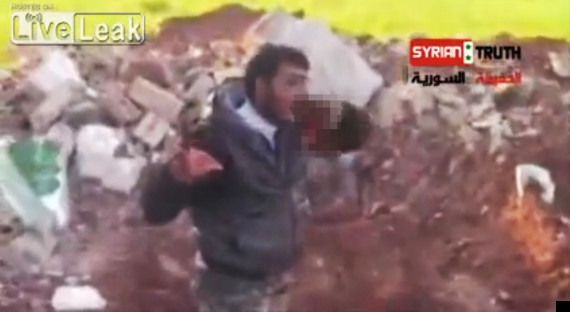 Rebel leader Abu Sakkar appears to take a bite out of the soldier's heart
The person filming the incident is heard saying: "God bless you, Abu Sakkar, you look like you are drawing [carving] a heart of love on him."
HRW's Peter Bouckaert told Reuters: "The mutilation of the bodies of enemies is a war crime. But the even more serious issue is the very rapid descent into sectarian rhetoric and violence."
The video comes to light as David Cameron announced Britain is to double military support for Syrian rebels to help them withstand the "onslaught" from Bashar Assad's regime.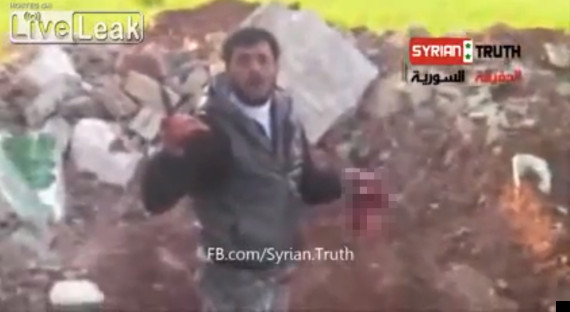 'I swear to God we will eat your hearts and your livers, you soldiers of Bashar the dog'
He also suggested Russia could be ready to participate in a peace process, saying there was "real political will" to find a solution.
Cameron was speaking at a White House press conference with Barack Obama on Monday.
The British Prime Minister earlier confirmed nerve agent Sarin appeared to have been used during the two-year civil war.
SEE ALSO:
So far the Observatory has recorded more than 80,000 deaths but believes the real number of those killed to be much higher. The UN says more than 70,000 people have died since the uprising began in March 2011.
March 2013: The Bloodiest Month Yet In Syria
SUBSCRIBE AND FOLLOW
Get top stories and blog posts emailed to me each day. Newsletters may offer personalized content or advertisements.
Learn more