Roll on the third revolution for women!
HuffPost founder Arianna Huffington brought her vision for a better approach to success to the UK - the Third Metric.
Bringing together leading female CEOs and leaders in meditation and mindfulness, the panel looked at how people in Britain could have more wellbeing and balance in their lives, in addition to juggling a job, kids and all the stresses of modern living. beyond just money and power.
Read the live blog of the #ThirdMetric conference as it happened, and see how you can get involved in the conversation. Do tell us what you think in the comments below.
Tweet us @HuffPostUK and @HuffPoLifestyle using the hashtag #thirdmetric.
30/07/2013 20:31 BST
LOOK: THE #THIRDMETRIC EVENT IN PICTURES
30/07/2013 20:27 BST
GOT SOMETHING TO SAY? SAY IT ON THE HUFFINGTON POST UK...
Thanks so much to you all for following our #ThirdMetric event!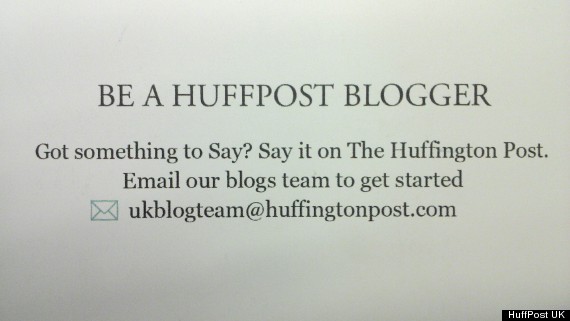 30/07/2013 20:26 BST
ARIANNA SUMS UP
We would love to continue the conversation online and on
Visit: The Third Metric
Thank you so much for coming!
30/07/2013 20:23 BST
SCEPTICAL BRITAIN? JAMES FROM YOGAAT SAYS:
"I think if you take an American approach to Brits, we'll turn away. I think the solution is to get people to do it for 6 weeks and just see how it affects their productivity. To step back.
One of our clients is West Ham football club. A big group of lads did not like yoga being forced upon them but after a couple of months they started making extra appointments because they noticed the difference in their game.
If we can get West Ham United, then we can get most other Brits involved, I'd say."
30/07/2013 20:19 BST
Q: AMERICANS ARE INTO SELF-HELP, CULTURALLY HOW DO YOU SEE IT WORKING IN BRITAIN?
ARIANNA: That would be my assumption. Judging by our panellists and what's happening at P&G. But that isn't necessarily the case. But Rich from Headspace might know more?
RICH: We work with an investment bank - who I can't name - there were 700 people. It was the quietest, most attentive. We've worked with Selfridges, West Coast tech companies. When you show people the signs, that their brain changes shape when they meditate. Bit to do with positive emotions gets stronger, when you say you can become a corporate athlete, then it is a different conversation.
If you can take it out of the 'woo-woo' crystal healing fluffiness, that's when people get it. I think it's there. Our biggest success has been in Britain.
30/07/2013 20:16 BST
Q : CAN MEN BE A PART OF THE #THIRDMETRIC?
ARIANNA: When I talk about this being the third revolution, the first being the vote, the second being work equality, the third is about redefining success and the world in which we are competing.
It isn't enough to say I want my place at the top in this broken world.
Men are a big part of this revolution.
The CEO of US healthcare AETNA had an accident and made meditation available to everyone in his company of thousands.
John Mackey of Whole Foods spoke of his own personal transformation.
30/07/2013 20:12 BST
ARIANNA TALKS TO THE AUDIENCE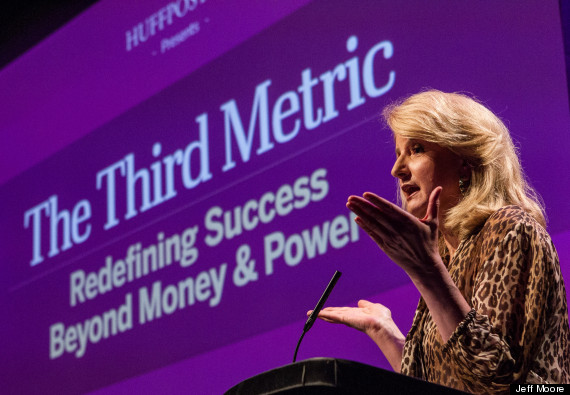 30/07/2013 20:11 BST
ARIANNA ADDS:
As Roisin says, she was honouring other people's ideas of what the perfect husband should be.
There are a million ways to live your life. No matter what the world says or the cultural expectations, live your own life. So many people lead other people's perceptions of success. They don't notice they are miserable because they think they are successful.
30/07/2013 20:10 BST
Q: HOW MUCH DO RELATIONSHIPS PLAY A PART IN YOUR PERSONAL DEVELOPMENT?
Roisin: With my husband, I always described him as a fling. 7 years later, we got married! He's the opposite of me, but I can't live without him. I think we are different - kids, philosophies about life - but that's what makes us stronger.
I think a partner is so important. I'd find it difficult to juggle 3 kids without him. He's my sounding board and my best friend.
30/07/2013 20:07 BST
RICH ADDS:
As Arianna says, this awareness is happening. The idea of 'mind health' not mental health. It's a preventative measure. Before you hit that wall. Healthcare is about people who have hit the wall.
We know we need to look after our bodies, we don't know that we have to look after our mind.
The stresses of the world are getting worse, not getting better.
Life doesn't stop because you start doing this stuff, it just makes it a much easier process.
SUBSCRIBE TO & FOLLOW UK LIFESTYLE