A week in the wilderness, with nights lit only by the glowing embers of a camp fire, may be just the thing for incurable night owls.
Camping out for a few days and nights can re-set the biological clocks of people who have trouble sleeping and getting up in time for work, research has shown.
It seems that given the chance, our bodies naturally adjust to the light-dark cycle of the rising and setting sun.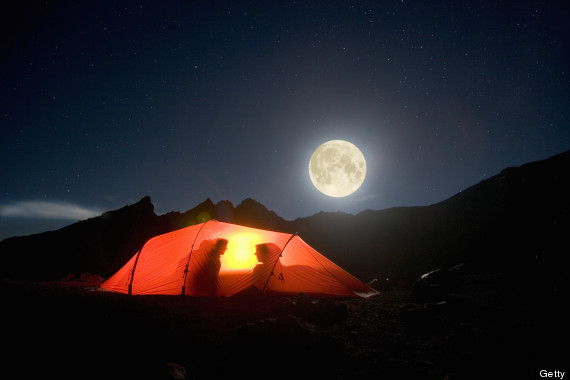 "By increasing our exposure to sunlight and reducing our exposure to electrical lighting at night, we can turn our internal clock and sleep times back and likely make it easier to awaken and be alert in the morning," said US sleep expert Dr Kenneth Wright, from the University of Colorado at Boulder.
Dr Wright's team recruited eight volunteers who habitually stayed up until after midnight and wake around 8 am.
Measurements of the sleep regulating hormone melatonin showed that their busy lives had delayed their internal, or circadian clocks, by around two hours.
See Also: Which UK Beaches Came Top In Facebook's Most Checked-In List?
As an experimental therapy, the group was taken out summer camping in Colorado's great outdoors.
Though camp fires were allowed, all forms of artificial light - including torches - were banned, as were distracting mobile phones.
Participants were told they could sleep according to whatever schedule they chose. After a week of being exposed to nothing but natural lighting, their biological clocks were re-set roughly two hours back.
Even though the total amount of time they spent asleep stayed the same, the volunteers awoke at daybreak and were ready for bed when the sun went down.
It was more than just habit. Tests showed changes in fluctuating melatonin levels that contributed to feeling more refreshed and alert in the morning.
Under "modern world" electrically lit conditions, melatonin only reduces to daytime levels some two hours after waking, which explains why it is so hard to rise and shine when the alarm goes off.
But after exposure to natural light-dark cycles, the hormone dips during the last hour of sleep, according to the scientists writing in the journal Current Biology. As a result, the brain is able to rouse itself earlier, and waking up is not accompanied by grogginess.
Loading Slideshow
Wheems Organic Farm, Scotland

You really do feel like you are on the edge of the world at <a href="http://www.coolcamping.co.uk/campsites/uk/scotland/scottish-isles/orkney-islands/265-wheems-organic-farm" target="_blank">Wheems Organic Farm.</a> The views from this South Ronaldsay site seem to extend into eternity. Battered as the remote Orkney Islands are by the elements, the cliff-top vantage point can feel a little exposed, but well worth it for the simply breathtaking views. If you'd feel more secure kipping under canvas, the two solid wooden bothies (double-glazed and insulated with sheeps' fleece) are just the ticket. Be sure to sample the farm's famous organic veg.

Town Farm, Buckinghamshire

City living got you down? Is the Big Smoke more of big joke now – one that just isn't funny anymore? Well, sanctuary beckons just an hour's drive north-west of the capital in sunny Bedfordshire – sanctuary otherwise known as <a href="http://www.coolcamping.co.uk/campsites/uk/england/near-london/buckinghamshire/305-town-farm" target="_blank">Town Farm</a>. This bona-fide working sheep farm has unparalleled views, nestled as it is at the foot of the picturesque Chiltern Hills. The camping field itself is vast. Tents can be pitched at the foot of Ivinghoe Beacon, where the famous Ridgeway Walk starts its journey to Wiltshire, or looking down over the Vale of Aylesbury.

Eco Camp UK at Beech Estate Woodland Campsite, East Sussex

Nestled deep within an ancient East Sussex woodland, <a href="http://www.coolcamping.co.uk/campsites/uk/england/south-east-england/east-sussex/469-eco-camp-uk-at-beech-estate-woodland-campsite" target="_blank">Eco Camp UK</a> is the green-minded brainchild of affable Aussie host, Hugh. With his finger firmly on the sustainability pulse (facilities include wood-fired showers and compost loos), this campsite conservationist ensures that his low-impact site leaves the sprawling Beech Estate in all its unspoilt splendour. The spacious bell tents (all fully equipped and furnished) are just the ticket after a day of woodland walks and wildlife watching – all within An Area of Outstanding Natural Beauty.

Brook Meadow, Leicestershire

<a href="http://www.coolcamping.co.uk/campsites/uk/england/central-england/leicestershire/498-brook-meadow" target="_blank">Brook Meadow</a> might just be the East Midlands' best kept camping secret. This secluded site hosts some 50 well-kept grass pitches set amongst 15 idyllic acres. The centre-piece of this pastoral paradise is the huge fishing lake – teeming with carp and tench. Beside it's tranquil waters, you'll no doubt catch a glimpse of the area's resident wildlife – waddling ducks, wading herons, even the odd deer. As relaxing as the lazy pace of life here is, the neighbouring outdoor adventure centre offers quad-biking and clay-pigeon shooting should you fancy something a little more high octane.

Penrallt Coastal Camping, Wales

The Lleyn Peninsula has an abundance of spectacular settings that are perfect for a pitch up. So it takes something very special indeed to stand out from the camping crowd. Something like <a href="http://www.coolcamping.co.uk/campsites/uk/wales/snowdonia/gwynedd/167-penrallt-coastal-camping" target="_blank">Penrallt Coastal Camping</a>. This ever-popular site is carpeted with vivacious wildflowers leading over craggy cliffs to the crashing waves of the Irish Sea below. The unspoilt beach at Porth Towyn and the charming little harbour at Porth Ysgaden are great for spotting seals. Head the other way and the vast, empty golden sands at Traeth Penllech are yours to explore.

Greenacres, Somerset

Keeping the kids entertained on holiday is no small task. Thankfully at <a href="http://www.coolcamping.co.uk/campsites/uk/england/west-country/somerset/103-greenacres-camping" target="_blank">Greenacres</a>, you needn't worry. This humungous four and a half acres camping field (with an unobtrusive 40 pitches spread around the perimeter) has a central swathe that is (unofficially) reserved for various dragon-slaying and spell-casting playtime activities, organised by onsite entertainers, the Lazy Dayzee Crew. All the magic takes place in car and tent-free zones meaning your littl'uns can enjoy some wholesome outdoor fun in perfect safety.

Nantcol Waterfalls, Wales

<a href="http://www.coolcamping.co.uk/campsites/uk/wales/snowdonia/gwynedd/501-nantcol-waterfalls" target="_blank">Nantcol Waterfalls</a> is camping as it used to be (and some would argue, still should be). There's no bells and whistles here; no guyrope gimmickry or fancy organised entertainment (except if you count the river rope-swing). The beauty of Nantcol lies in its simplicity. This refreshingly understated site has been pulling in the punters since the 1920s. Its enviable location in Snowdonia National Park attracts scores of campers every season, eager to explore the eponymous waterfalls and frolic in the river at the foot of Wales' most iconic mountain.

Badrallach, Scotland

<a href="http://www.coolcamping.co.uk/campsites/uk/scotland/north-scotland/ross-shire/11-badrallach" target="_blank">Badrallach</a> has to be seen to be believed. A ruggedly wild site on the remote Scoraig peninsula, campers are spoilt with stunning views here stretching across Little Loch Broome and the mighty An Teallach mountain. A stay at Badrallach is the very definition of "getting away from it all". Scenery aside, there's a wealth of outdoor activities to enjoy, from power-kiting and sea kayaking to the intriguingly named blo-karting. After a day of vigorous outdoor pursuits, rest those weary bones in either tent, bothy or airstream B&B – the views are spectacular wherever you choose.

Porthclais Farm, Wales

<a href="http://www.coolcamping.co.uk/campsites/uk/wales/west-wales/pembrokeshire/507-porthclais-farm-campsite" target="_blank">Porthclais Farm</a> is a genuine Pembrokeshire institution. This small, family-run campsite is embraced by Porthclais Harbour to the west and St Brides Bay – needless to say, the views are breathtaking. A pitch-up at Porthclais is all about making the most of the stunning coastal location – from rockpooling and sailing to traversing the Pembrokeshire Coast Path. The Blue Flag-awarded beach at nearby Whitesands is also a haven for surfers.

Glendaruel, Scotland

Argyll's sleepy Cowal Peninsula is not particularly well-known, even among most Scots. As a result, <a href="http://www.coolcamping.co.uk/campsites/uk/scotland/western-scotland/argyll/96-glendaruel" target="_blank">Glendaruel</a> offers the perfect bucolic bolthole for slipping away from Glasgow and the bigger Scottish conurbations. While the main woodland park is spread over a mammoth 22-acres, the field set aside for camping accommodates a humble 10 pitches, away from the caravans and statics. A variety of paths snake their way into the surrounding forests, while the quiet roads are ideal for cycling and walks. The local seafood is legendary too.
If heading for the woods is too impractical, simply getting more sun might help, the scientists believe.
"Our findings suggest that people can have earlier bed and wake times, more conducive to their school and work schedules, if they were to increase their exposure to sunlight during the day and decrease their exposure to electrical lighting at night," said Dr Wright.
The research also showed that individual differences in sleep timing were reduced by exposure to natural light conditions.
"Internal biological time under natural light-dark conditions tightly synchronises to environmental time, and in this regard humans are comparable to other animals," the scientists wrote.