If you're finding it hard to get to sleep, you may read a dozen suggestions about how to remedy that.
But let us save you the trouble and cut to the chase: don't go on the internet.
A new survey has revealed that nine out of 10 people are sacrificing a good night's sleep in order to stay in touch on the internet.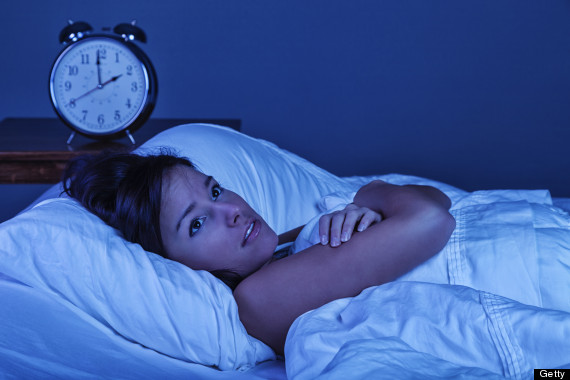 More than half of 2,000 people polled said they went online while in bed trying to sleep and one in five admitted they needed to check their Twitter, Facebook or email accounts because they have a "fear of missing out".
Just one in 10 described their quality of sleep as "good".


MORE ON HUFFPOST UK:

How Bad Sleep Can Ruin Your Relationship
This echoes findings from a Travelodge survey last week, which revealed that 27% of Brits are getting less sleep than they did a year ago, and that four out of 10 of us are repeatedly hitting the snooze button to fool our bodies into thinking its getting more sleep. Note: this doesn't work.
Professor Colin Espie, co-founder of sleep improvement programme Sleepio.com wrote to HuffPost UK Lifestyle and advised: "If you are trying to establish a good sleep pattern, that is you're concerned about your sleep and trying to fix it, give yourself a fixed rising time each day, 7 days a week.
"Set your alarm and make sure you get up, don't hit the snooze button. If your sleep is already in good shape then it's okay to snooze on a bit, but maybe just the one extra 10 minutes."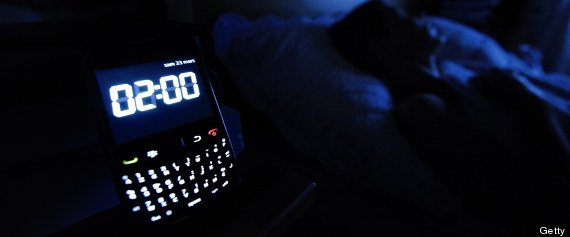 If you are prone to poor sleep, there is a scientific explanation as to why you should stop using your laptop, tablet or smartphone after a certain time.
The blue light emitted by devices such as mobile phones and tablets mimics daylight and suppresses production of a brain chemical called melatonin, which helps us sleep, research has shown.
Dr Chris Idzikowski, director of the Edinburgh Sleep Centre, said: "As technology to keep us connected improves, we face a new battle with trying to switch off at night. Sufferers should try and avoid using phones, laptops, and other screen-based devices for at least an hour before bed."
The survey, carried out by Nytol also found almost half of people went straight from the couch to bed, less than 15 minutes after switching off the TV, two in five checked emails or social media accounts straight before bed, and one in four thought they were addicted to checking emails and social media in bed.
A spokesman for the firm said: "Never before in history have we faced such an overload of information, causing people in the UK to suffer from a rising tide of sleep problems."
Also on HuffPost:
Loading Slideshow
Start A Worry Journal

Before you get into bed, spend 10 minutes or so writing down what's really troubling you in a journal or on a piece of paper -- anything from work and family concerns to some issue or question that's really bugging you, Ojile says. "The reality is that writing it down in a worry journal isn't going to solve the problem," he says. But what it can do is give you a place to put down your thoughts and let them go until tomorrow.

Take A Bath

The benefits here are twofold. First, water tends to be soothing psychologically, Ojile says, which can help ease built-up stress from the day. But it can also benefit our sleep: The act of cooling the body, like that which happens when you get out of a warm tub, makes us feel tired. Don't want the fuss of taking a bath? Sipping a cup of warm, non-caffeinated green tea can trigger that same cooling response in the body, Ojile explains.

Say A Prayer (Or Meditate!)

If your mom told you to say your prayers before bed, she was on to something. No matter what you believe in, the act itself can help quiet your brain. "In order to pray or to meditate in a very effective way, you've got to let go of those things in life that are the same ones that keep you from sleeping," Ojile says. Both prayer and <a href="http://www.huffingtonpost.com/2011/07/15/7-fascinating-facts-about_n_899482.html#s309243&title=It_Makes_Your">meditation</a> can quiet the brain, which will ultimately keep you from tossing and turning in bed. And the act of repetition, like saying the rosary prayers in order, for instance, seems to be especially powerful, he adds.

Take A Walk

While some might find that strenuous exercise too close to bedtime only makes sleep more elusive, taking a leisurely walk a couple of hours before turning in can actually help. "An evening walk is a really helpful to help get rid of some of those stresses and strains from the day," Ojile says. "You always feel better after a walk."

Relax Your Muscles

One old-fashioned technique that can trigger sleep is called progressive muscle relaxation, which Ojile describes as almost a form of meditation and yoga. Here's how it works: Start down at your feet and work your way up the body, focusing on relaxing each part, one at a time. When you get to your core, take some deep breaths. "As you get to the deep breathing, you're by nature going to be ready for sleep," he says. "You're naturally feeling more calm and relaxed."

Cuddle Up

Spending some time cuddling with a partner before bed stimulates the kind of emotions that are, by nature, calming, Ojile explains. And that means better sleep. Having sex can also help (we bet you won't say no to that assignment). "It may prevent sleep immediately," he says, "but ultimately it promotes sleep and relaxation.